When it comes to making a living as an anime artist, there are a number of different digital products you can sell online to make some extra cash. Designing digital products to sell from your online platform can be a lot easier than you think!
These products can be delivered electronically, so there is no need for you to physically create or ship them. Once they are created, you can sell them over and over again, without having to do any additional work.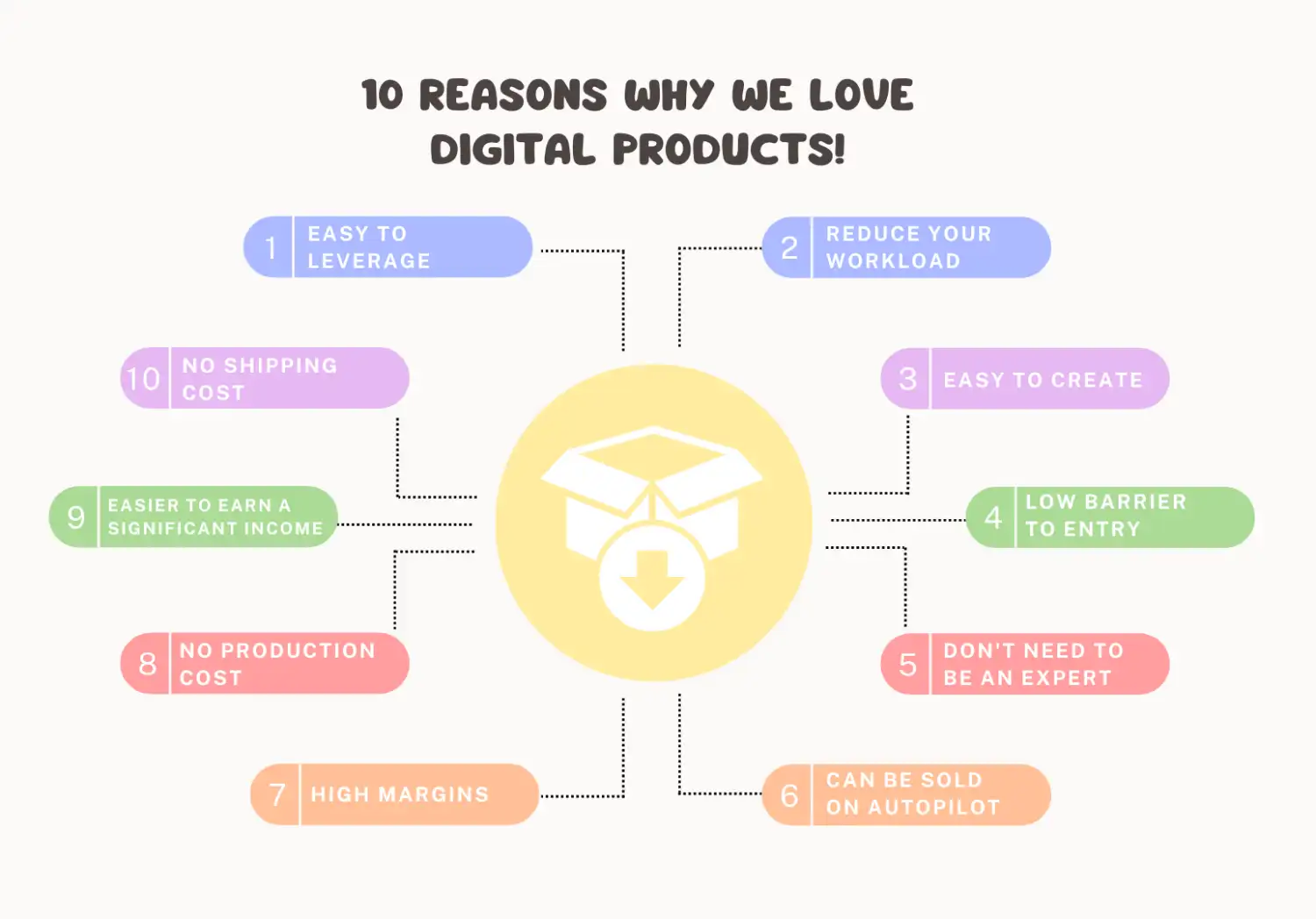 Why do you need to consider digital product ideas?
The short answer is that it's easy to leverage your income and reduce your workload from active income work.
The great thing about digital products is that they're easy to create and there's a low barrier to entry. You don't need to be an expert; you just need to have something valuable to say!
Another advantage of digital products is that they can be sold on autopilot! Once you've created a digital product, you can sell it over and over again without having to do any additional work. This allows you to leverage your time and earn passive income.
Finally, digital products offer high margins. Because there are no production or shipping costs, you can keep more of the revenue from each sale. This makes it easier to earn a significant income from your digital products.
In this blog post, I'll guide you 6 digital product ideas to sell online as an anime artist. There are plenty of options that require very little effort. Are you a beginner and not sure what to make? Here are 6 digital product ideas that will work with you and are worth trying out.
There's sure to be an idea on this list that will suit your needs. So, without further ado, let's get started!
What You may Need for Selling Digital Products?

Audience: You need Your target audience to sell your product to
You need to sell your product to your target audience in order to be successful. Figure out who your target audience is and what they want, and then give it to them.
You can't just sell a product to anyone and expect them to buy it; you have to sell it to the right people. You may start from growing your social media account and gather a bunch of people who love your art! Then ask them what kind of digital product they want from you.
Platform: You need the selling platform to list your digital product
To sell your digital product, you need a selling platform. This is a website or service that provides the infrastructure to list and sell your product online.
A selling platform makes it easy for customers to find and buy your product, and takes care of all the details of processing payments, delivery, and customer service. There are many selling platforms to choose from, so you'll need to decide which one is right for your product.
The popular platform in the market is
MiMi TIPS: Don't forget to think about the transaction fee on each platform! You may find it on their term of service page.
Product: You need to create Your product based on your audiences need
This means understanding what they want and how they want to use your product. Just try asking your audience directly or create a poll to ask them what kind of digital product they want from you!
Then you can create a product that they will love and use regularly. Take the time to get to know your audience and what they need from you. It will be worth it in the end.

Make Money Online as an Artist by Selling Digital Stickers or Themes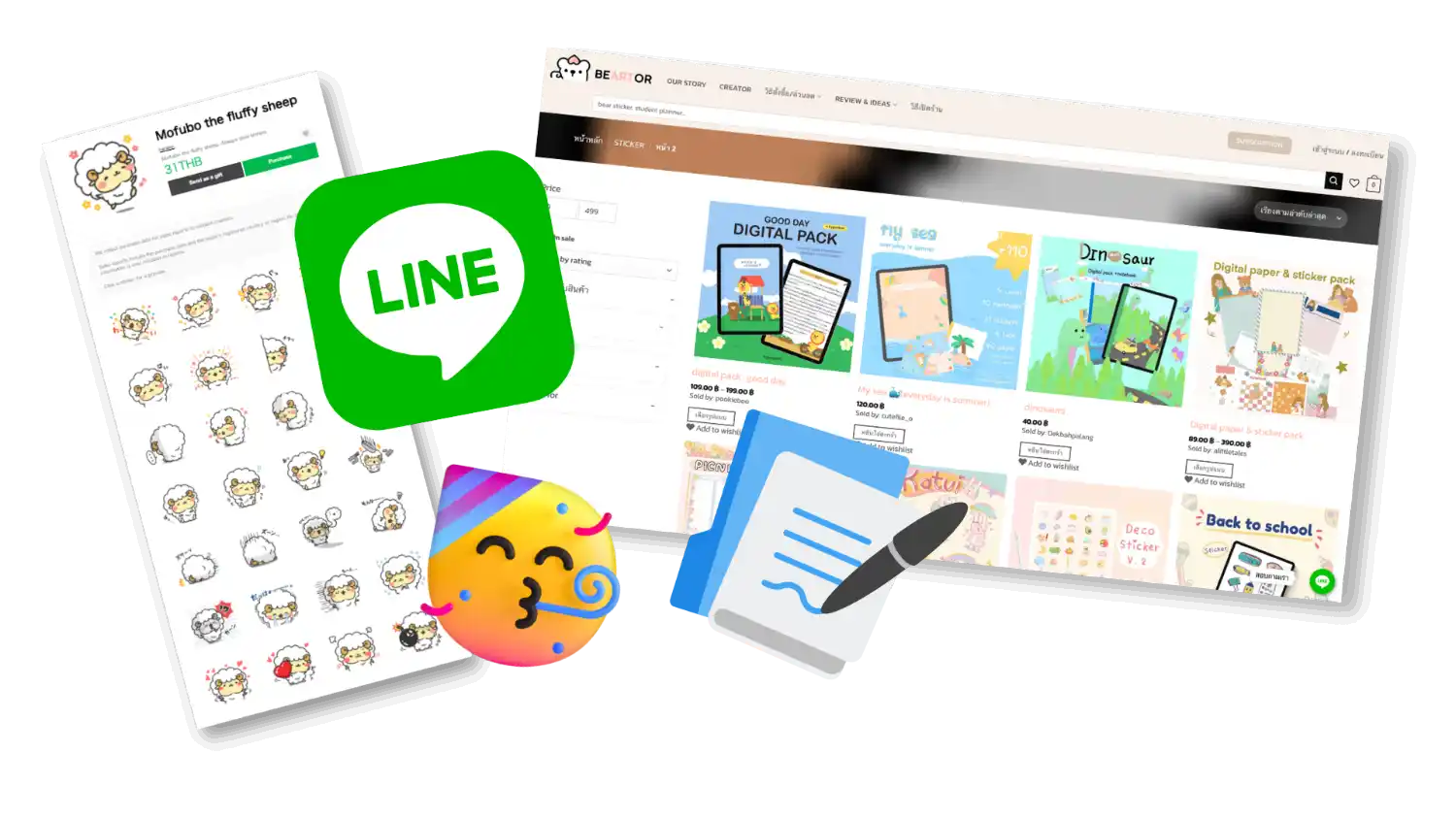 If you're an artist, you've likely heard of digital stickers. They are a versatile and fun way to add personality to your digital notes such as GoodNotes and online communication such as LINE.
You can create digital stickers to sell online using a variety of online tools. You may draw your anime-style character in Chibi form or cute anime-style animals and decorate them with art assets in Canva.
The key to creating successful digital stickers is to design them with a clear purpose and audience in mind.
Don't forget to set up your stickers theme! Keep your designs simple and your message concise, and you'll be sure to create digital stickers that sell.
Once you have created your stickers, you can then sell them online through a variety of online marketplaces.
Recommended platform to sell your stickers is on Etsy , Gumroad, and Line or you can host your own website with WordPress!
MiMi TIPS: You must be clear on the theme and usage of your stickers. The usage of a sticker in GoodNotes is not the same as LINE. For creating GoodNotes stickers, you might want to look at the stickers in this store to obtain some theme ideas!

Gaining Money Online by selling Digital Art Related Notion Templates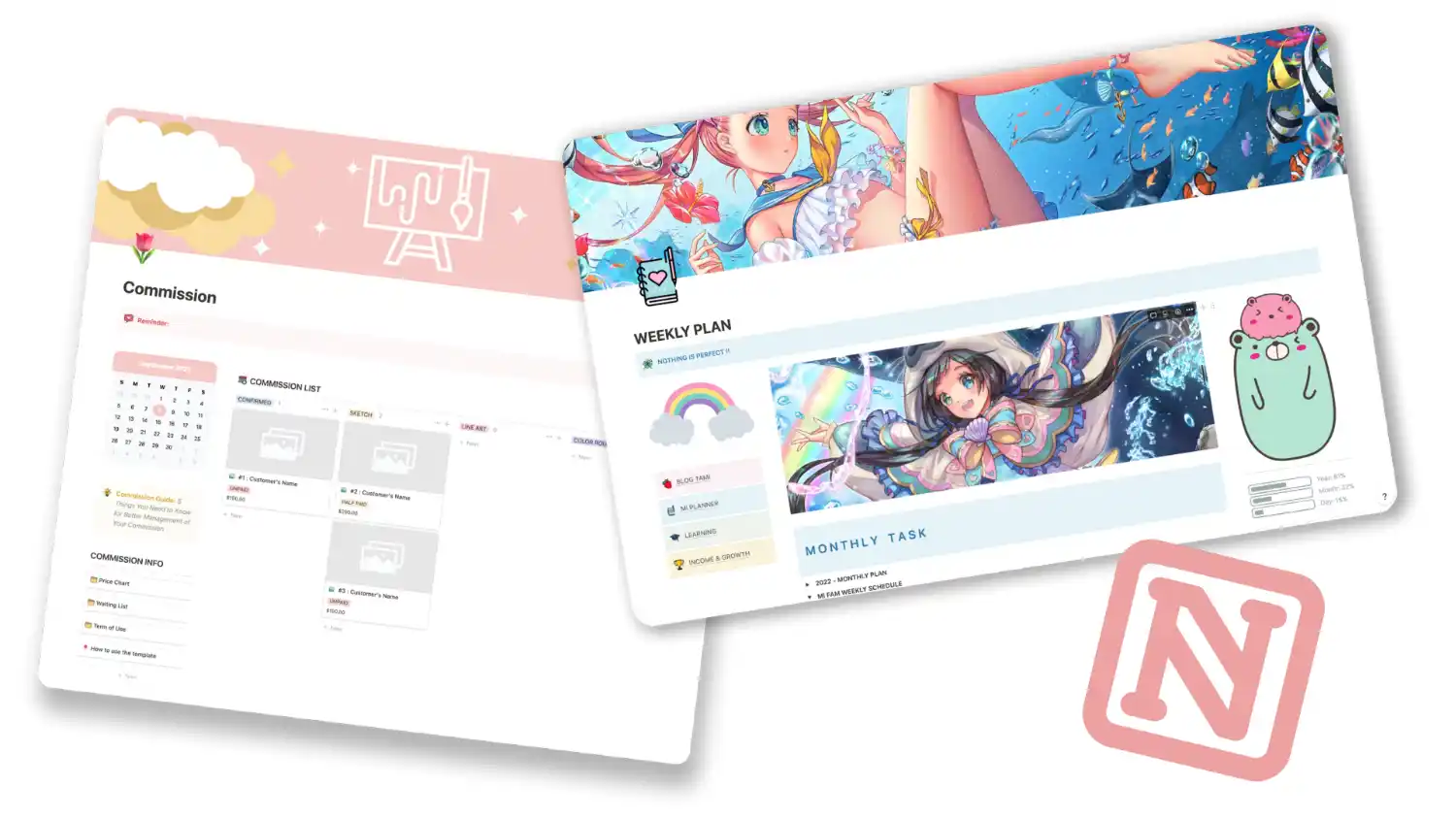 Notion is a note-taking and productivity app that allows users to create and manage their own custom templates and Notion templates are a great way to save time and improve your productivity. They help you to organize your thoughts and ideas and they can be your perfect digital product!
You may create templates related to anime art or drawing such as:
Art Commission Templates
Drawing Checklist Templates
Art Practice Schedule Templates
Character Sheet Templates
Character Design Templates
Character Design Checklist Templates
You can list your template on Etsy and Gumroad and sell them as your digital product.
MiMi TIPS: If you want to see the sample of the art commission Notion template, you can grab mine here for FREE!

Generate Passive Income With Art Resources, Art Assets, or Customized Brushes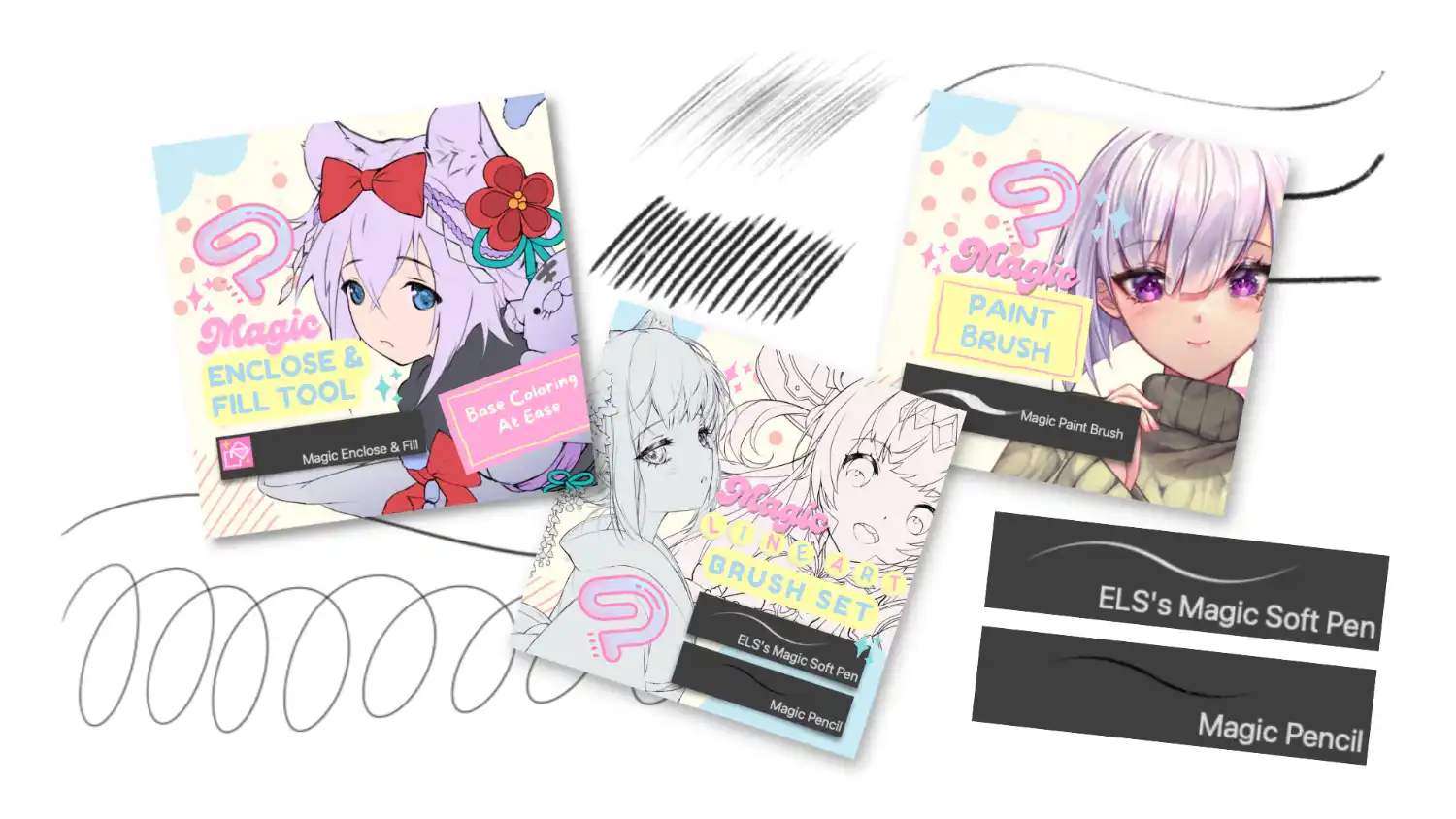 Art resources and assets are any creative work that can be used in a digital product, such as a video, game, website, or any digital contents. They can include images, photos, videos, audio, and any digital asset files such as digital brushes and 3D models.
You can sell art assets online as a digital product. There are a number of platforms that allow you to sell your art assets as downloadable files, such as Etsy, Gumroad, Flipped Normals, SketchFab, and Art Station.
If you have your own website, you can use it to showcase and sell your art assets. This can be a great way to get exposure for your work, and to make some extra money. Just make sure that your site is well-designed and easy to navigate, so that potential buyers can easily find what they're looking for.
BRAINSTORM: What do your audience need from your art asset? Why do they need it? Your audience needs an art asset that is easy to use and helps them save time. You can sell your art asset by telling them how awesome your asset is and how it'll be beneficial to them.
MiMi TIPS: You can take a look at my art asset product to get more idea!

Consider Selling Your Artwork as PSD Files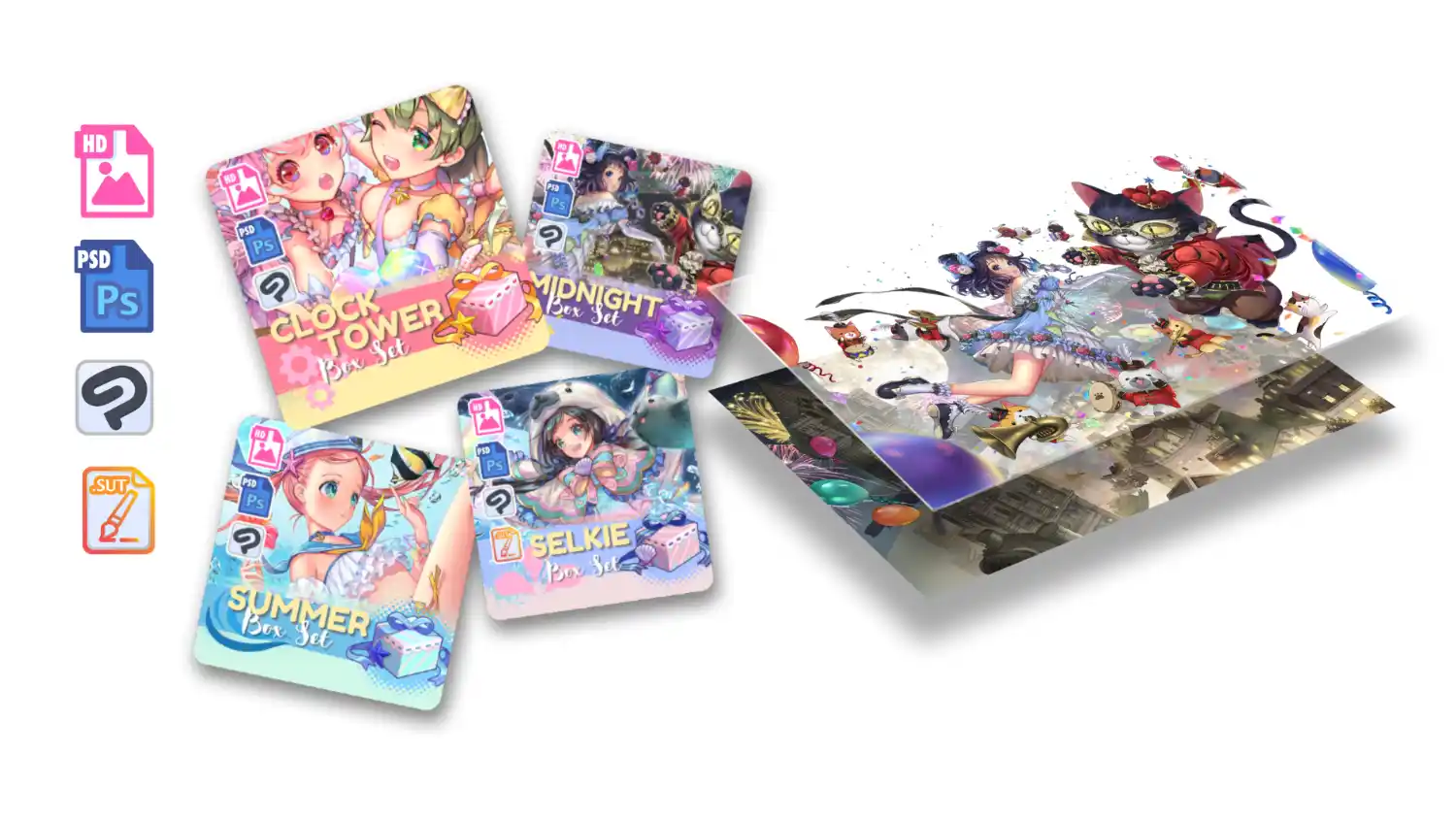 If you're a digital artist, you may want to consider selling your artwork as PSD files. PSD files are high-resolution image files that can be edited in Photoshop.
By selling your artwork as PSD files, you'll be able to give your buyers the ability to dissect your artwork for their own study. They'll also be able to make their own edits and experiment with your art. You can also offer different color variants, or some changes in the character's expression of the illustration in the PSD files as well.
The best way to sell this type of digital product is Gumroad and Patreon or even on your own online store website.

Turn You Art Tutorials and Online Courses to Sources of Revenue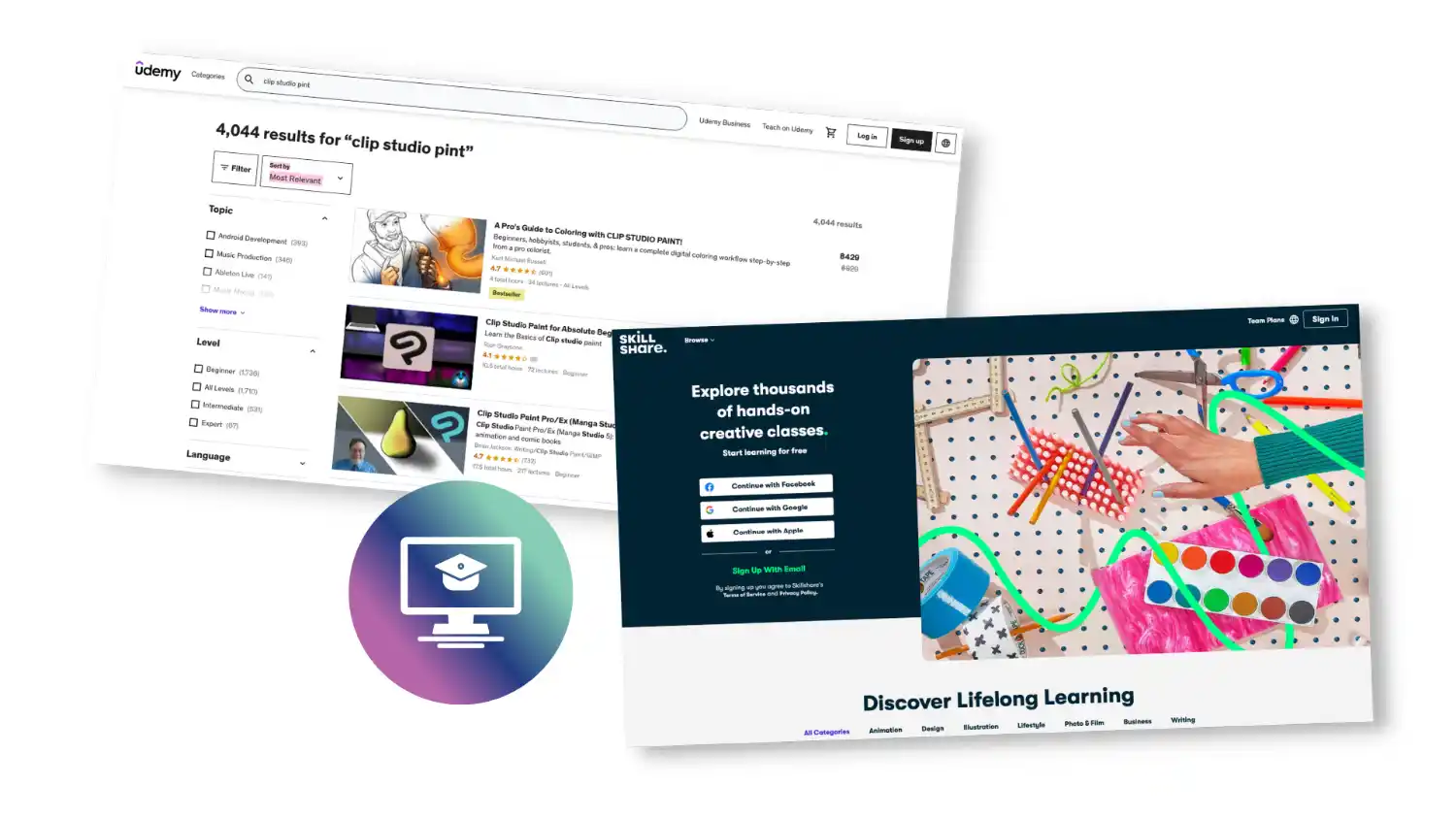 Look, it's not a big deal. Anyone can teach a course. You might not realize it, but there's probably a lot of stuff you know about making art that other people would be willing to pay for. Art tutorials or mini art courses are an easy way to build up your credibility, and help our fellow artists out at the same time.
Again, take a look at your most popular social media post for inspiration. What art related topics do you love to talk about, and what advice do you have to offer? For example, if you're an anime artist who talks about character designing, you have the potential to change lives by sharing your character design tips!
Don't worry if your topic has been done before. That means there's proof that your topic is trending and you have a higher chance of success in sales.
There are many places you can list your online course. Some popular options include online course directories, such as Udemy and Skillshare, or your own website or blog. You can also promote your course on social media platforms. If you have an email list, you can also promote your course to your subscribers.

Create and Sell Your Anime Character as Adoptables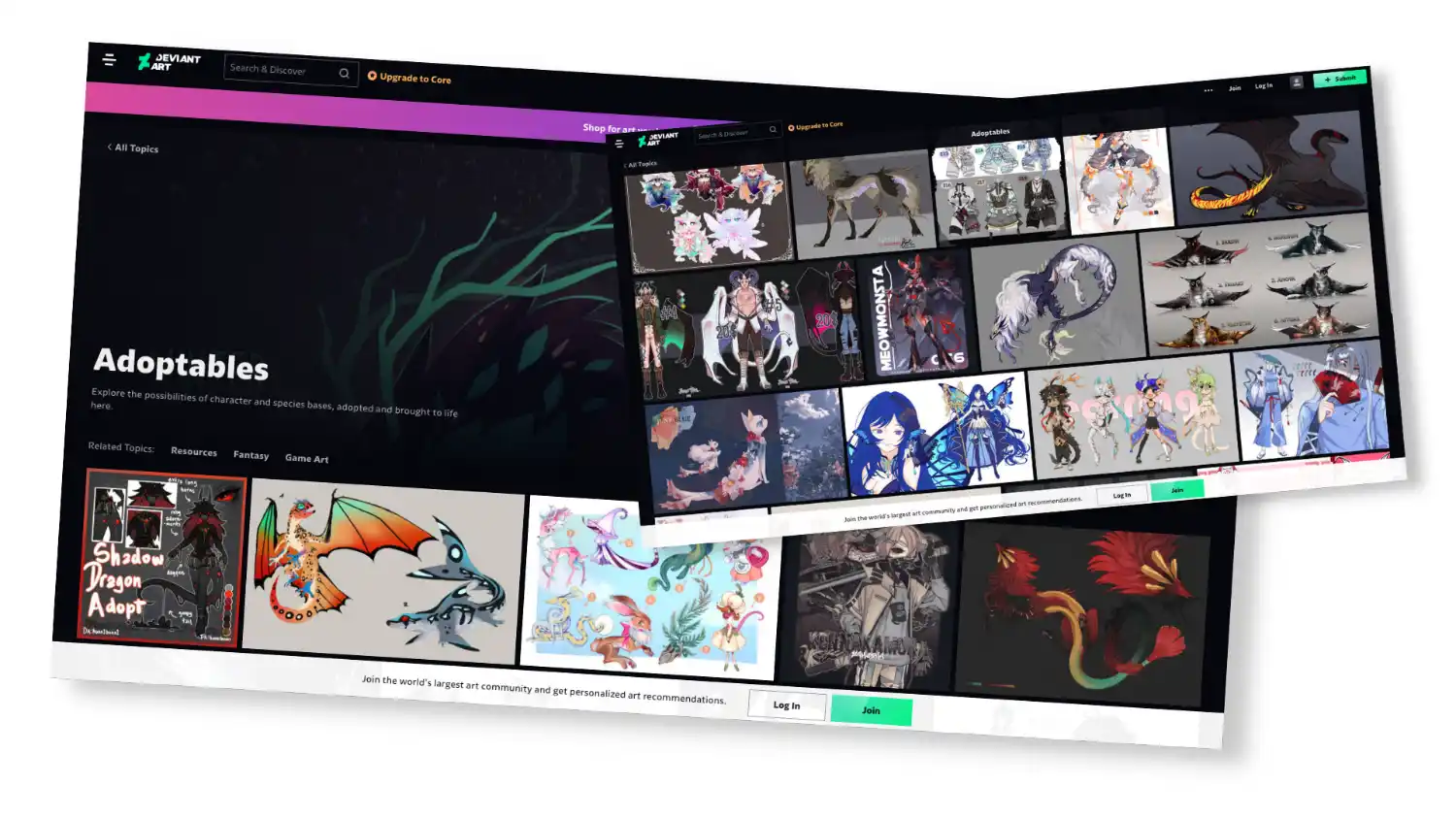 If you love creating character design, you might love this method! There are many different ways to make money from your original design character, one of the best ways is through selling Adoptables.
Adoptables is a concept of characters or creatures that can be bought and sold by anyone. It's a very popular way to make money as an artist and it's also very fun to do. You can create your own Adoptables or you can buy pre-made ones from other artists.
There are many ways to sell your Adoptables, but the two most common ways are through online auctions and through online shops. Online auctions are great because they allow you to set your own price for your Adoptable. This means that you can make a lot of money if your Adoptable is popular. However, it also means that you might not make as much money if your Adoptable isn't as popular.
For more information, you may search for the Adoptable group on Facebook or visit this topic page on Deviantart and you'll find more samples and useful things about Adoptable in that community. I'd seen some artists sell their Adoptables on their own social media platforms as well.
However, this way is not a passive income work since you have to create a new character to make money.
MiMi TIPS: Make sure you write a clear TOS before starting selling your Adoptables.
In conclusion, Anime artists don't just make a living by selling digital artwork, but by selling other digital products such as digital stickers, Notion templates, art assets, PSD files, online courses, Adoptables, and so on! Selling digital products that can be sold on autopilot will help reduce your workload and gain more revenue.


Finally, if you like art tips and content like this, feel free to subscribe to my weekly newsletter: MiMi Art Tips!
I share my anime art tips and experiences in my digital art career in a weekly email. You'll get the insight and behind the scene of the art career! Really recommend if you're a beginner anime style artist.  Click here to subscribe!
Thank you so much for reading this post! I really appreciate your visiting and using your valuable time reading my content!
Much Love 💖