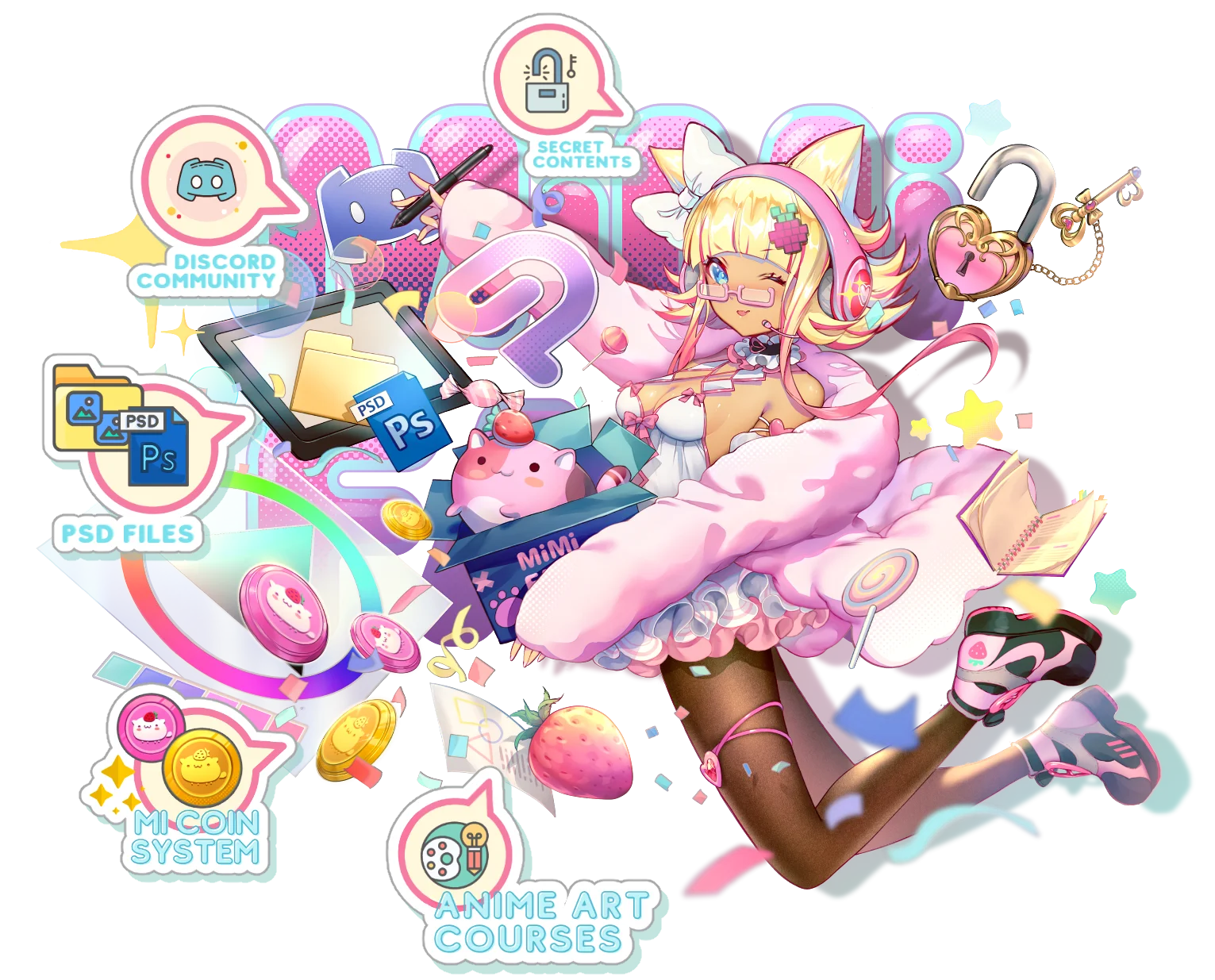 A Drawing
Membership
You'll
♥

MiMi Family is a membership for everyone who loves anime-style digital drawing to learn and grow!
6 MEMBERS HAVE JOINED MiMi Family

"Where Do I Even Start My Anime-Art Drawing?"
"I'm Sick of Drawing Alone And Guesswork Practicing"
"I Need Artists' Guides and a Supportive Community To Help Me Grow."
"I Want MORE JOY AND MOTIVATION IN MY DRAWING!"
No Worries.


I've Got Your Back!
… Let's Meet …


Access monthly resources to enhance your art skills
Learn digital drawing from scratch using CLIP STUDIO PAINT
Access my working process & online art courses!


Select MiMi Family Level
The members will receive Secret Content, Online Courses Access, Premium Art Tutorials, Discord Community, and many more on our website. No commitment. You can upgrade, downgrade, and cancel at anytime!
SPECIAL OFFER!: Every level will get a Clip Studio Paint For Beginners Course for FREE!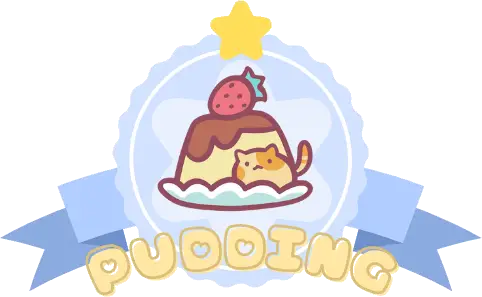 Pudding
Thank you for joining!
Discord Exclusive Role
WIP Sneak Peek
Clip Studio Paint for Beginners Course
Assignment Review 1 Month
+5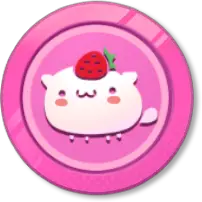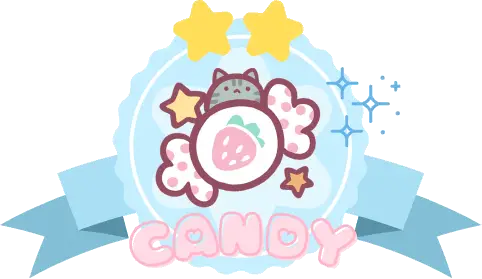 Candy
Access my art process!

Includes Pudding Tier Benefits
1 x Hi-Res Painting Process Every Month
1 x Hi-Res Finished Illustration Every Month
Access and Vote the Monthly Poll
+10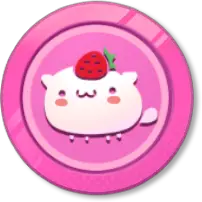 Every month
🔒 Timelapse Process Video (Unlock at 30 Members Goal)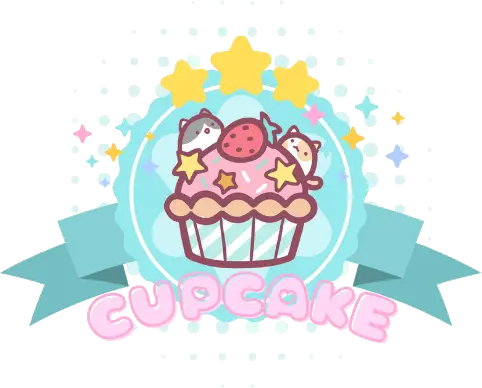 Cupcake
Boost your art skills!

Includes Pudding and Candy Tier Benefits
Discord Secret Room
10% Discount on MiMi Shop and Online Courses
1 x Layered PSD File Every Month
Access to Premium Tutorials Archives
Access to Family Quest Roadmap
+20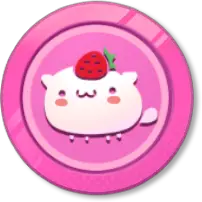 Every month
🔒 Voice Over Video Tutorial (Unlock at 60 Members Goal)
BEST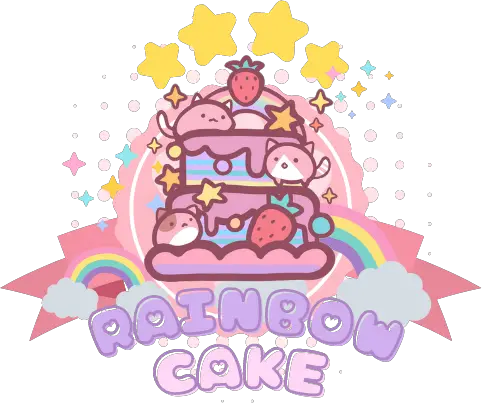 Rainbow Cake✨
Access to All Courses & Get Private Art Comments!
Includes Pudding, Candy, and Cupcake Tier Benefits
20% Discount on MiMi Shop
Q&A Live Session
Assignment Review All Time
Drawing Lab Priority
Access to All courses
+150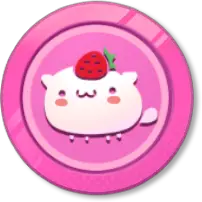 Every month
+10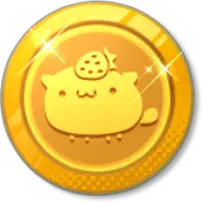 Every month
🔒 Digital Art Workshop (Unlock at 200 Members Goal)
You Can Pay Annually
$600 $450
Use Discount Code: 1YEAR

Be a part of the Mimi Family and help us to keep evolving. Our membership development depends on all of your support. Every time we meet the goals, new content and activities are added!
30✦MEMBERS
Unlock Timelapse Process Video:  A speed video of my working process from draft till done.
60✦MEMBERS
Unlock Voice Over Video Tutorial: Explain all the processes and techniques I used.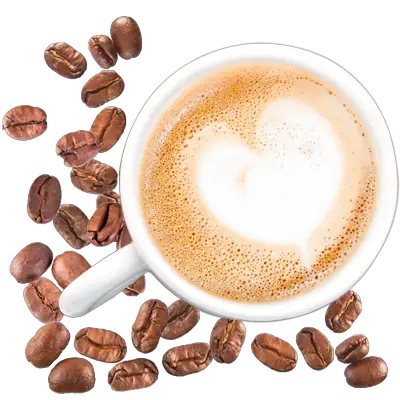 100✦MEMBERS
Unlock Online Art Courses : I'll create more courses to help you improve your anime-style art skills!
200✦MEMBERS
Unlock Digital Art Workshop: I'll create a digital art workshop for Rainbow Cake members!

Supportive Family
Drawing alone no more. Let's draw and improve your art together with our community.
Unlock Exclusive Posts
Have access to all past exclusive posts and art tutorials made for our members only!
Paint Over & Comments
Rainbow Cake members will have a priority for the paint-over and comment from me!
Monthly Challenge
Join the monthly drawing challenge on our Discord and win rewards!
Premium Resources
Premium Clip Studio Paint brushes and art assets. Updated Monthly!
Clip Studio Paint Courses
Access online digital art courses created by me and have a chance to get a critique.

About LUNAR*
Artist ✦ Illustrator

Maria is a Roman-born pastry chef who spent 15 years in his city Rome perfecting his craft and exceptional creations. Vestibulum rhoncus ornare tincidunt. Etiam pretium metus sit amet est aliquet vulputate. Fusce et cursus ligula. Sed accumsan dictum porta. Aliquam rutrum ullamcorper velit hendrerit convallis.


5 Ways to Enjoy MiMi Family 
Let's take a look inside our MiMi Family. Learn more and have fun!

MiMi Family Members Get Access To: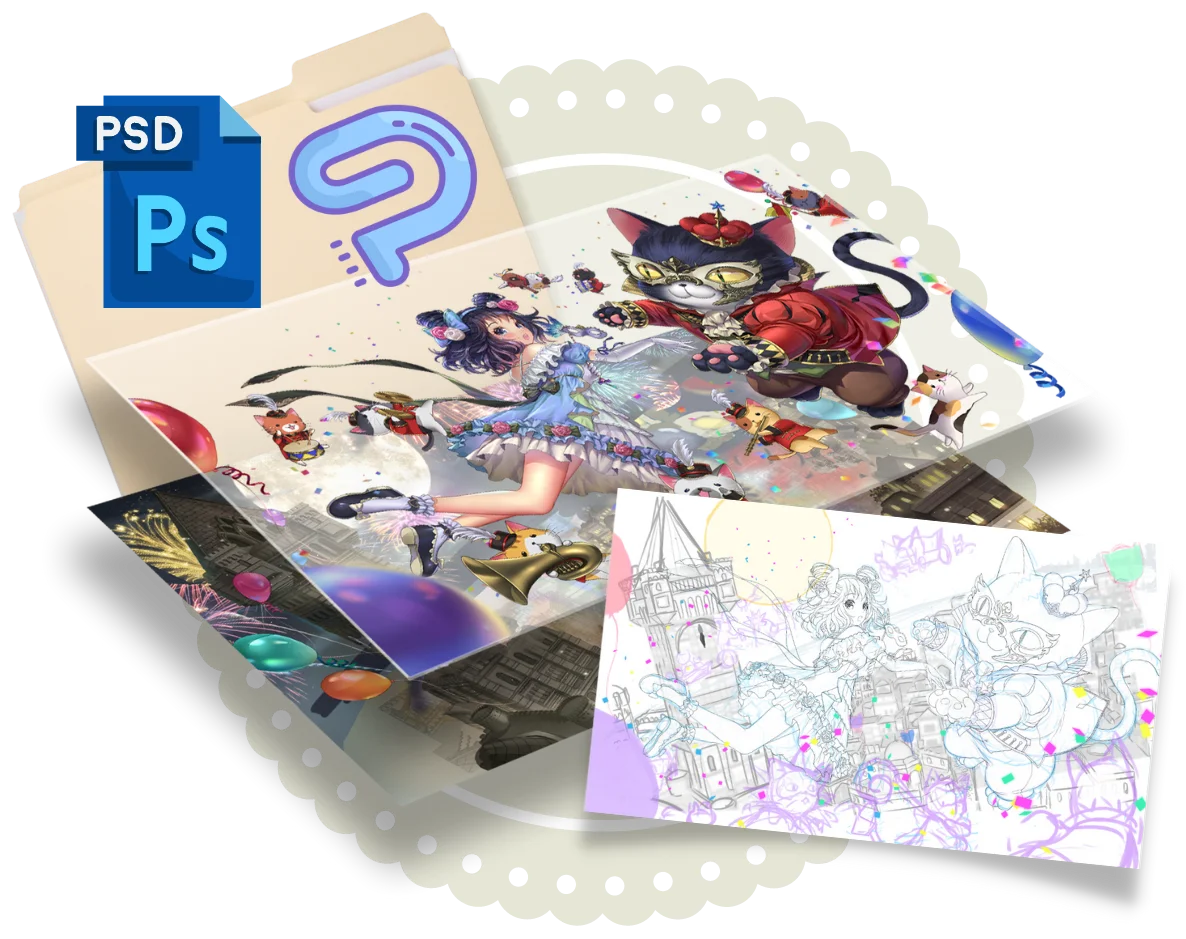 My Art Process, Full HD Illustration, and PSD/CLIP File
($10 Value)

My hi-res process and finished illustration are available for the Candy and upper level members. You'll get the maximum size of 4000px with 350 dpi PNG files. The PSD/CLIP files will be available for Cupcake and Rainbow Cake. Family Members can download all files on Download page.
Online Courses Archive, Premium Tutorials, and Learning Road Map
($230+ Value)

Members at the Cupcake and Rainbow Cake levels get instant access to the quick win  Premium Tutorials and Family Quest Learning Roadmap right away after registering. We also have a library of online courses for Rainbow Cake members to access for free while the Cupcake members will get a 10% discount on all courses. Feel free to select and explore a topic of interest at any time and anywhere. Moreover, according to our roadmap, there will be more courses added in the future!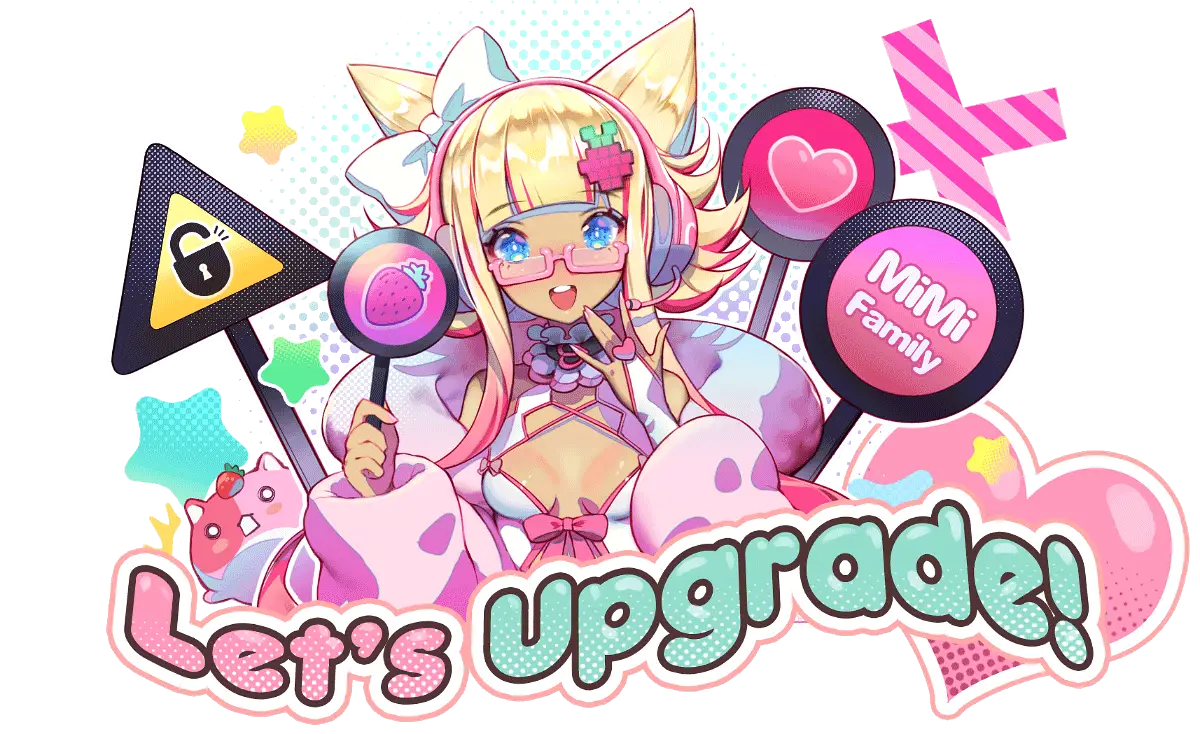 PDF Paper Guides, Cheatsheets, and Checklists
($40+ Value)

Essential guides for quick boost up your art skill are available for Cupcake and Rainbow Cake members. These documents including:
Beginners Checklist for Starting Your Digital Art Journey
Anime-Style Coloring Practice Guideline
Powerful Artistic Composition Worksheet
Drawing Cute & Moe Character Guideline
… and much more after joining the MiMi Family!
Q&A Live Session, Paint Over Service, and Assignment Review
($150 Value)

EXCLUSIVE SERVICES for the Rainbow Cake ONLY! ❤ You'll get a monthly group stream for Q&A sessions and you'll be able to send me up to 2 pieces of your artwork to receive honest C&C (Critiques & Comments) in our Drawing Lab every month. Plus, you could send me the assignments from the course in which you enrolled, and all of your assignments will be reviewed by me and our Team MiMi, who are professional artists, so we could help you improve your art skills in your own pace and style.
Total Value: $430
Join a Rainbow Cake level And You Get It All For:
$50
USD Per Month
BEST VALUE: Save $150 for the annual payment plan!!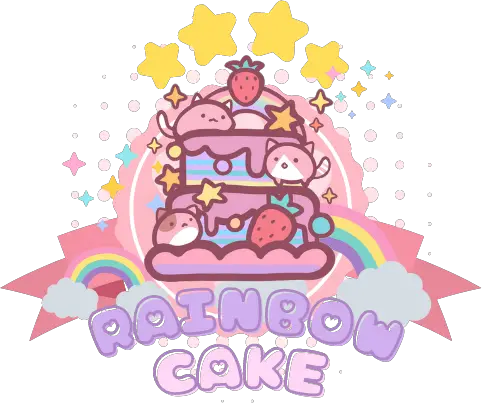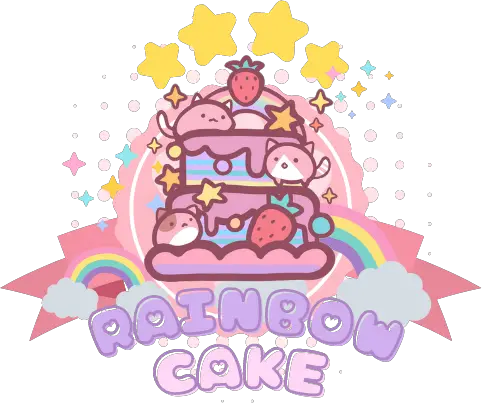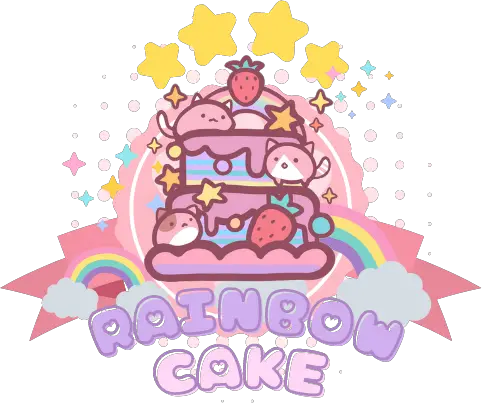 14-Day Money Back Guarantee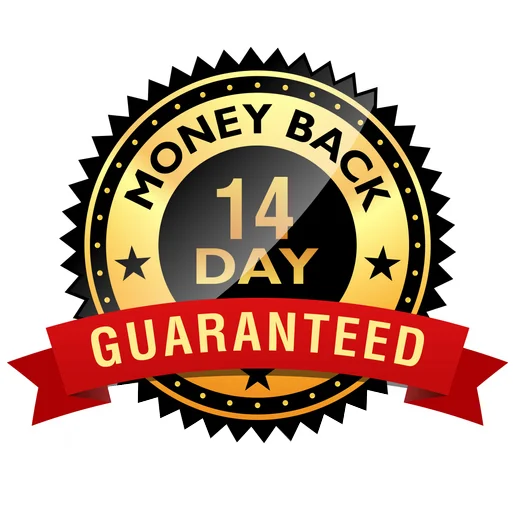 I poured all of my expertise and efforts in the digital art profession area into the MiMi Family and believe in the membership so strongly that I provide a no-questions-asked money-back guarantee.
If you don't observe any improvements in your drawing abilities or are dissatisfied with the membership after 14 days, I will return your whole purchase price, no questions asked.
Mimi Family is intended to hold your hand and guide you through every step of the digital creative journey. I am confident that if you put effort into the program and receive honest feedback from me and our community, you will significantly enhance your drawing abilities plus you'll have joy and motivation to draw. Apart from that, I'm here to help you and answer any questions you may have along the way. 🥰