Are you looking for a new hairstyle that will make your anime character stand out from the crowd? If so, consider braids! There are many different types of braids to choose from, and they can be drawn in a variety of ways.

In this blog post, we will show you how to draw ten different types of braids step by step. Whether you are a beginner or an experienced anime artist, we hope you will find this tutorial helpful. So let's get started!
The basics of drawing hair
First thing first, you may need to understand the basic hair drawing. I'll give you a quick summary tips here.
To draw hair, we'll start by drawing a basic outline of the head and neck first. Then, add in the details of the hairline and scalp.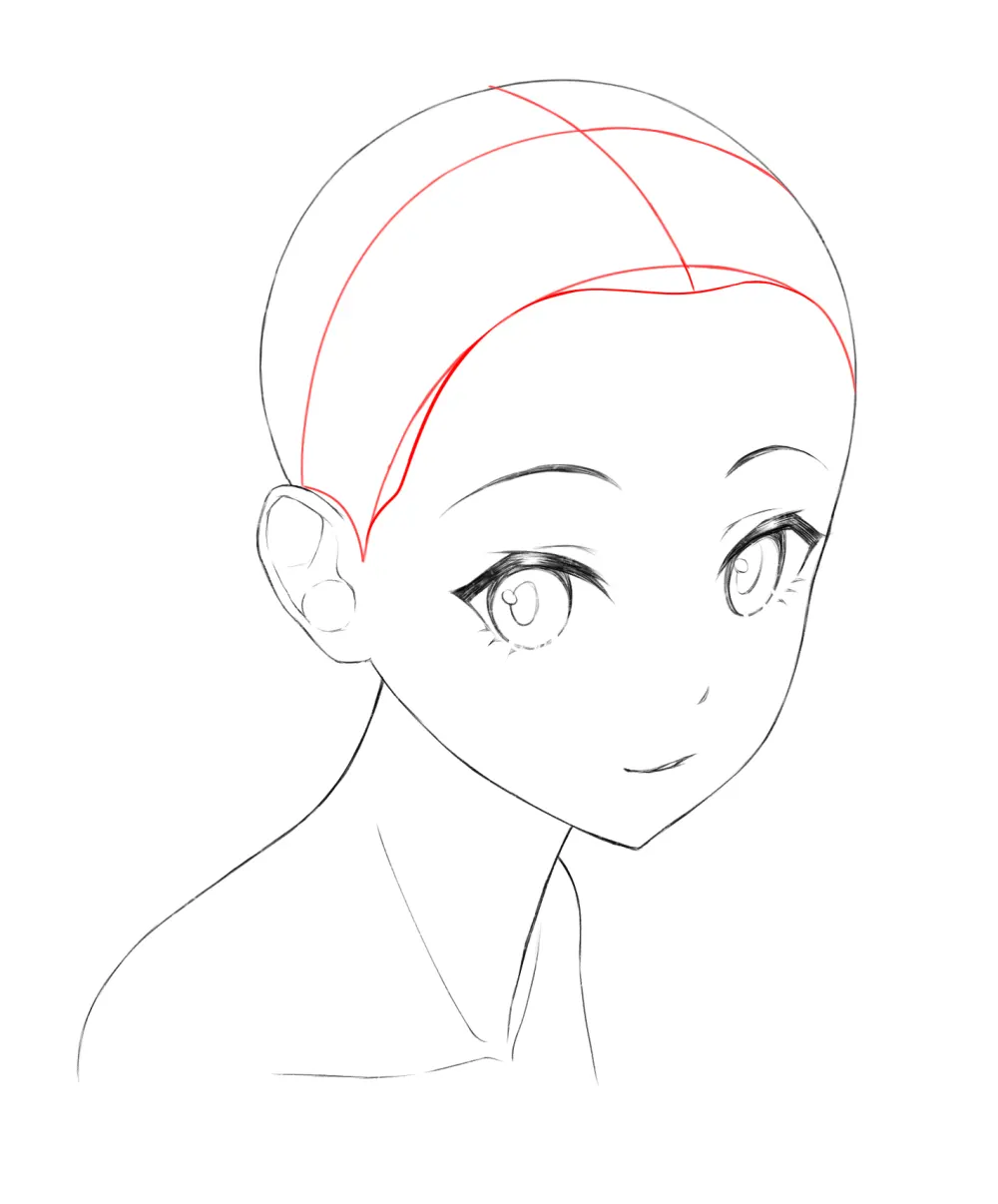 Please keep this shape of the head in mind while we sketch the character's hair. Unless the hair moves, the direction of the hair must match the shape of the head.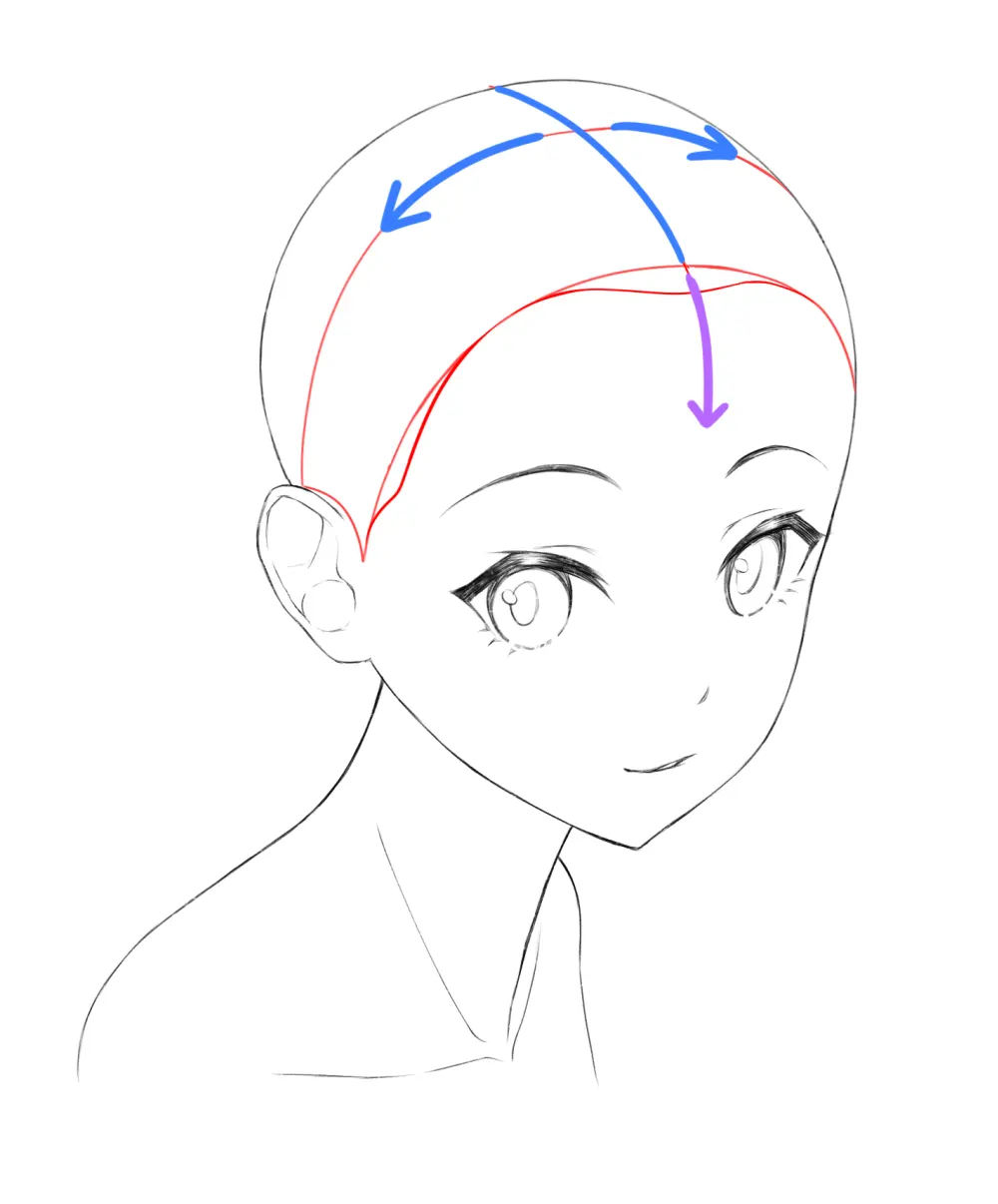 I'll use this image to help you comprehend the hair section. I always split it into three sections: the bang, the side hair, and the rest.

However, it depends on your character's hairstyle. If your character has a pony tail or twin tails, you may need to break it into several sections.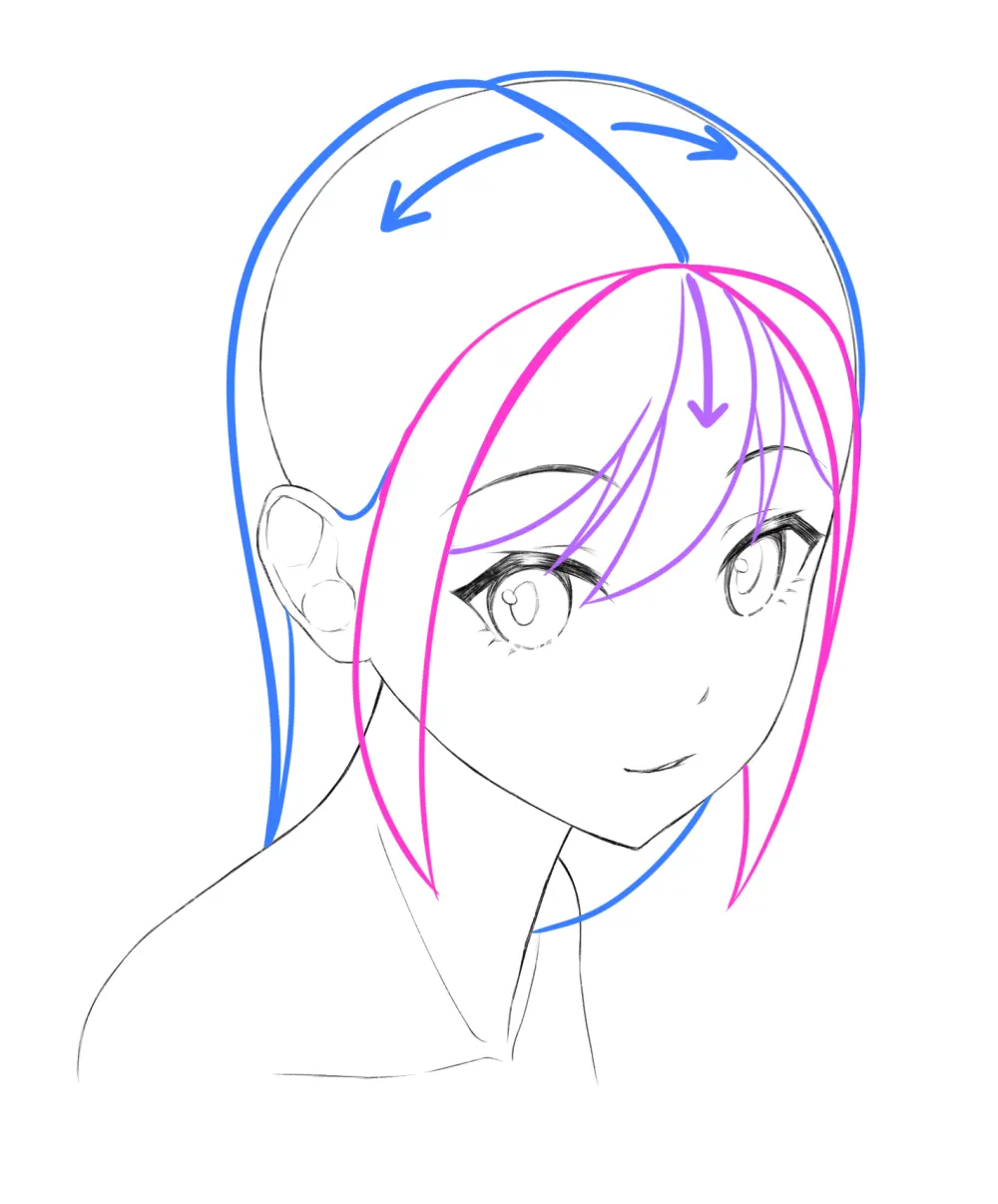 In this step, I'll begin to add more hair details. Remember to use the previous step's guiding lines! Having guide lines makes drawing considerably simpler.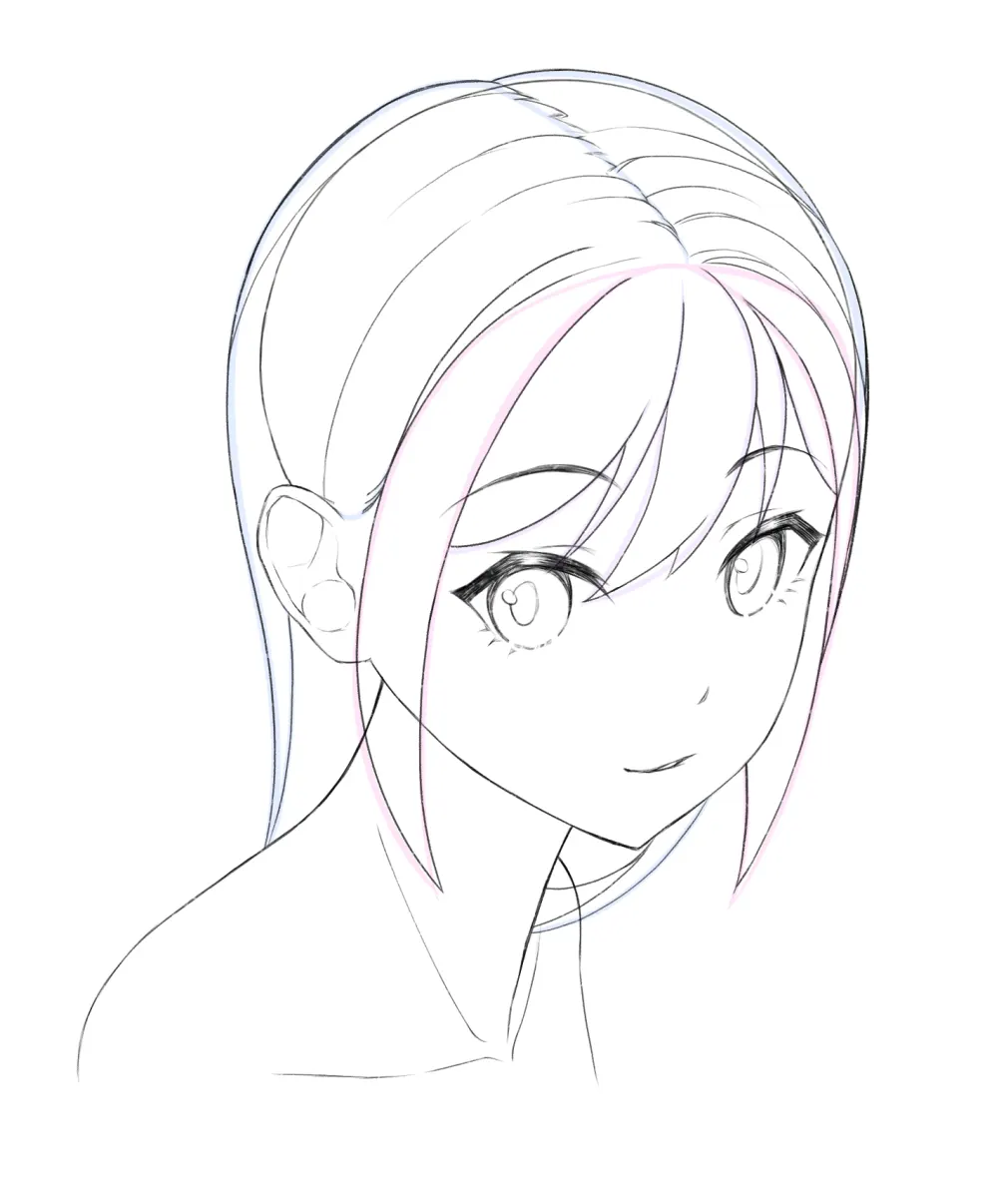 After I finish the previous process, I'll add some details to the hair to make it appear more natural. I added a few additional strands, as shown in the photo below.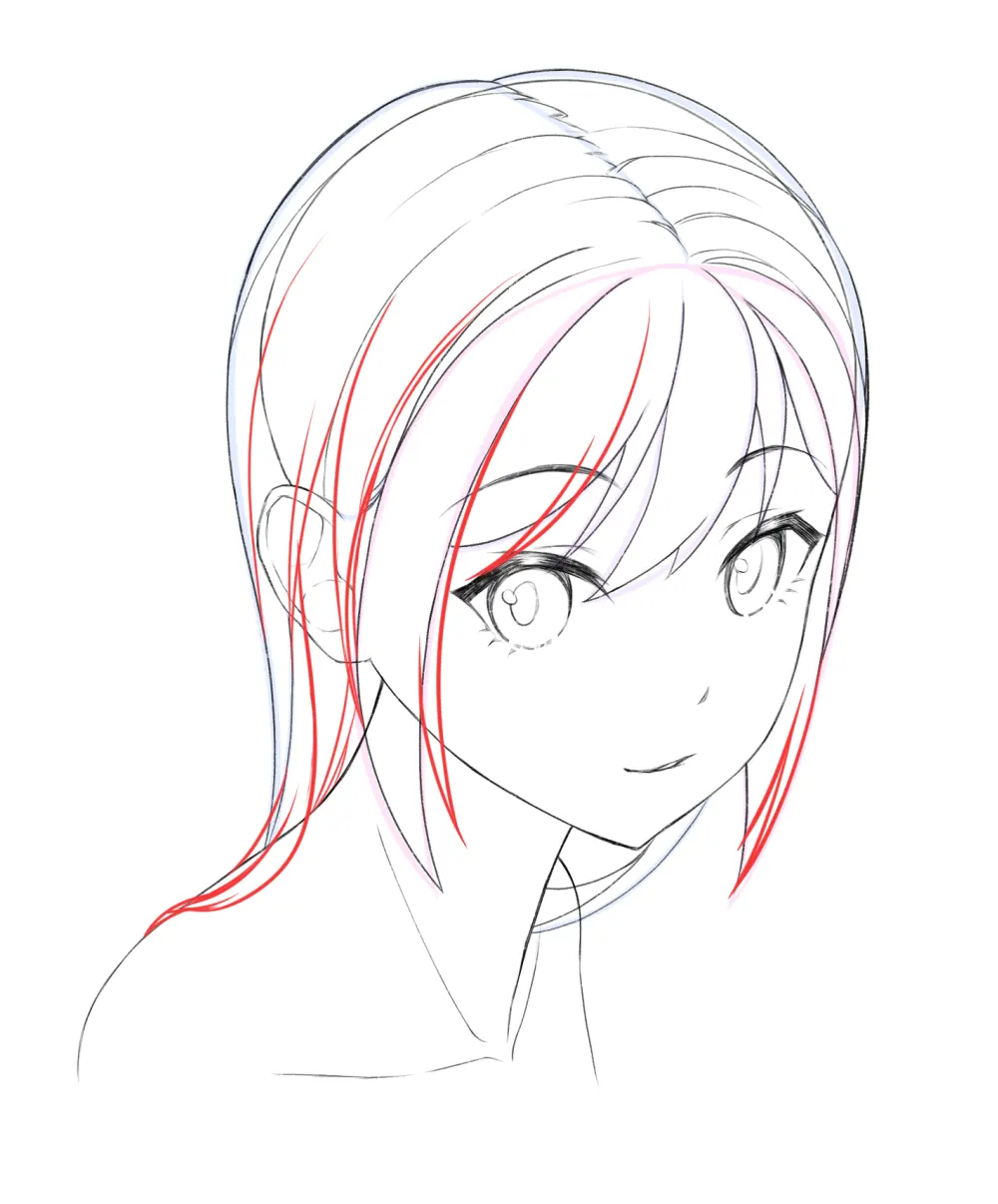 I added the detail using the guiding lines I did in the previous step as a base and now it's done!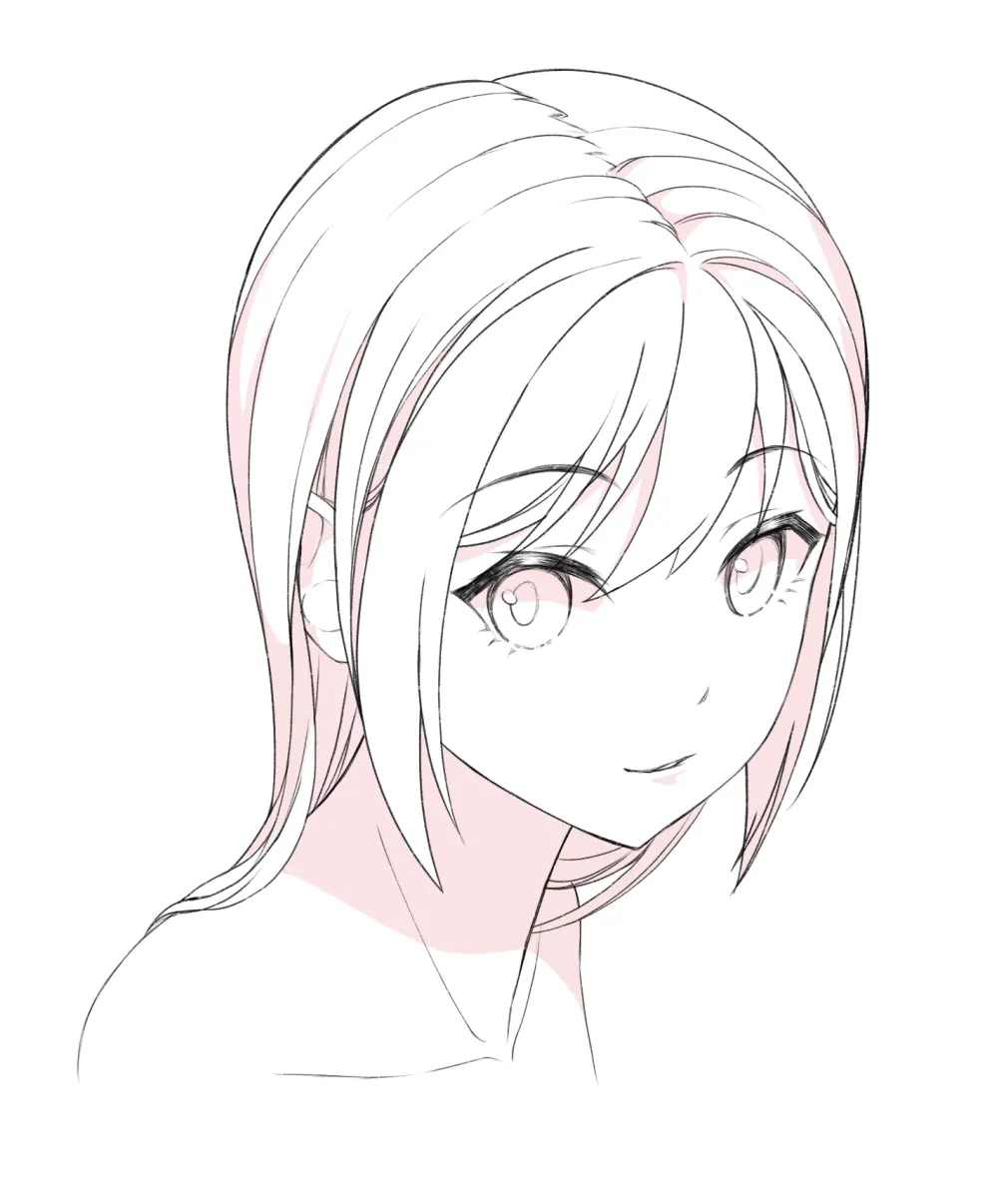 Take more notice of how hair interacts with other objects, such as the character's body. Don't forget to consider gravity and force. The direction of the hair, like the direction of garments, is determined by the interaction of gravity and force.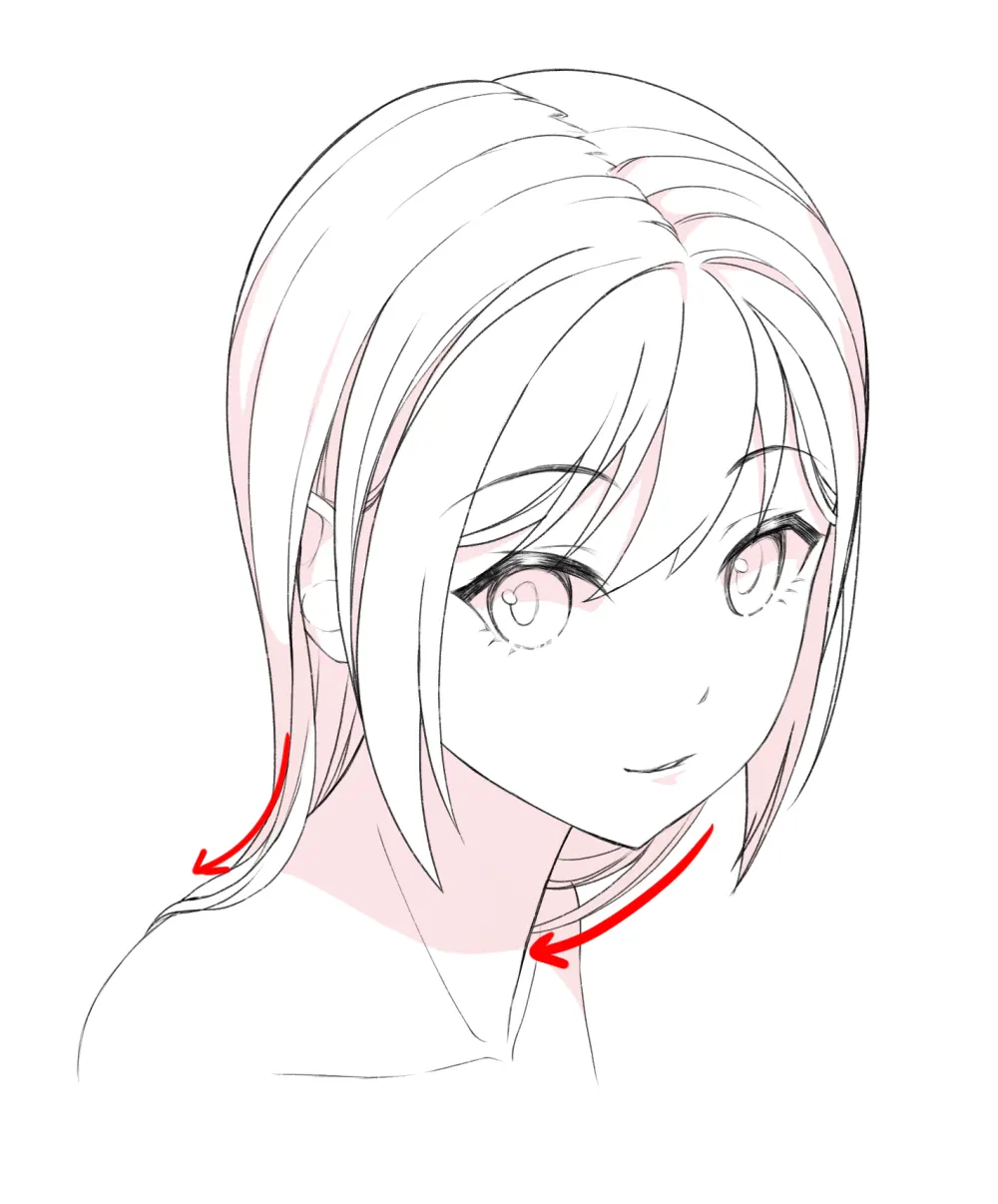 Ok, now you've got an idea of the basic hair drawing. In the next part, I'll guide you how to draw ten types of braids in anime style!
The structure of a braid
A braid is a hairstyle that involves interweaving at least three sections of hair. There are many different types of braids, including the French braid, the fishtail braid, the Dutch braid, and so on. Let's learn how to draw the basic braid first.
One of the tip I love is starting your braid drawing with zig zag line. You can see the step to draw in the picture below.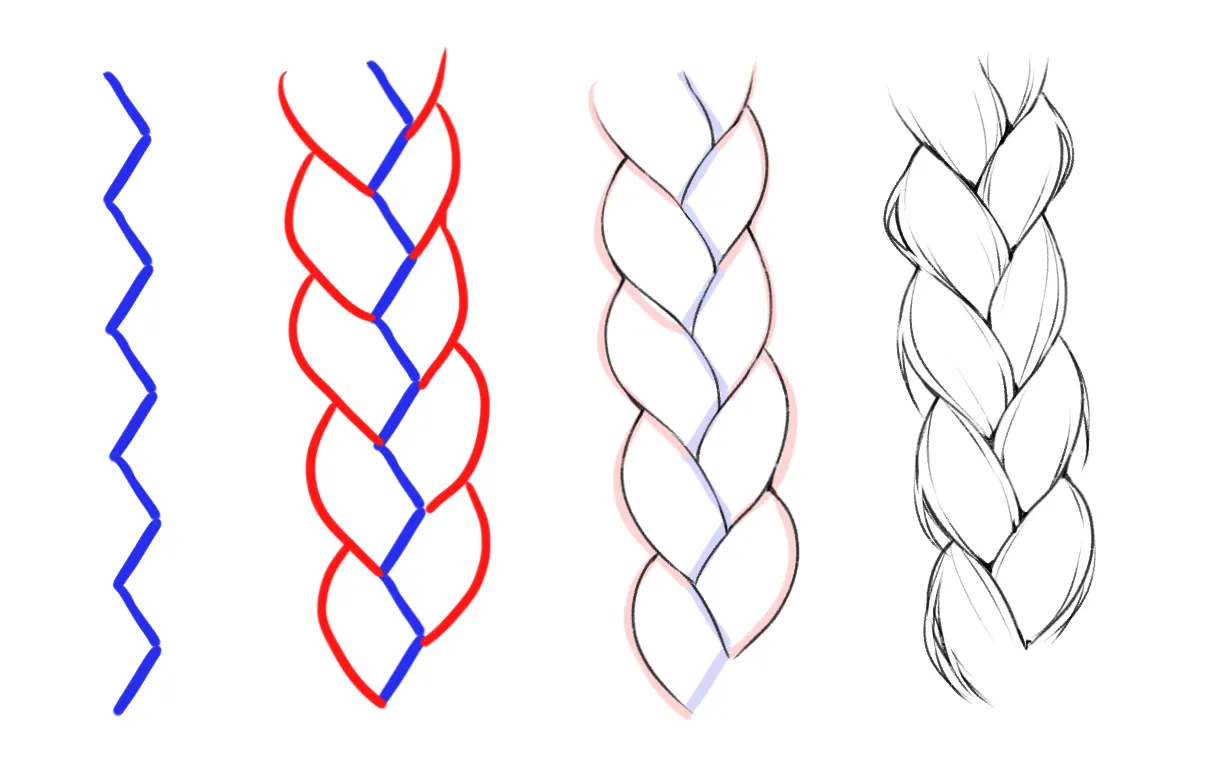 This method can be used when you draw a braid in perspective. Just draw a guide line of the braid and followed by adding the zig zag line like this.

When you're about to add more details to the braid, please search for the reference images on the website such as Pinterest or Google. Don't be shy to use photo references since every professionals always use them to level up their artwork quality.
Now you can draw a basic braid! The next step is to draw a more advanced braid style.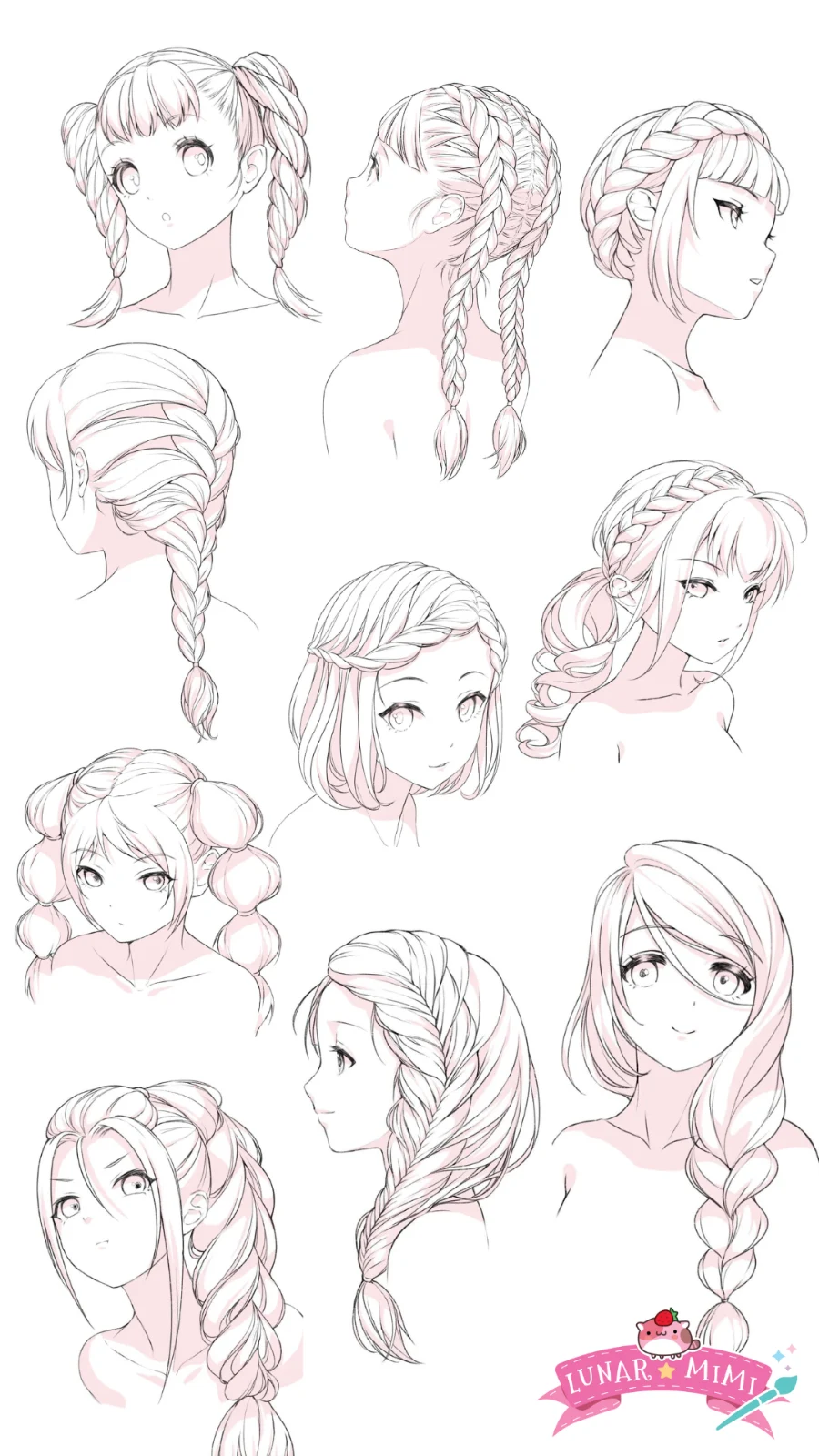 1
French braid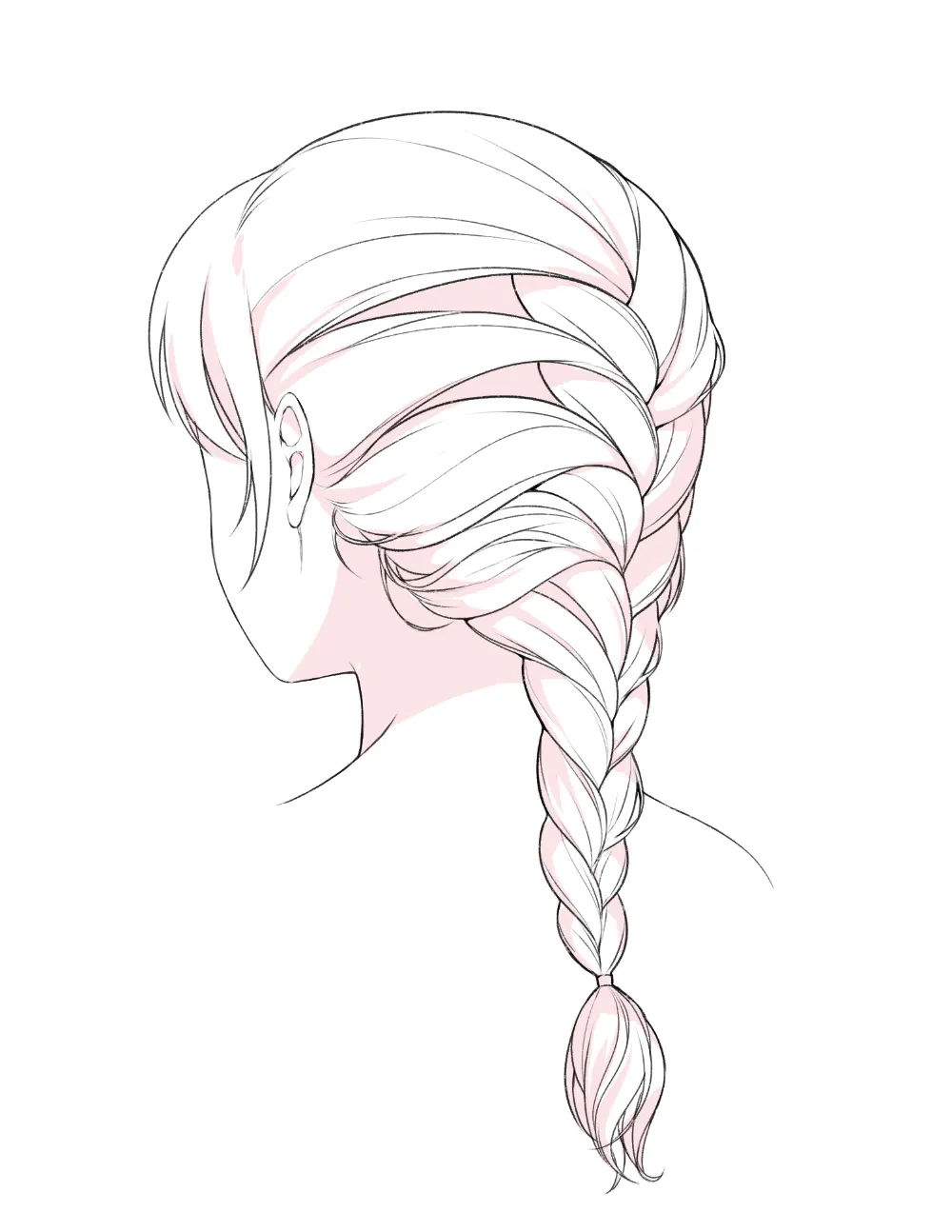 A French braid is a hairstyle that involves braiding the hair loosely along the scalp. Braid rests under sectioned off hair and the pattern faces upward like a "Y" shape.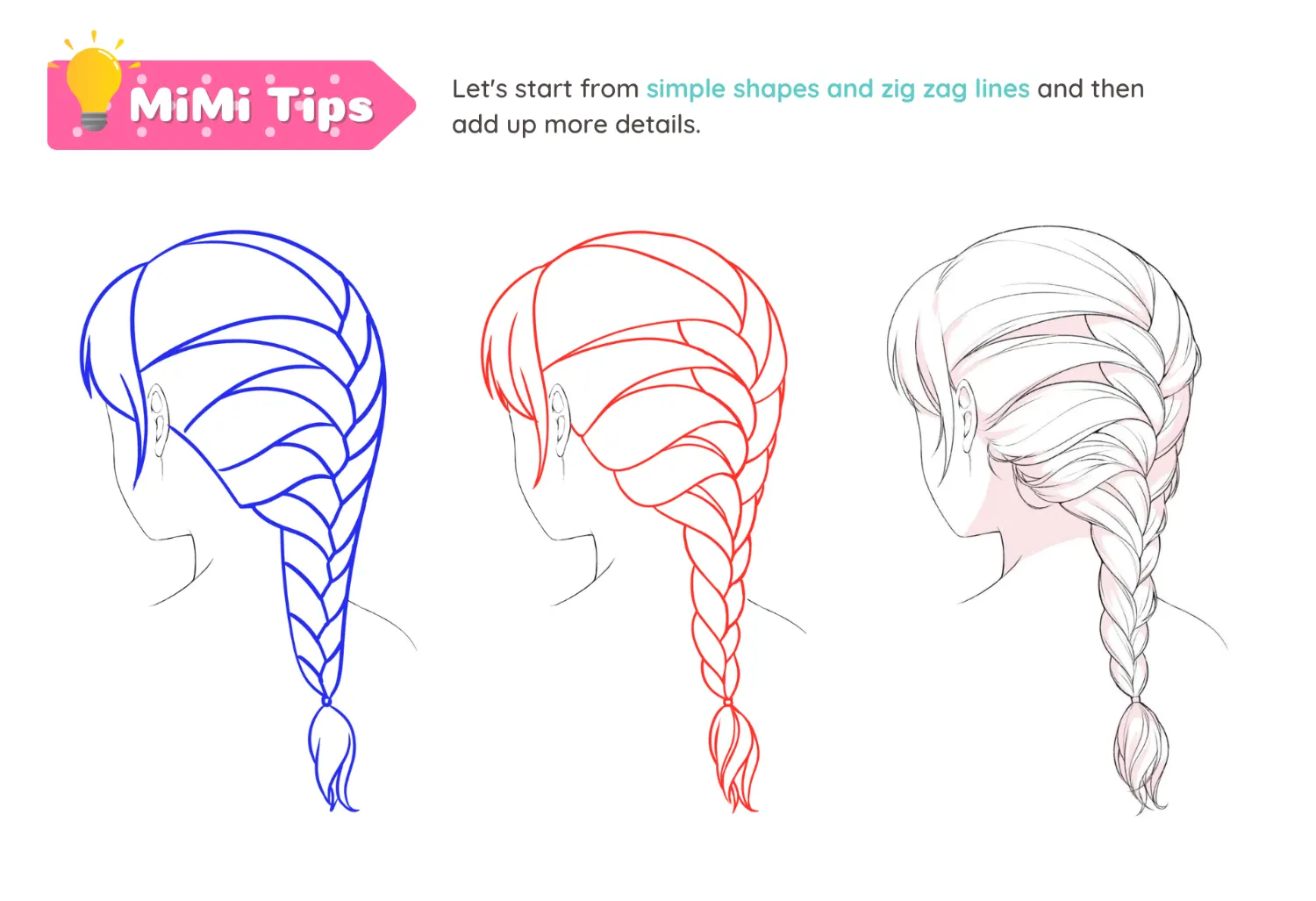 2
Dutch braid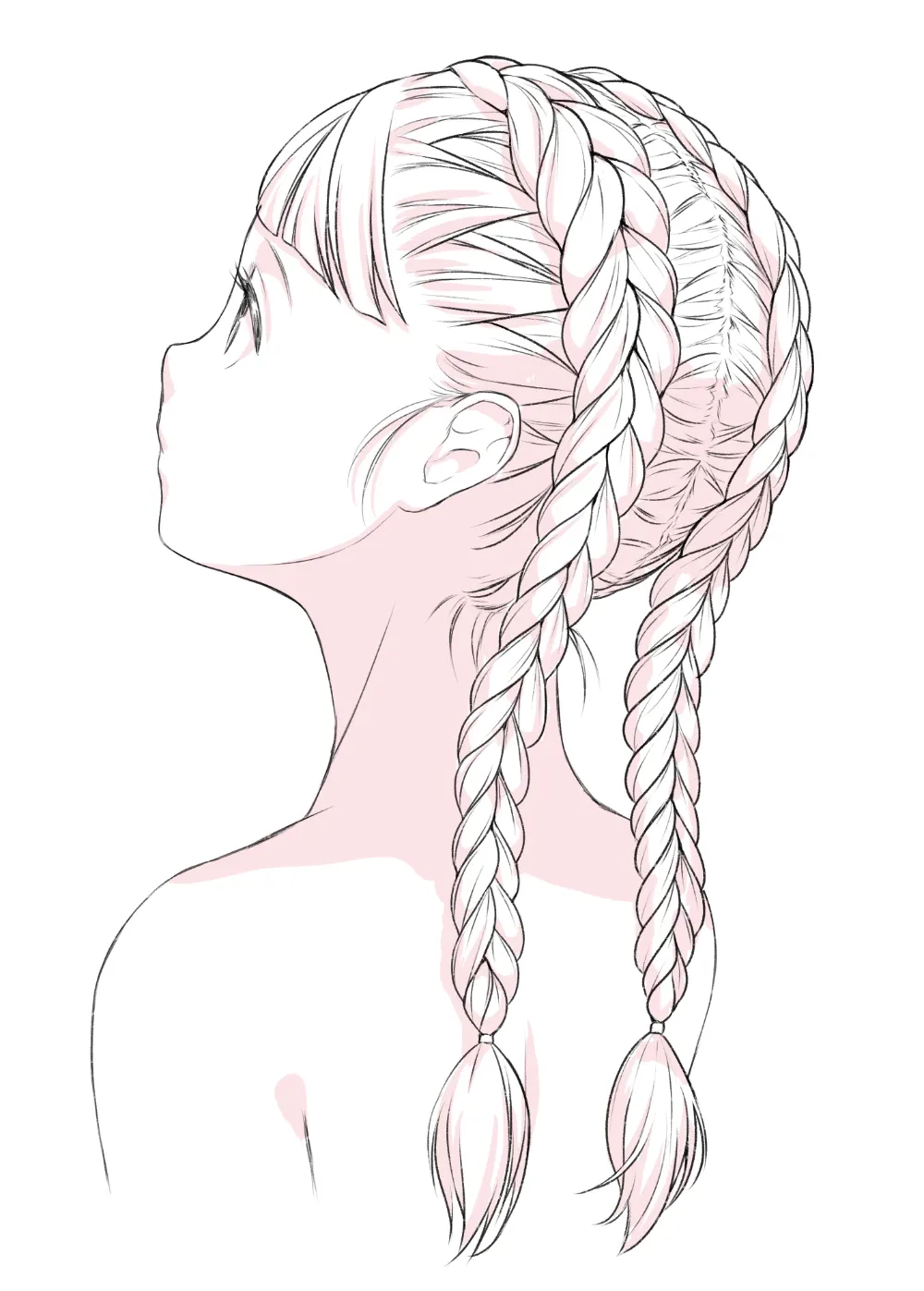 Dutch braids are a type of braid that is a three-strand braid that is pulled tight against the head. The pattern is like an upside-down version of the French braid.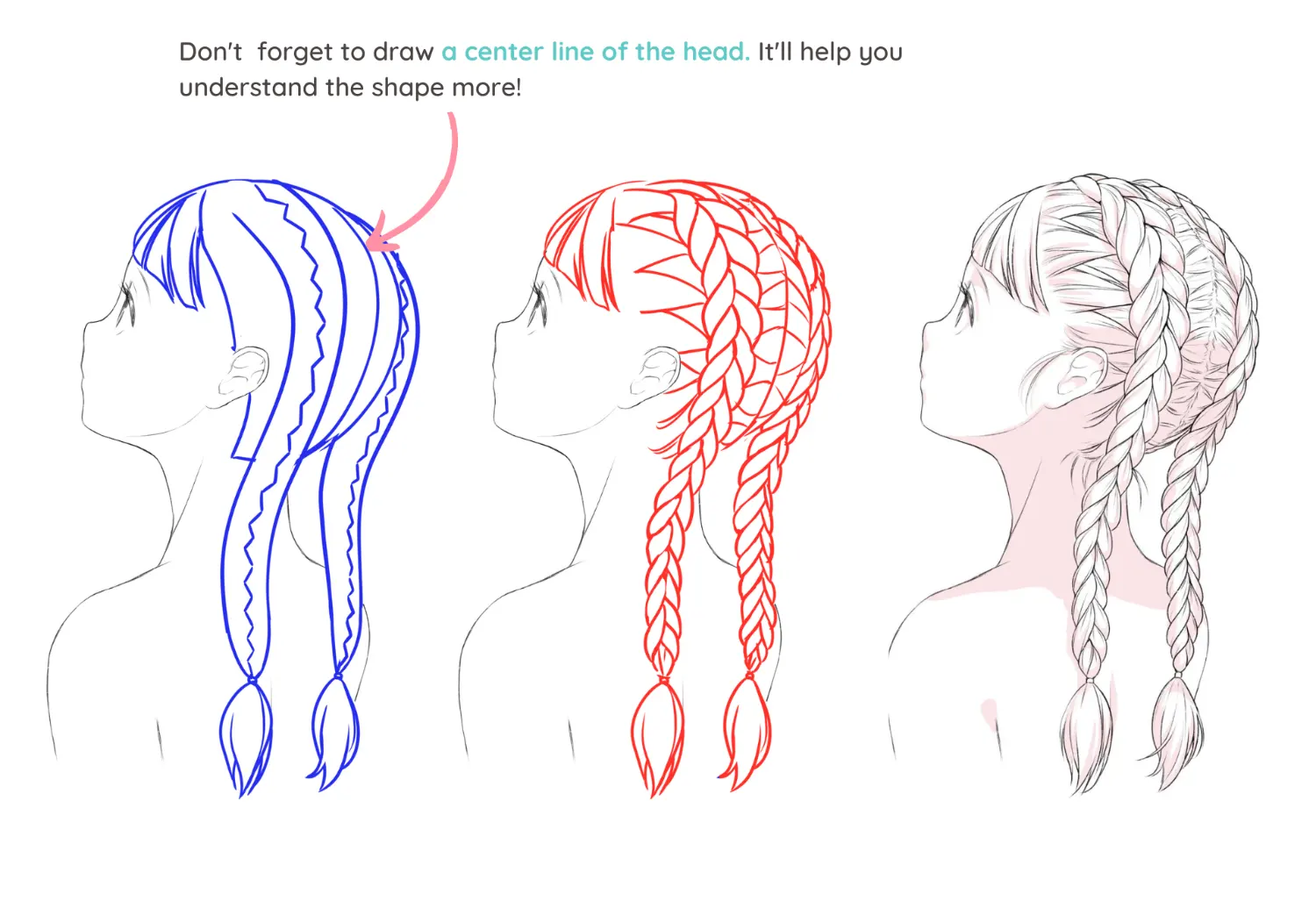 3
Fishtail braid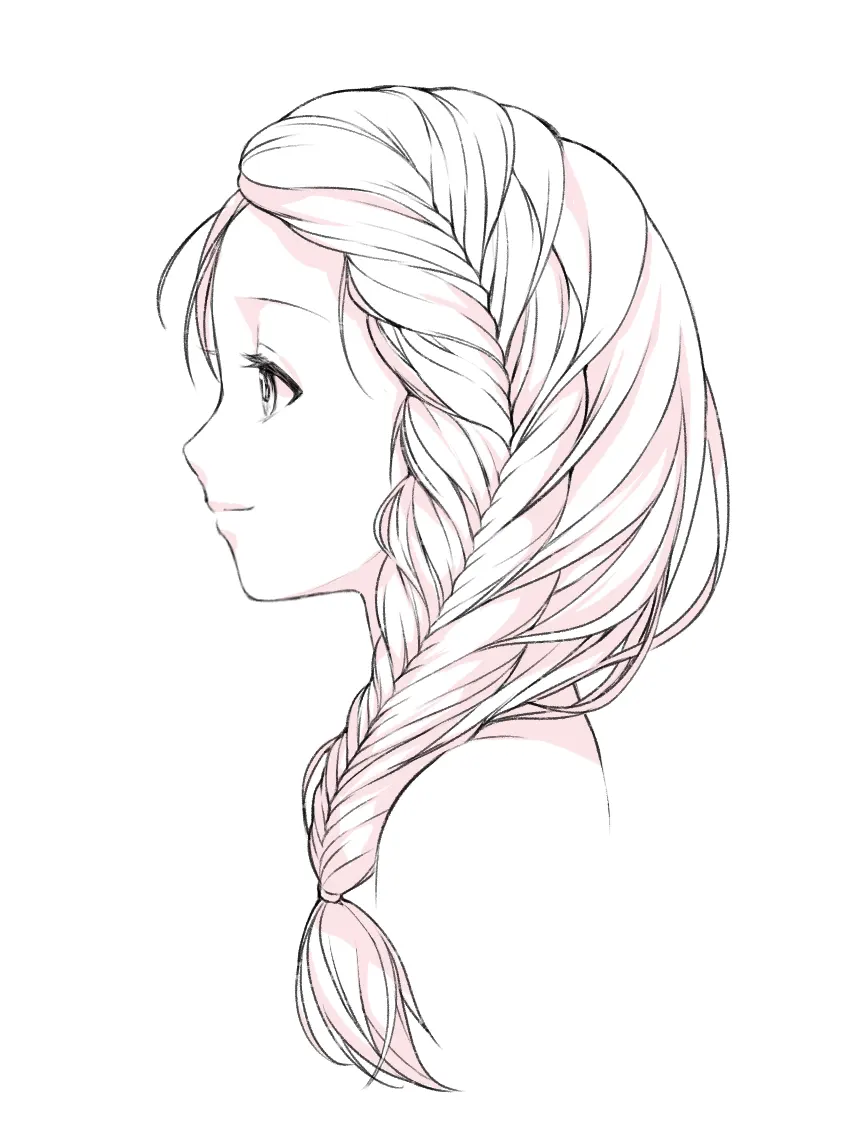 The fishtail braid is a beautiful and unique hairstyle. This braid strands are thinner than other types of braids. It can give your character a gorgeous and luxurious look.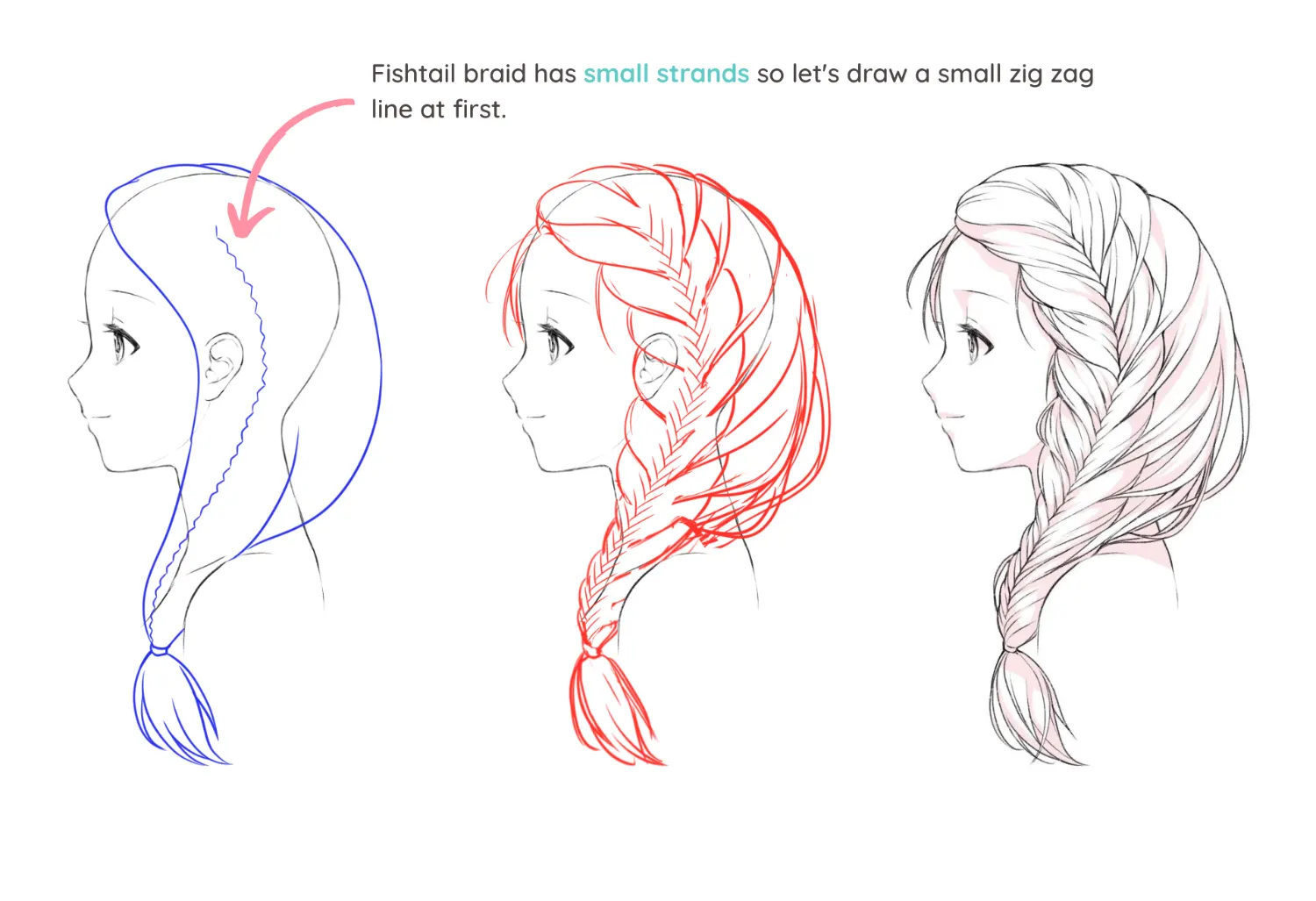 4
Waterfall braid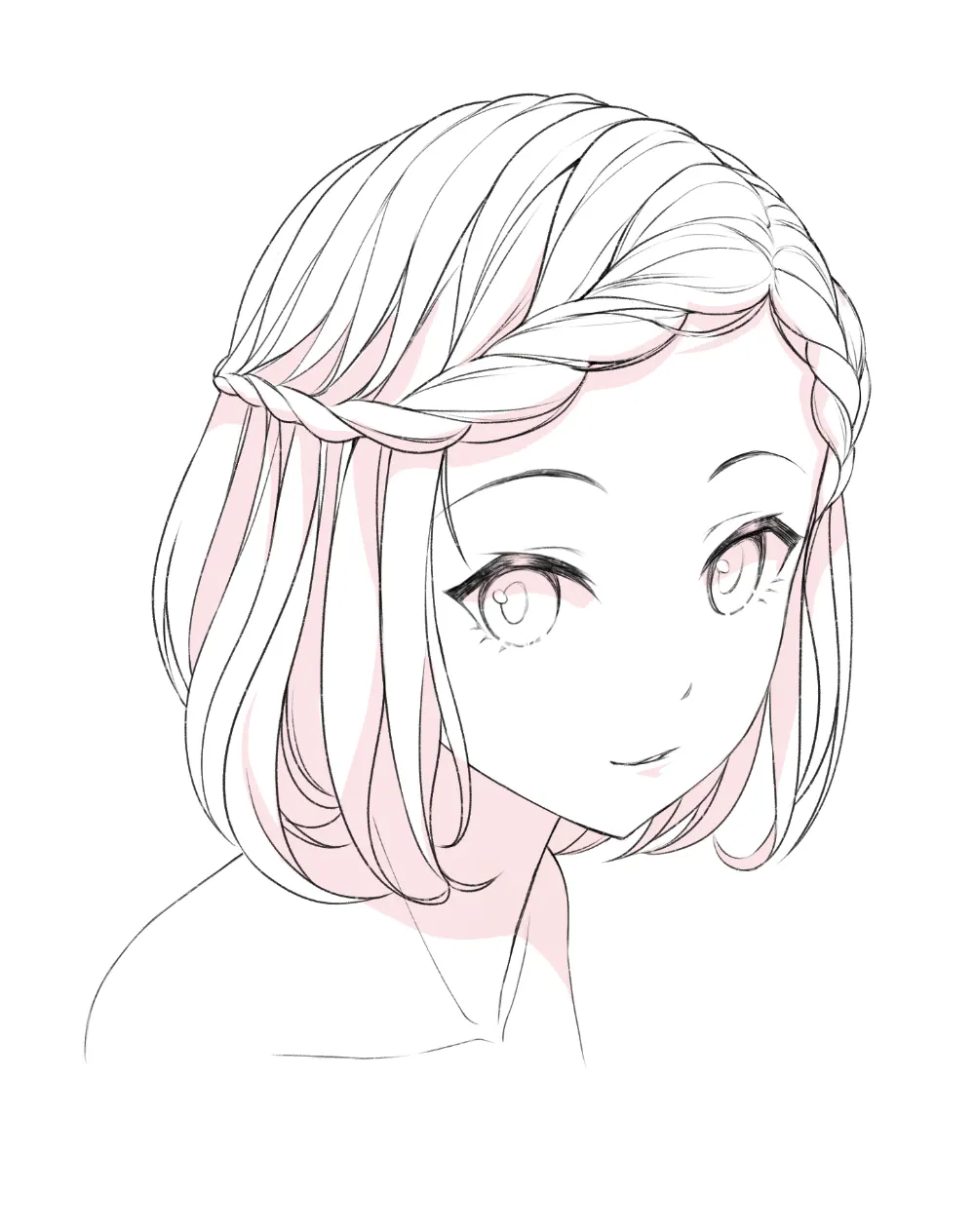 The waterfall braid type looks like it is cascading down the back of the head. This type of braid can be used to create a variety of different looks, from cute and innocent to elegant.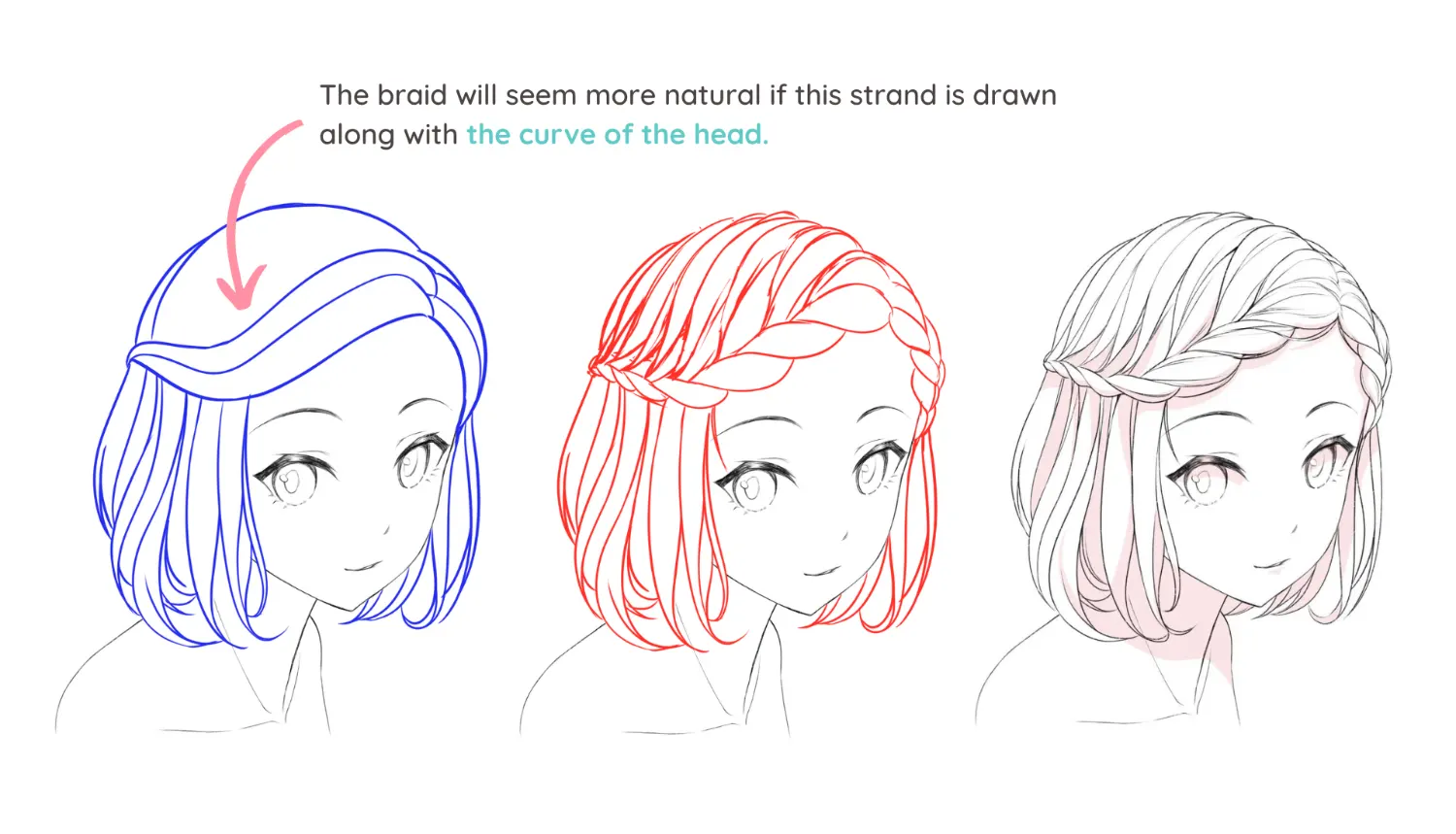 5
Crown Braid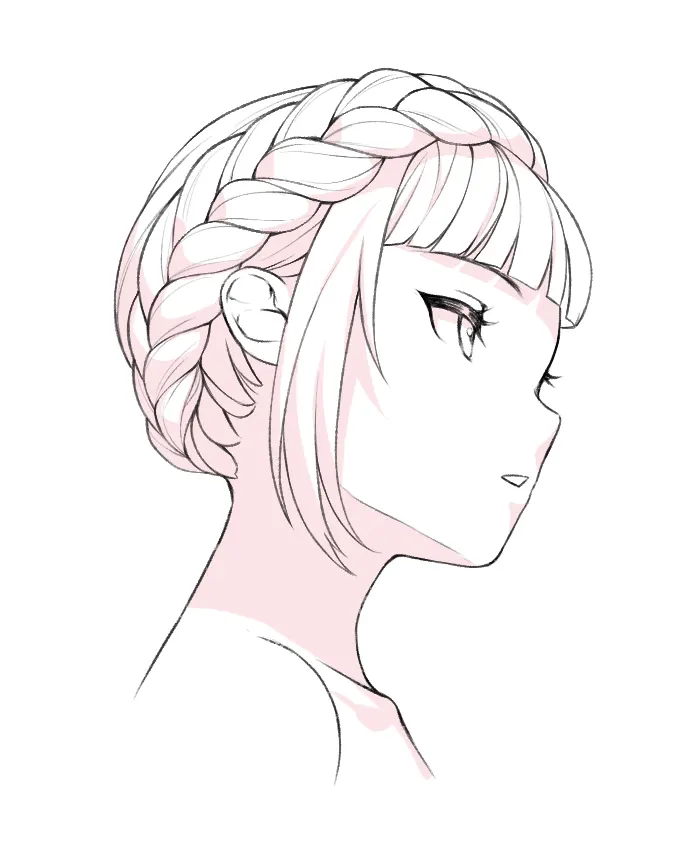 Crown braids are a type of hairstyle in which the hair is braided into a circular pattern around the head. This type is suitable for a 60s look wedding or prom night.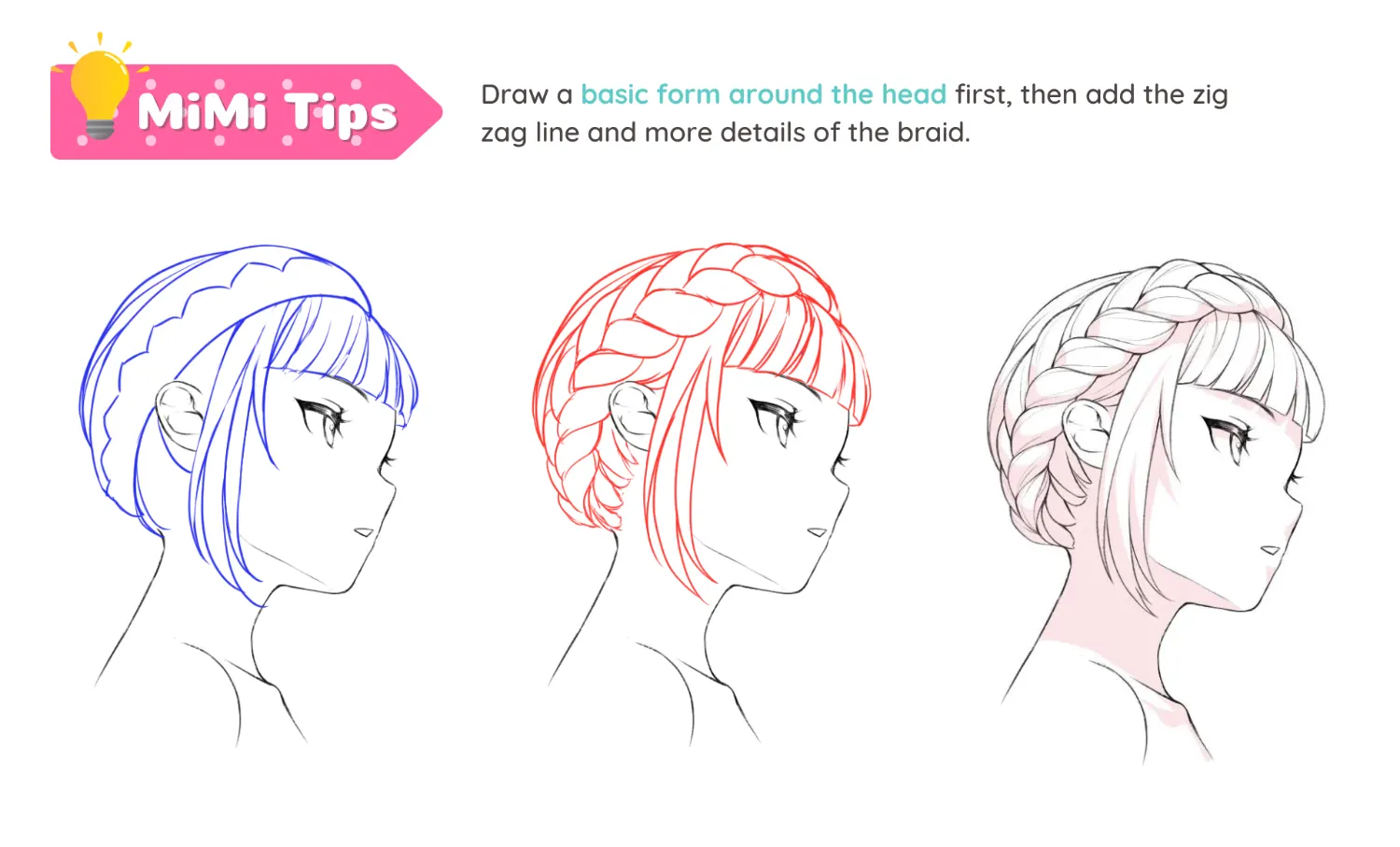 6
Side Braid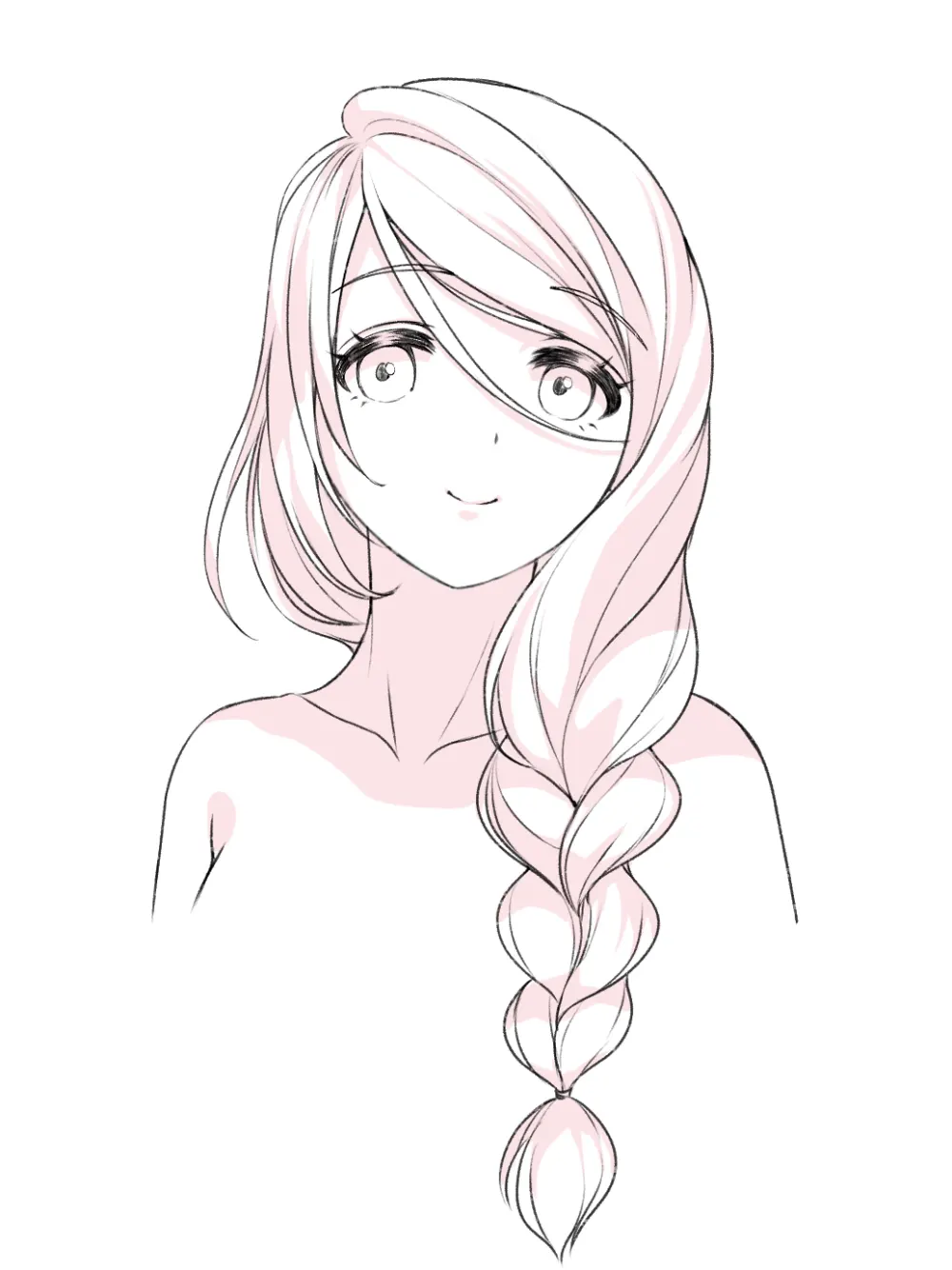 The side braid hairstyle is a simple yet elegant style. To make a side braid, simply draw the hair in the side of the head and draw the braid down the length of the hair.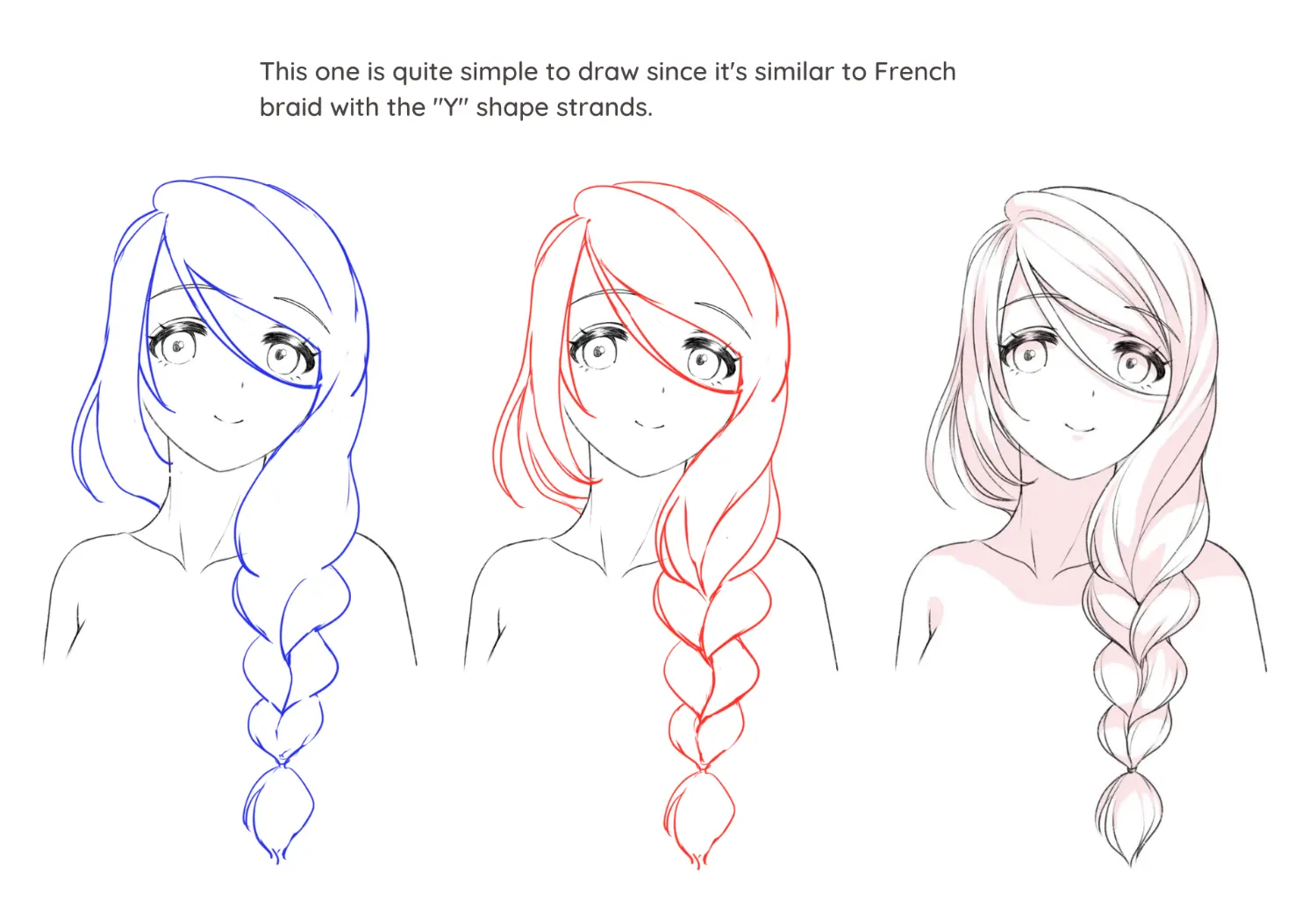 7
Pull-through braid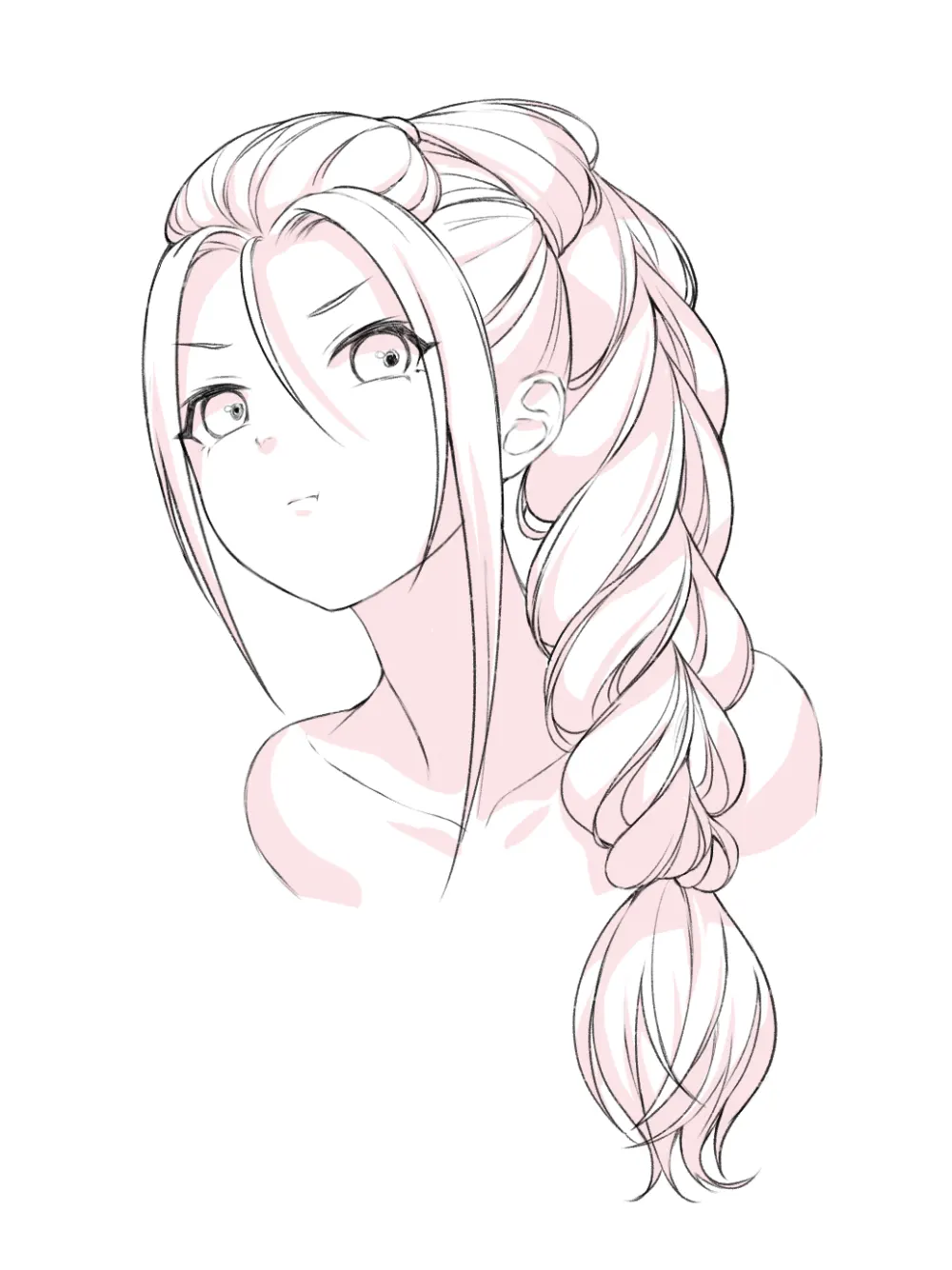 This braid style is more loose and relaxed than a traditional braid. Pull-through braids are often used as an alternative to ponytails or buns, and can be dressed up or down depending on the occasion.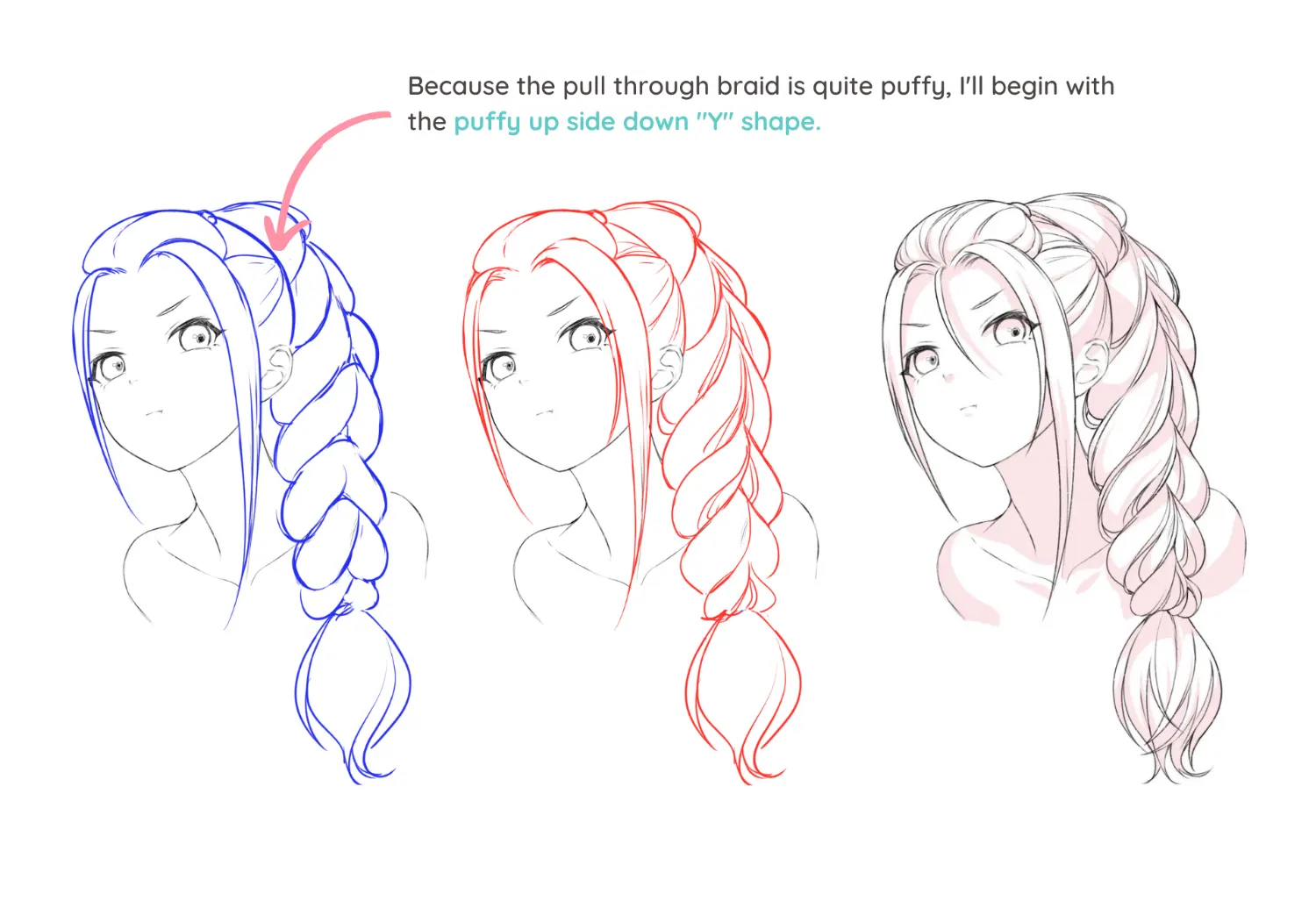 8
Rope Twist Braid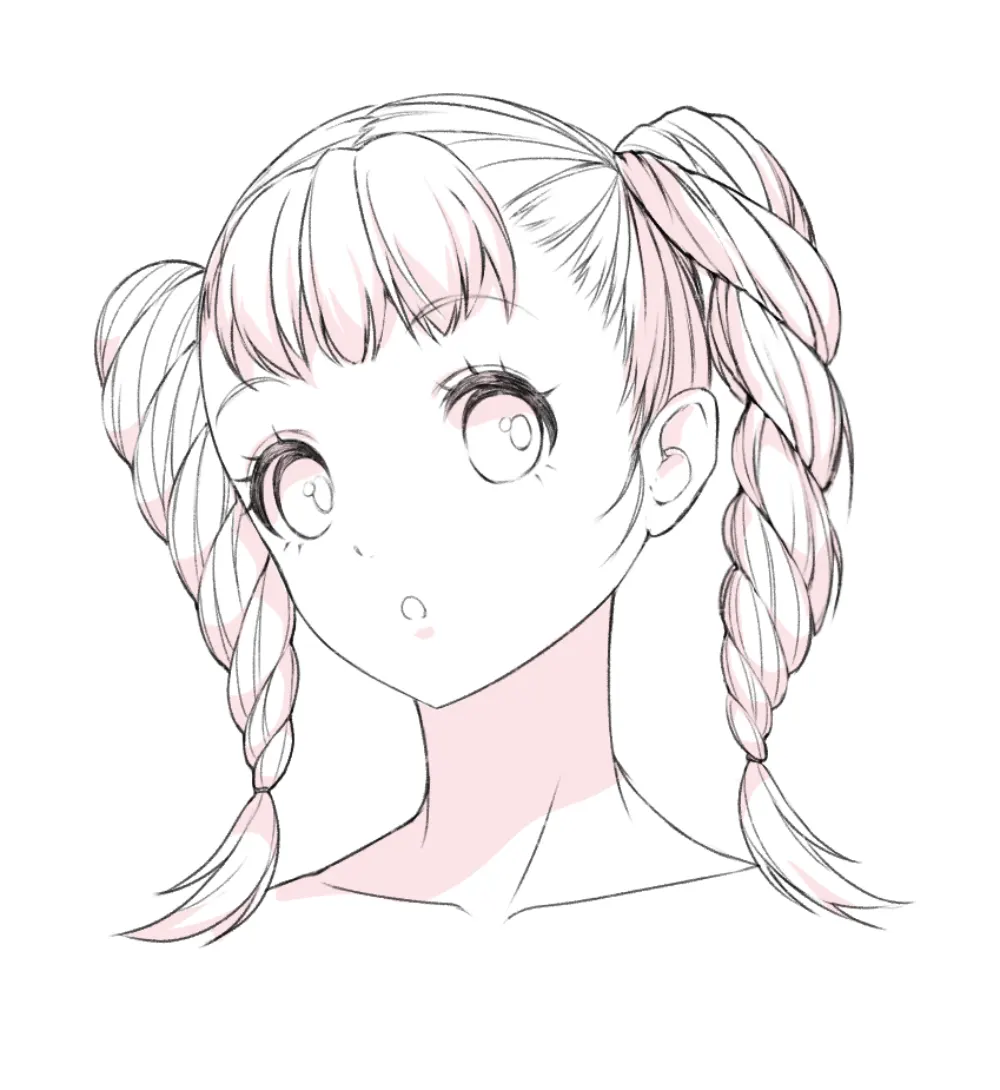 Rope twist braid is a type of braid that is created by twisting two strands of rope together. It'll give your character a childish look.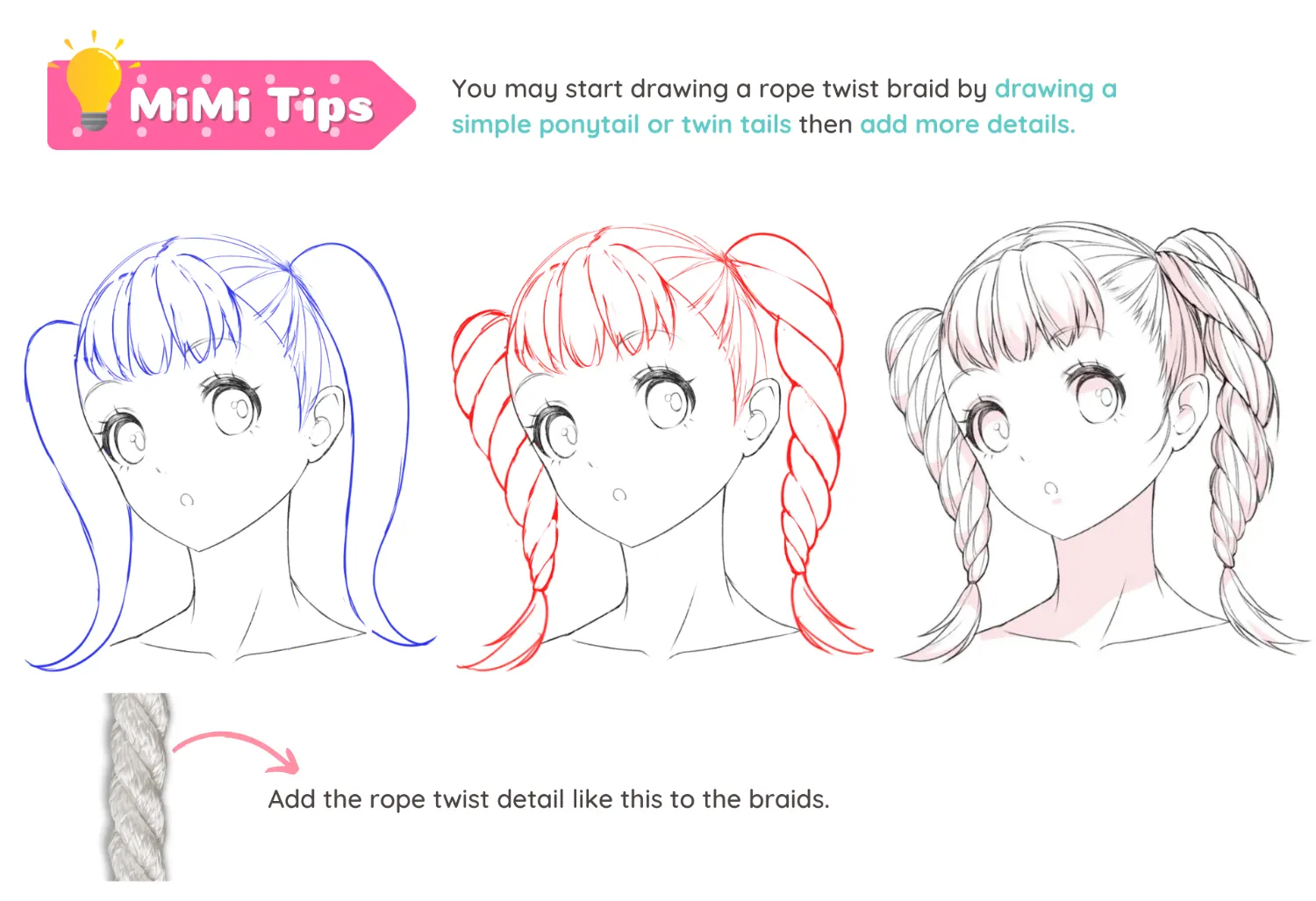 9
Lace Braid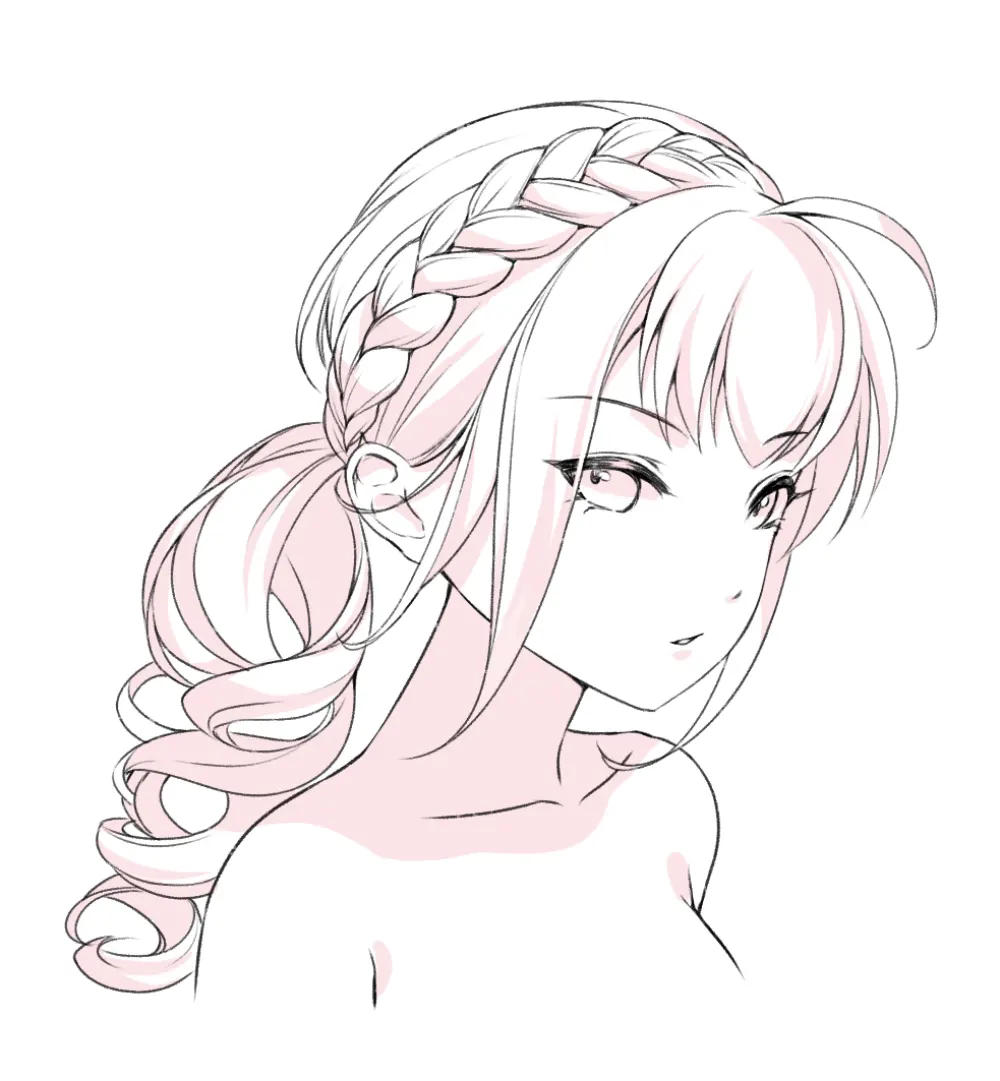 Lace braids are one-sided French braids. However, it's similar to a waterfall braid, except there's no flowing hair through the braid.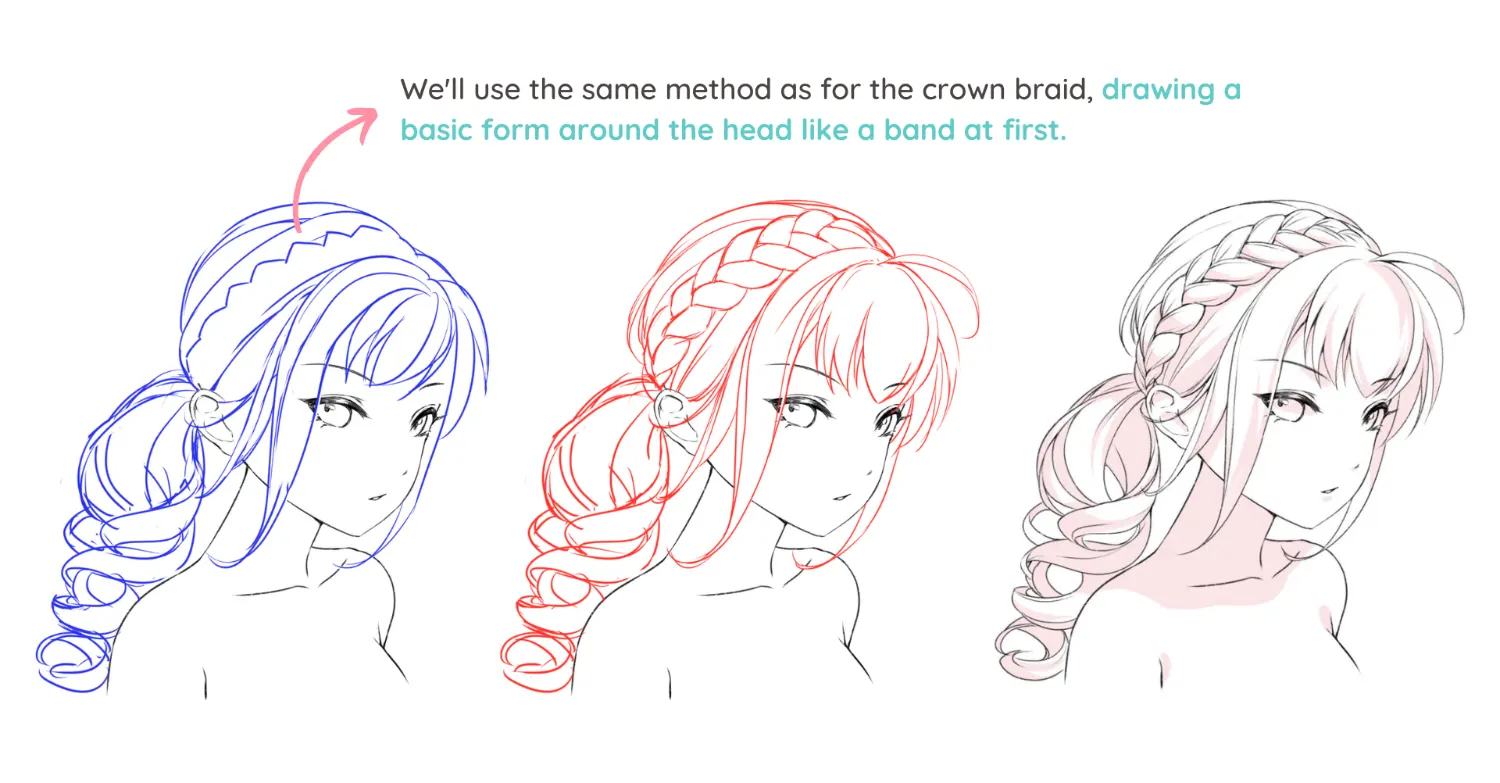 10
Bubble braid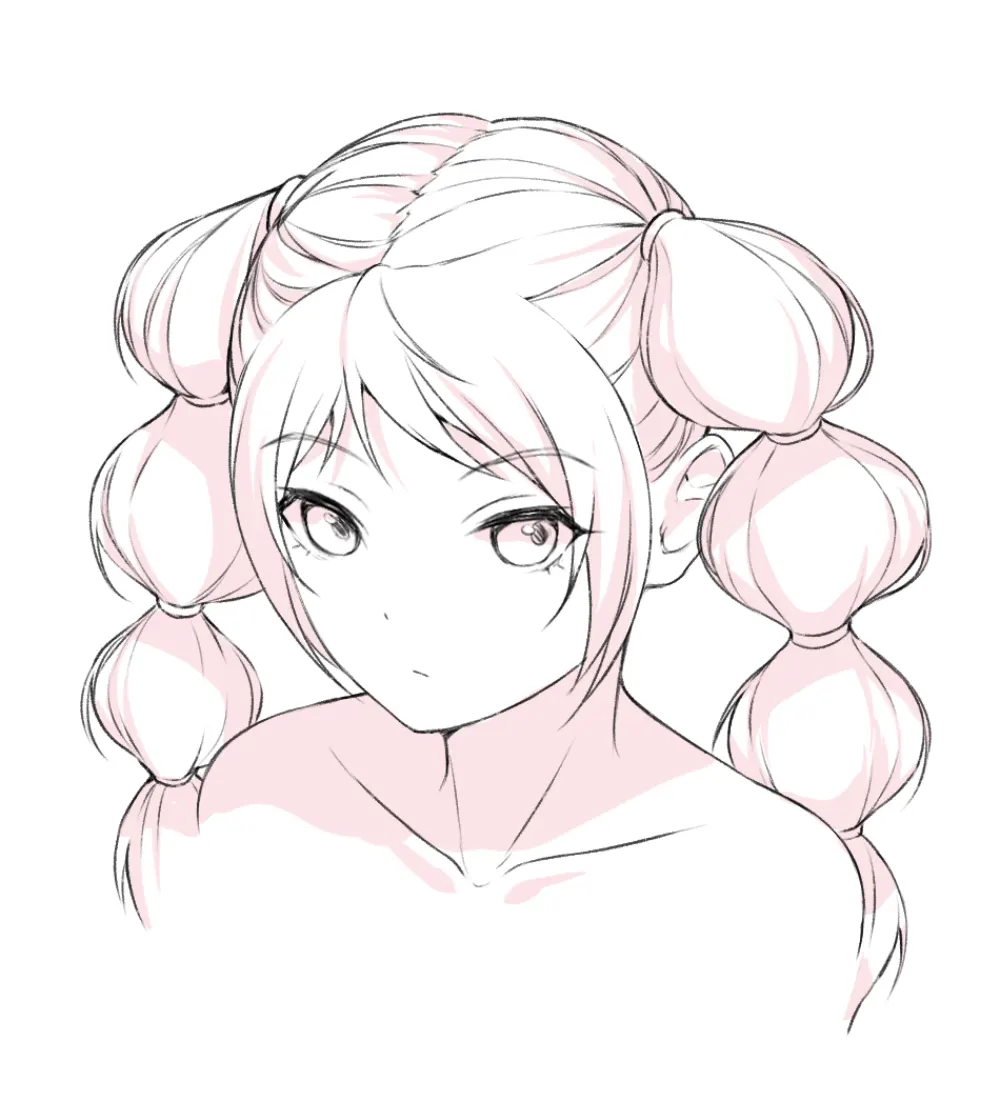 Bubble braid is not quite a braid but it is one or more ponytails linked with hair ties along the ponytail with approximately an inch or two of space between them.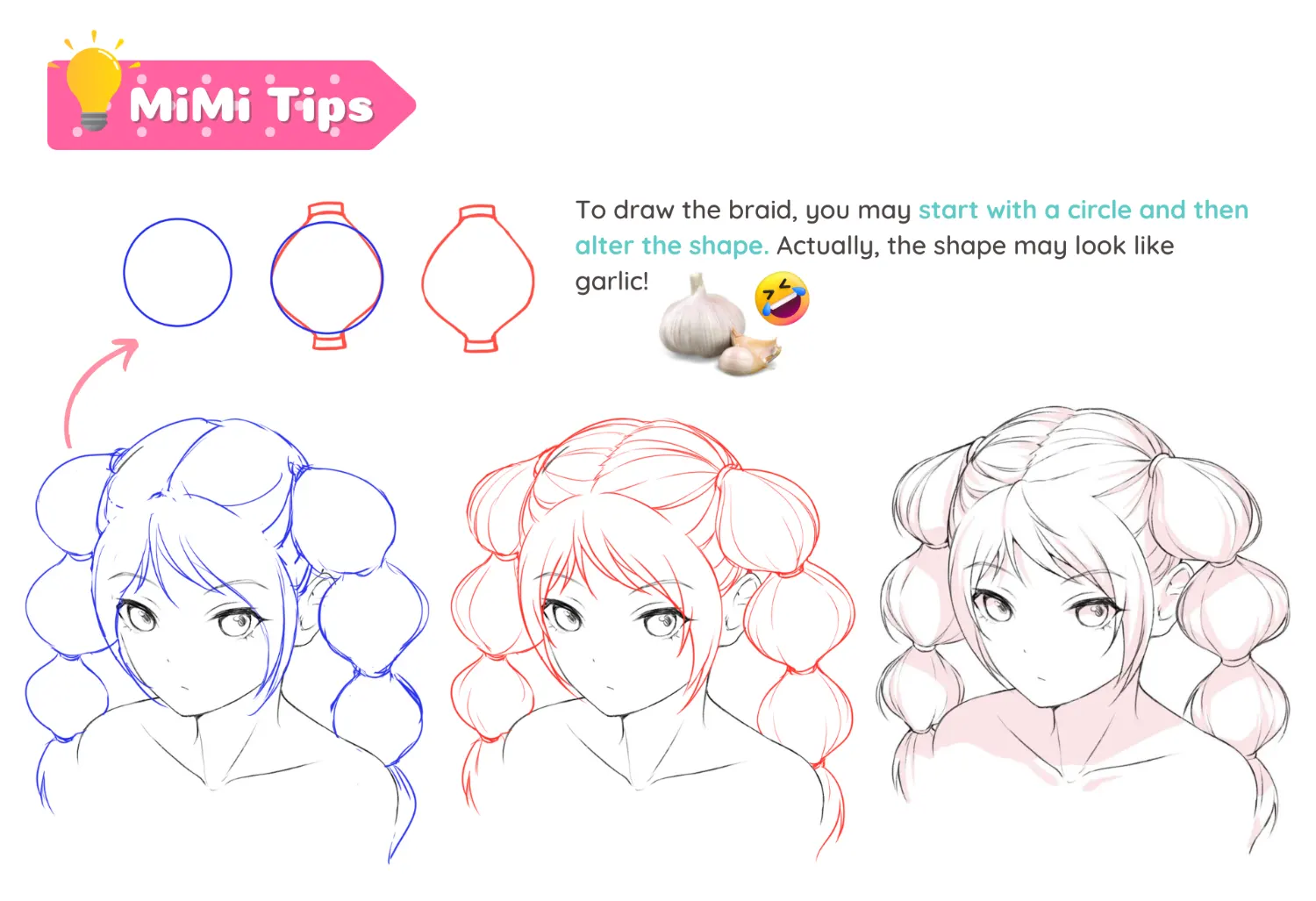 That's all of our step-by-step braid drawing guide. Thank you so much for reading! We hope it was helpful in drawing your own character with a braided hair style. Remember to have fun and experiment with different techniques and designs. With time and practice, you'll be able to create an amazing character's hairstyle!

Finally, if you like art tips and content like this, feel free to subscribe to my weekly newsletter: MiMi Art Tips!
I share my anime art tips and experiences in my digital art career in a weekly email. You'll get the insight and behind the scene of the art career! Really recommend if you're a beginner anime style artist.  Click here to subscribe!
Thank you so much for reading this post! I really appreciate your visiting and using your valuable time reading my content!
Much Love 💖