There are several options available on the market for digital art software. Clip Studio Paint is one of the most popular options among anime artists. Clip Studio Paint has two versions and various payment plans that may make you feel dizzy. No worries! This blog post will help you comprehend!

Key Takeaways
Clip Studio Paint EX includes multi-page illustration and animation tools. It is most effective for creating comics, manga, and webtoons.
Clip Studio Paint PRO offers less features than Clip Studio Paint EX. However, it is less expensive and adequate for any illustration work!
My advice is to go with EX if you want to do comics or animation, and PRO if you just want to draw illustrations.
What is Clip Studio Paint?
Clip Studio Paint (CSP) is a drawing software developed by Celsys. It enables you to create your own stunning artwork and offers an array of features and tools that allow you to create art easily. It is used by illustrators and comic artists for the creation of comics, illustrations, animation, and so on. It has been my main tool for drawing since 2017, when I migrated from Photoshop.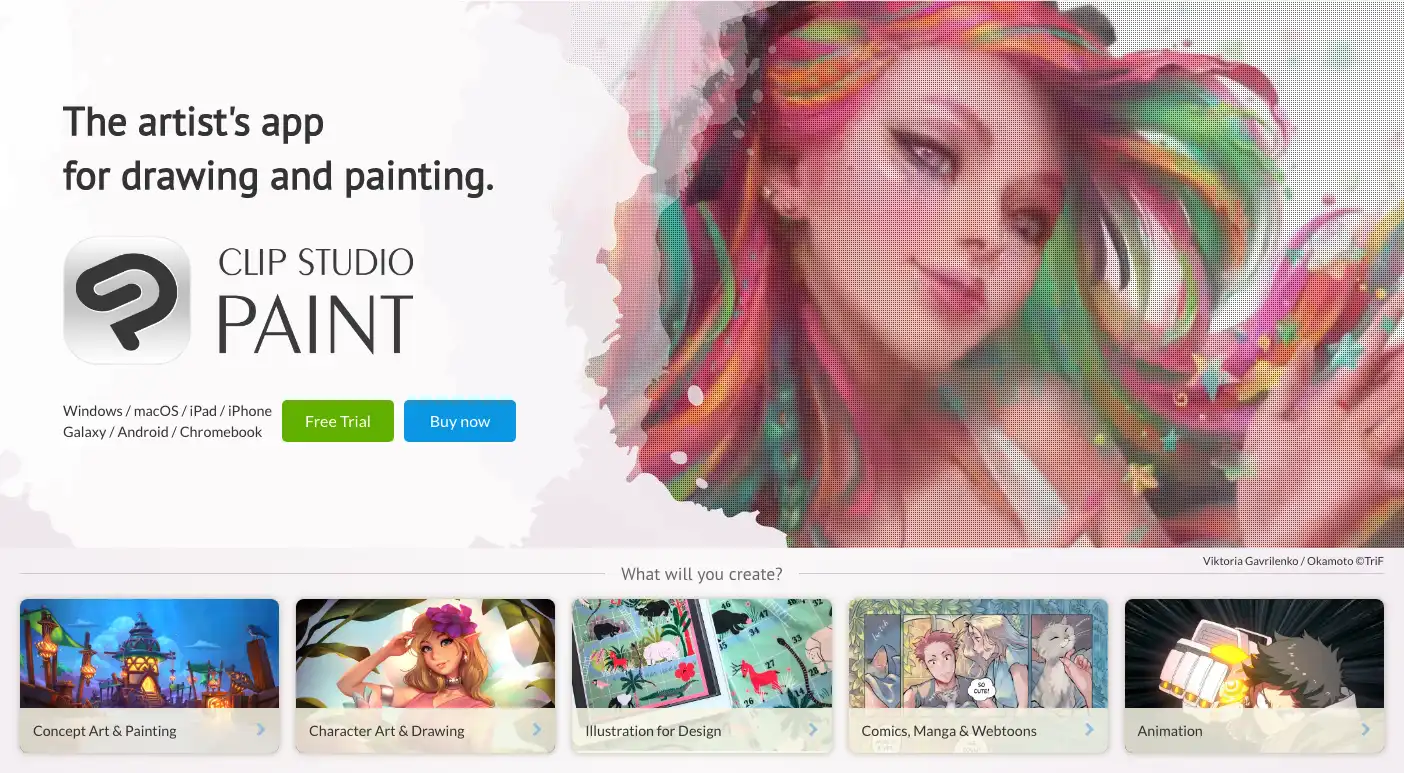 Which devices and platforms are compatible with Clip Studio Paint?
Clip Studio Paint is compatible with;
Windows / macOS
iPadOS / iOS (iPad & iPhone)
Galaxy / Android / Chromebook

Can I get Clip Studio Paint for free?
Luckily, there is the way to get Clip Studio Paint for free! Windows and MacOS users can download a trial version of the software from the official website. The trial version is fully functional, but you can use it only 3-6 months. If you'd love to test the waters, just visit their website to download the trial version here. Then you can pay for a license when you're ready.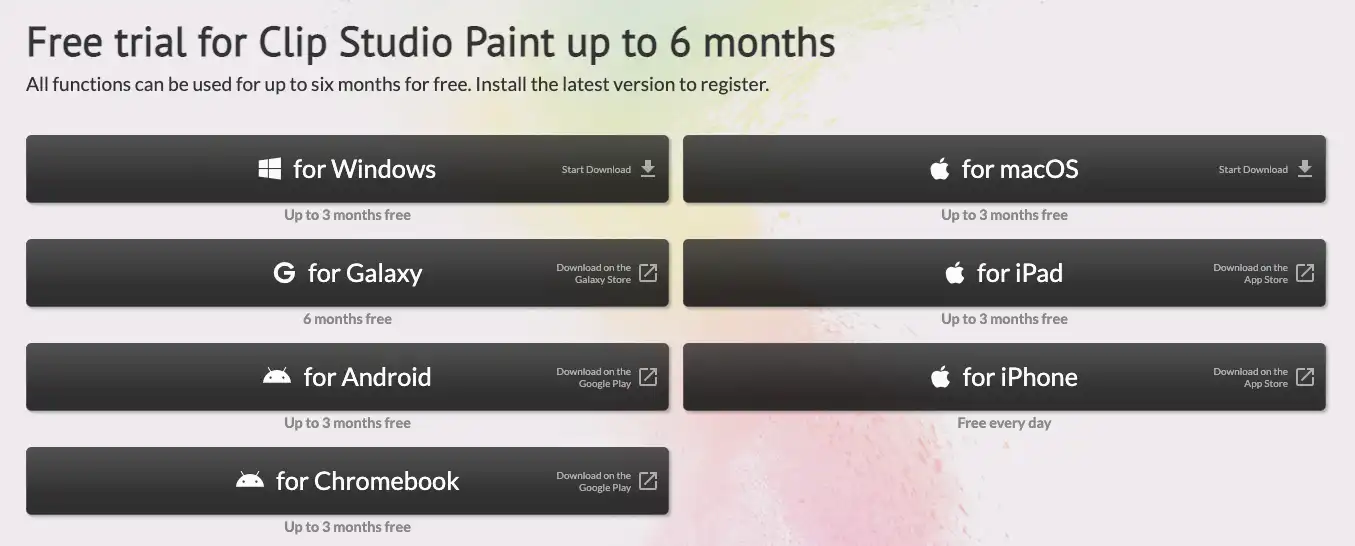 Once you're ready to pay for the license, let's hop into our next topic!

What are the prices and payment plans of CSP in 2023?
"Is Clip Studio Paint a one-time purchase software?" you may wonder.
Actually they also have both one-time purchase and monthly plan for you to choose as follow;
One-time purchase (Windows / macOS) Fixed price, You can install CSP on your Mac or PC up to 2 computers.

Monthly usage plan (Windows / macOS / iPadOS / iOS / Galaxy / Android / Chromebook) The price depends on the number of the devices used.

You can find more about the difference between one-time payment and monthly payment here.

But Wait! CSP just announced their changes in the one-time purchase plan!
Celsys, a developer of Clip Studio Paint, announced revisions to the one-time purchase plan over the past year on October 2022.
The CSP 2.0 is about to be released in March 2023. If you already use CSP and have a perpetual license for version 1.0, you will get a free upgrade to V.2 if you bought CSP since 1st Jan 2022. The user who bought CSP before 1st Jan 2022 have to pay for an upgrade at discounted price. ($19.99 for PRO and  $56.99 for EX)
The feature update in version 2.0 is not covered by the perpetual license, though. An "Update Pass" must be purchased annually if you wish to catch up with their most recent update ($9.99 for PRO and $28.99 for EX).
You can simply stick with version 1.x if you don't want to upgrade to 2.0. As long as version 3.0 is not released, you will get official support and bug fixes. The official support for version 1.x will end after they release 3.0.
I've made a CSP buyer's guide for you in the section below. You may check it out here.

So what are we going to do?: My recommendation for CSP payment plans
If you didn't own a perpetual license and thinking of using CSP, here is my recommendation for you.
Choice#1: Buy a perpetual license for version 1.0 and stick with version 1.0 until the 3.0 release
You can make art using the function in CSP version 1.0 with no problems. If you don't want to upgrade to 2.0, you can just buy 1.0 and use it until they release 3.0 (I believe this will take a while). When they stop providing official support for 1.0, you can just buy the perpetual version of 2.0, which I believe will include all previous updates.
Choice#2: Purchase monthly or annually subscription plan
You can select the subscription plan if you wish to use CSP on devices other than your PC or Mac. The previous image shows that the subscription user is not required to pay for the 2.0 update.
Choice#3: Buy a perpetual license for version 1.0 and prepare to purchase the annual Update Pass next year
In case you want to catch up with their feature updates, you can buy the perpetual license for now and just pay them annually for the updates. Celsys said that "Update Passes will be sold for a lower price than Monthly Usage Plans."
OK! That's all about the Clip Studio Paint payment plans! You'll see that, not only the type of payment and number of the devices used, but the price of CSP depends on the "version" as well.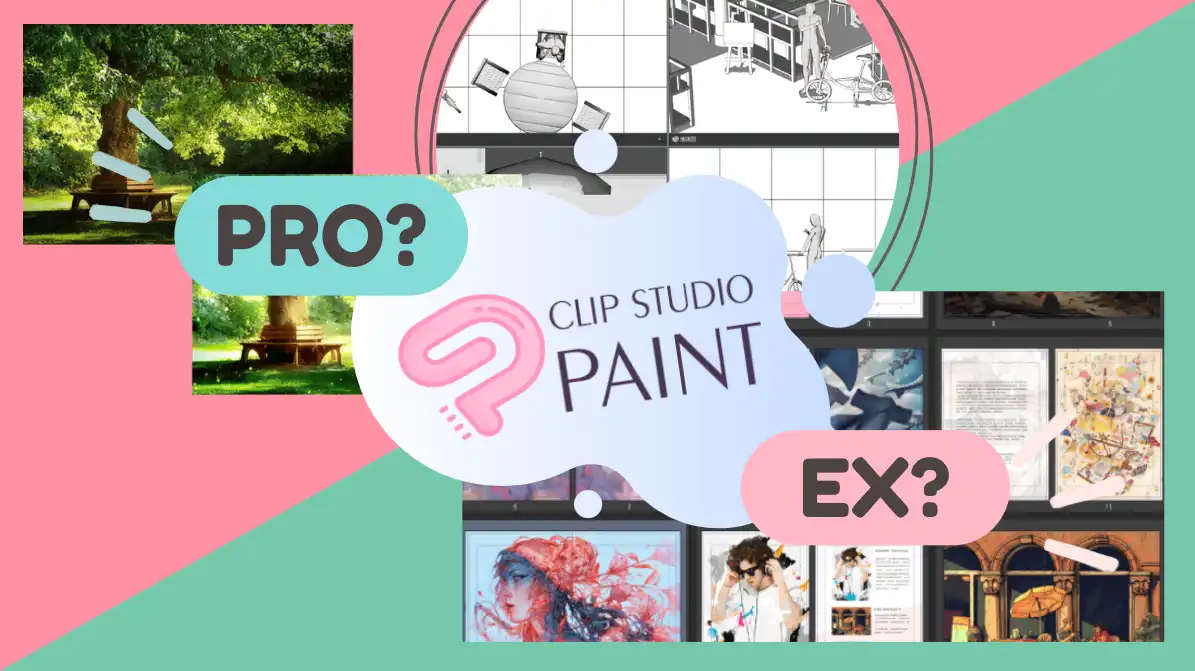 What's Clip Studio Paint Version?
Clip Studio Paint has two version called PRO and EX! Actually they have the third version called "DEBUT" too. I won't mention it here since the DEBUT is not for sale. You can read more info about the DEBUT here on their official site. The official website stated that Clip Studio Paint EX has more features than Clip Studio Paint PRO. However, it'll cost you more money too.
So, which one is the better choice for anime artists? We need to take a look at the features of each version and let's see which version suites your usage and budget.

Clip Studio Paint PRO VS EX: What is the differences?
First, let's see what are their functions that listed on the official site.
CSP PRO Functions and Prices
Clip Studio Paint PRO have functions as follow;
Features for creating single-page illustrations and comics
Basic drawing tools
Advance drawing tools such as AI posing from photograph, 3D model, a function to extract edges and colors from photos and 3D models and create a base for drawing, perspective ruler, AI colorization
Materials for decorating your illustration
Auto action
Image resolution up-conversion
Cloud backup
Asset store
CMYK color support for printing
Up to 24 frames of animation
etc.
And here is the price for PRO version
One-time purchase(Win / Mac) US$49.99 (tax included)
Monthly usage plan Starts from US$2.09 / month (tax included)
CSP EX Functions and Prices
Clip Studio Paint EX have functions as follow;
All the features of PRO
Features for multi-page projects
Unlimited frames for professional animation
2D/3D line conversion and extraction
Line extraction
Multi-page project management
3D preview functionality for printing projects
Batch text editing in the Story editor
Special Webtoon and Teamwork functionality
Ability to create longer animations without frame limits
Now support for exporting PDF files.
And here is the price for EX version
One-time purchase (Win / Mac) US$219.00 (tax included)
Monthly usage plan Starts From US$6.00 / month (tax included)
So What's the Main Difference Between PRO and EX?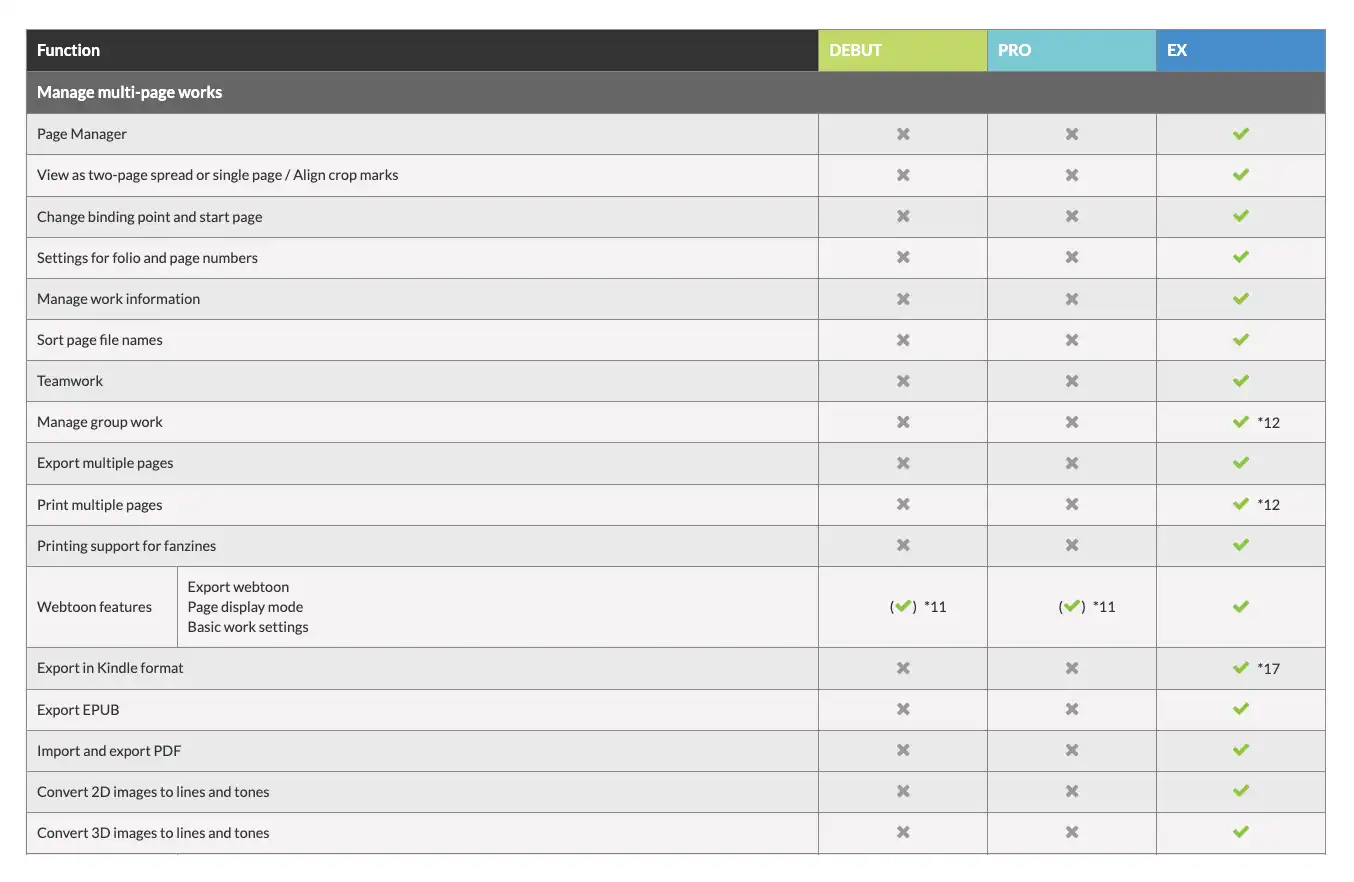 As you may see, the PRO is ideal for single-page comics and illustrations since it doesn't have a feature for multipage projects. It is more affordable than the EX version, and it also comes with fewer features.
The EX version is designed to work with manga, comics, illustrations, and animation. It has more features than the Pro version, and it is also a bit more expensive. It even has a teamwork functionality, which I think will be better for comic or manga artists who work with a team. You can create a 3D book preview of your project before printing it too! Oh! EX has many fancy functions.
In EX, you can create an animation with unlimited frames, unlike in PRO, where you can create only 24 frames.
Here are the interesting functions in EX to help you with your Webtoon, Manga, and comic drawing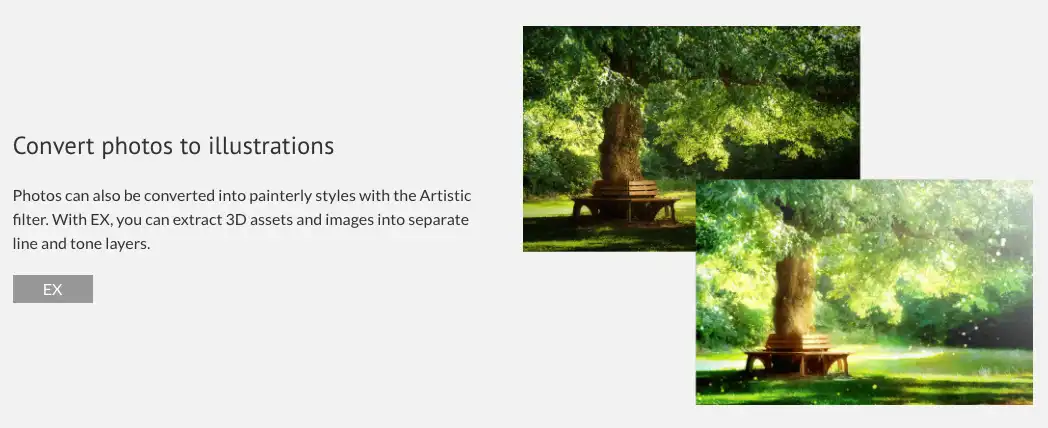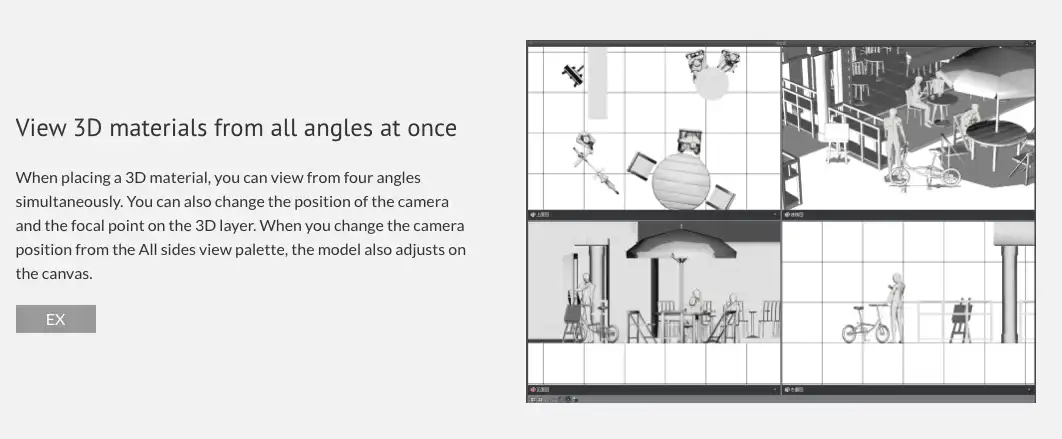 In general, if you have a plan to draw manga, comics, or Webtoon, you may want to start creating your own comic series or animation. Clip Studio Paint EX is the better option for you. The EX version is ideal for those who have wide usage from drawing artwork, drawing comics, or making animation.

What if I'm an anime-style artist who only wants to draw illustrations?
Then Go with the PRO! I personally use only PRO version and that's totally enough for me to create my artwork.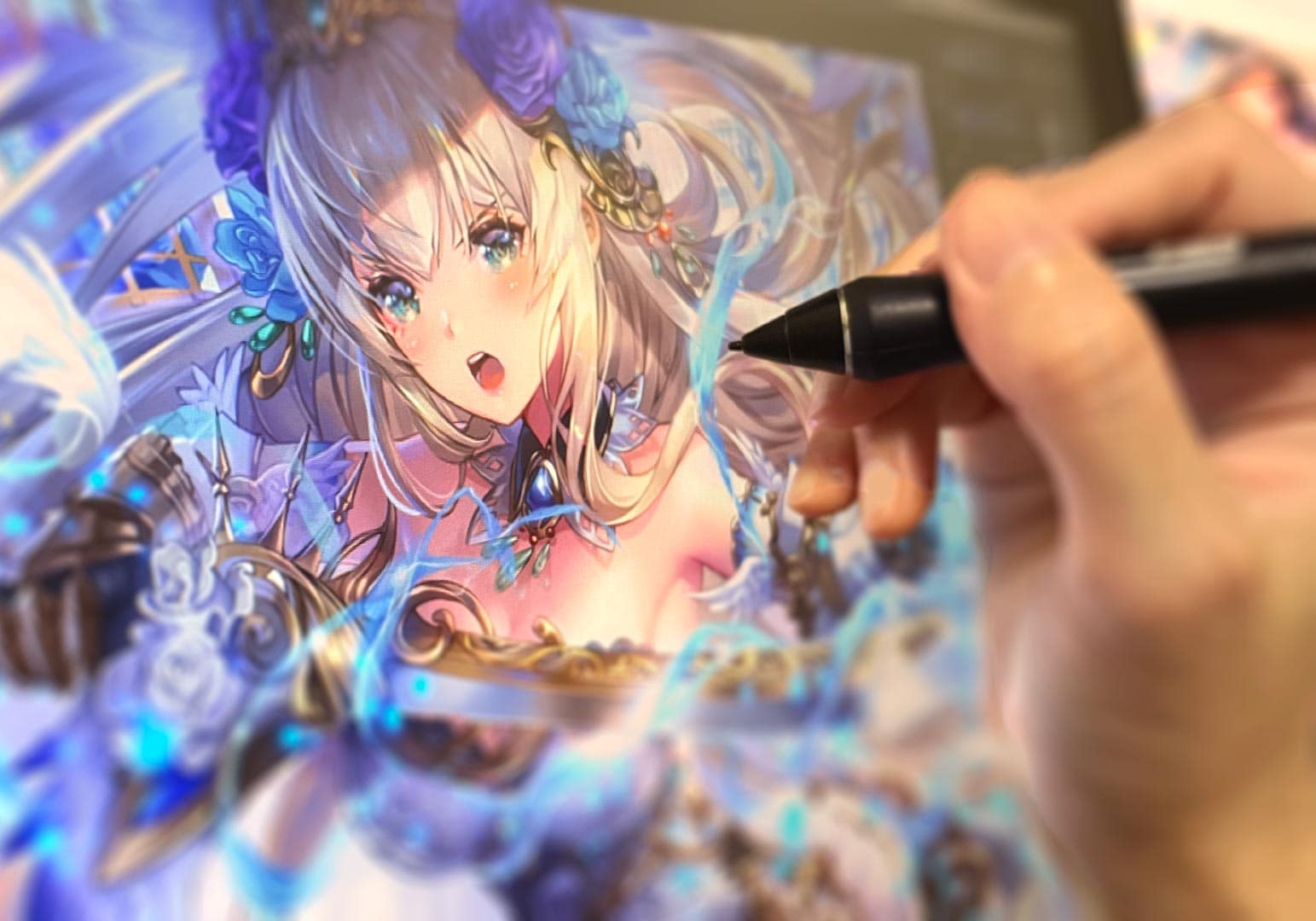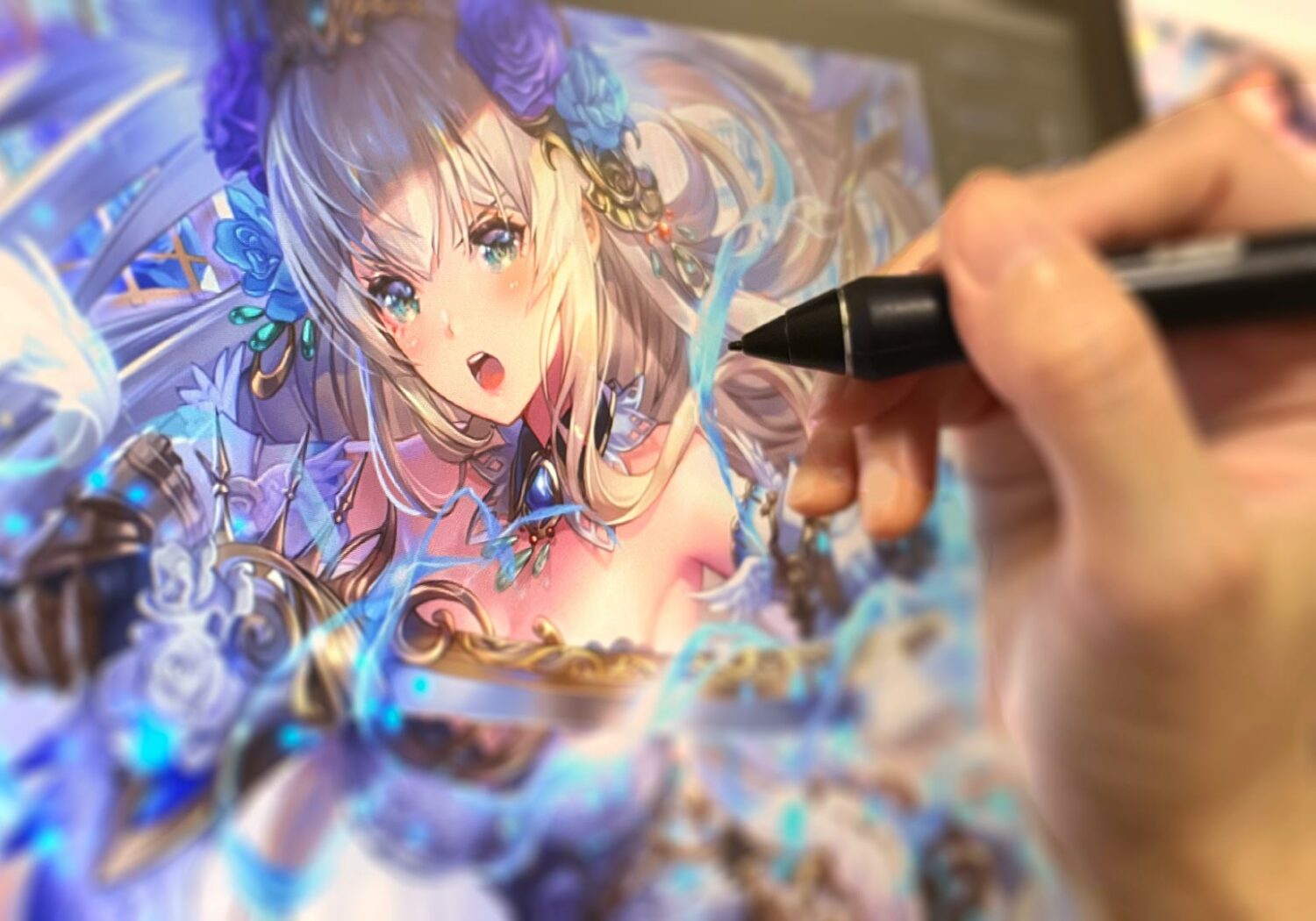 If you are an anime artist like me, then the PRO version will be a perfect fit for you too! Moreover, the price of PRO is affordable. The entry level price you can start with is just $2.09 per month! I personally bought it as a one-time purchase, and it's been one of my best investments so far. I personally love it more than Photoshop as well, because Photoshop is a lot more pricey.

Can you upgrade Clip Studio Paint Pro to Ex?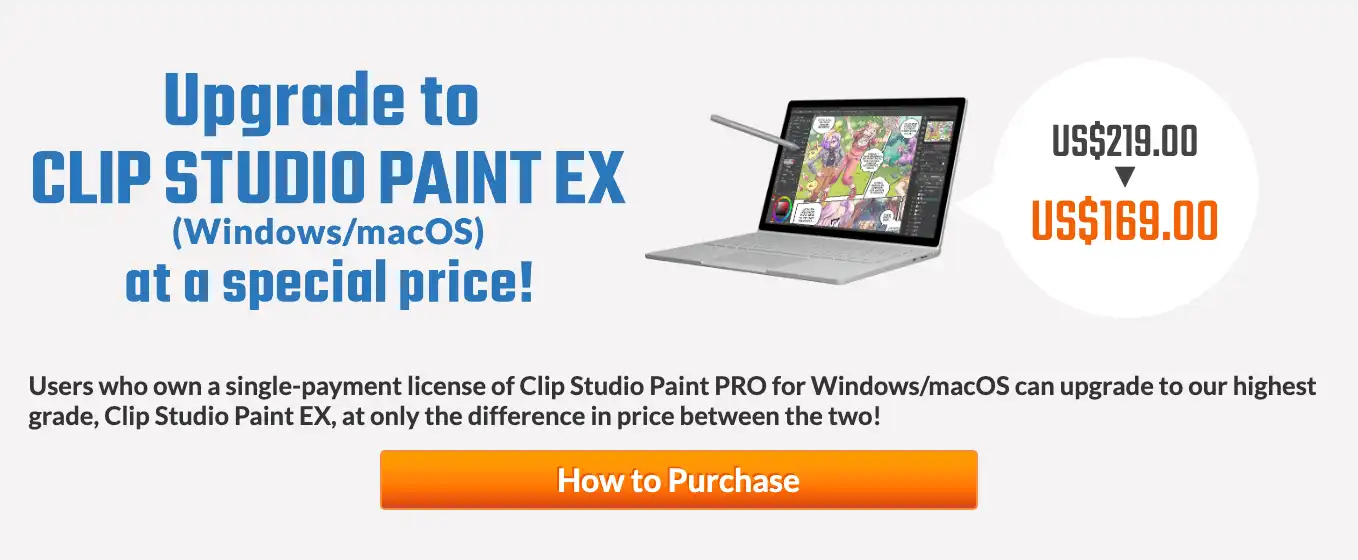 Clip Studio Paint PRO can be upgraded to EX for an additional fee. If you own a single payment license, just pay the difference and you're good to go. More information can be found here.
But if you own a monthly subscription version, the process is a bit more complex. The official website already has an instruction on this and you can read it here.

BONUS: How much do I need to pay to use Clip Studio Paint in 2023?
In my honest view, the annual plan is the best option if you want to purchase CSP, use it in the long run, In case you don't expect for the feature update in 2.0. If you only sometimes use it, you may buy a monthly subscription and cancel it if you decide you no longer want to use CSP.
You'll get the free upgrade to version 2.0 but with no further feature update. If you want the feature update, you need to pay for their annual update pass. However, without feature update in 2.0, I believe the 2.0 version will be more than enough drawing tools for you to produce your artwork.
Here is the CSP PRO and EX pricing chart. You can use it to plan your CSP purchase!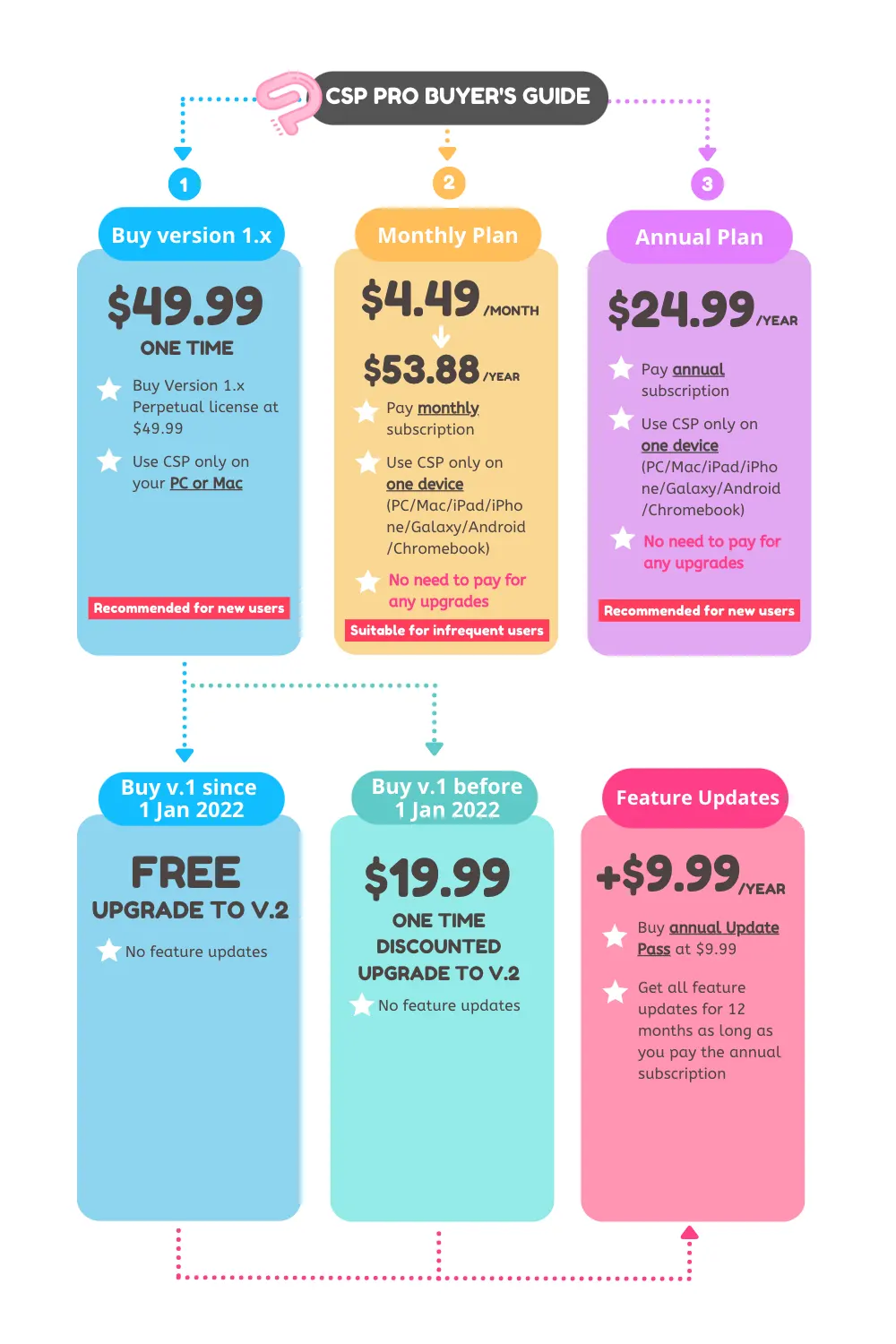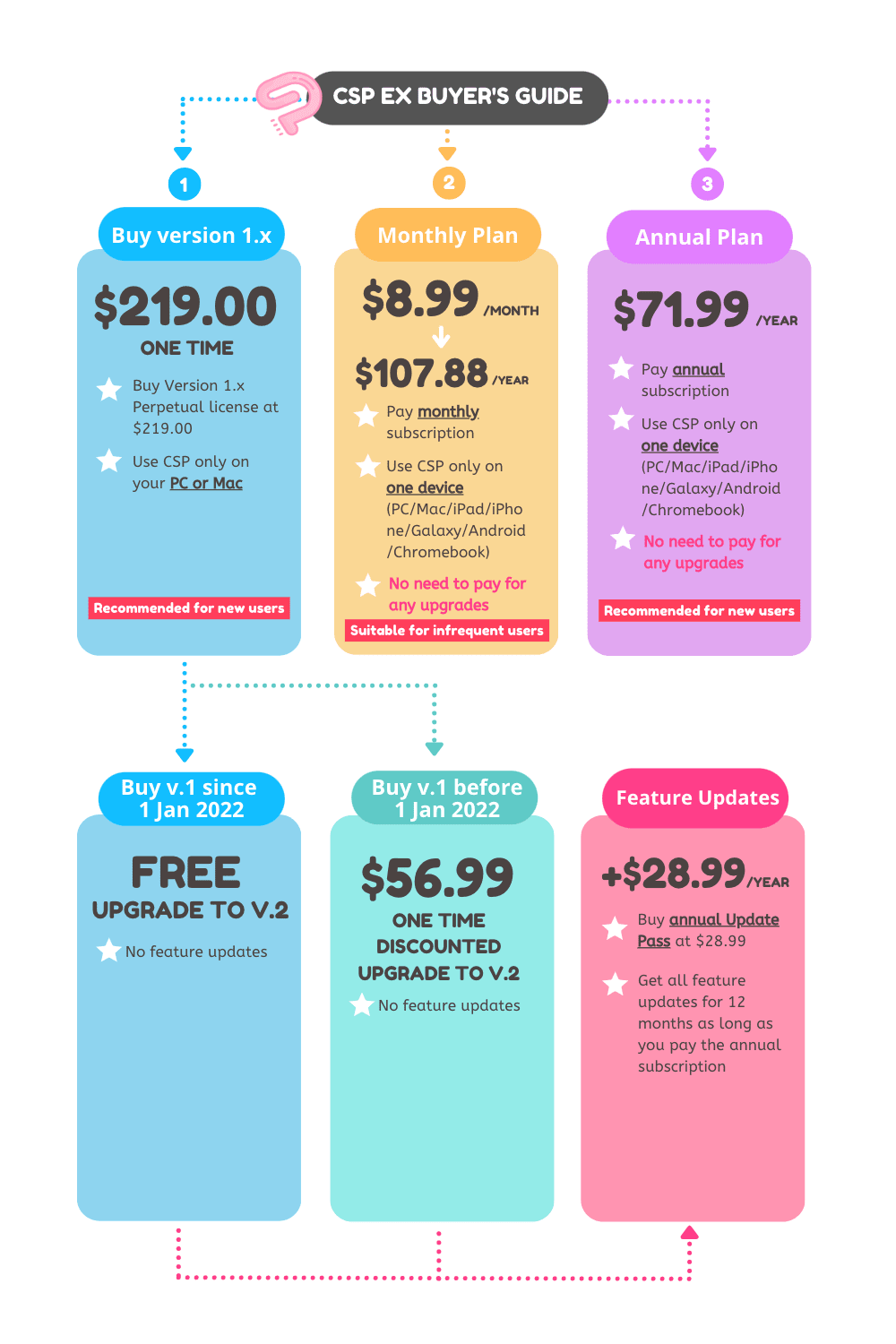 Summary: Who's the Winner? Should I get a Clip Studio Paint PRO or EX?
I think both Clip Studio Paint EX and PRO are worthwhile purchases. Both offer great features that cater to different types of artists. In order to decide which version of Clip Studio Paint to get, it is important to consider what features are most important to you.
If you need advanced features such as comic creation tools, unlimited animation frames, or 3D preview for your book, then the EX version is likely the better choice. However, if you just need basic painting and drawing features, then the PRO version may be all you need!
Ultimately, the best way to decide is to try both versions and see which one better suits you. They'll give you a chance to try the EX exclusive functions from time to time, like they said on this page.

Finally, if you like art tips and content like this, feel free to subscribe to my weekly newsletter: MiMi Art Tips!
I share my anime art tips and experiences in my digital art career in a weekly email. You'll get the insight and behind the scene of the art career! Really recommend if you're a beginner anime style artist.  Click here to subscribe!
Thank you so much for reading this post! I really appreciate your visiting and using your valuable time reading my content!
Much Love 💖