There are now more alternatives than ever before for making art. Back in the day, we used to use charcoal to paint on the cave walls. Since then, the art of creation has evolved over time. And now, I believe we are living in the future!
We can now use several tools to create artwork based on our phrases. The text-to-image thing sounds fantastic. Furthermore, this entire operation took less than a minute….
That was made possible by AI!
In this blog post, I will explore how to create art using AI and how AI can help anime artists like us in a number of ways, from generating ideas to creating finished pieces of art!
After reading this blog, you'll…
Understand how to use "prompt" to create artwork using the DALL-E 2 AI and the Midjourney AI.
Discover how to integrate AI generating images into your anime-style artwork.
If you're new to this AI world, let me guide you through the basics!
🎉 AI PROMPT VAULT for ANIME ARTIST !
Let's access a Notion document where I share all of my AI generated images with all the "prompts" I used to create them!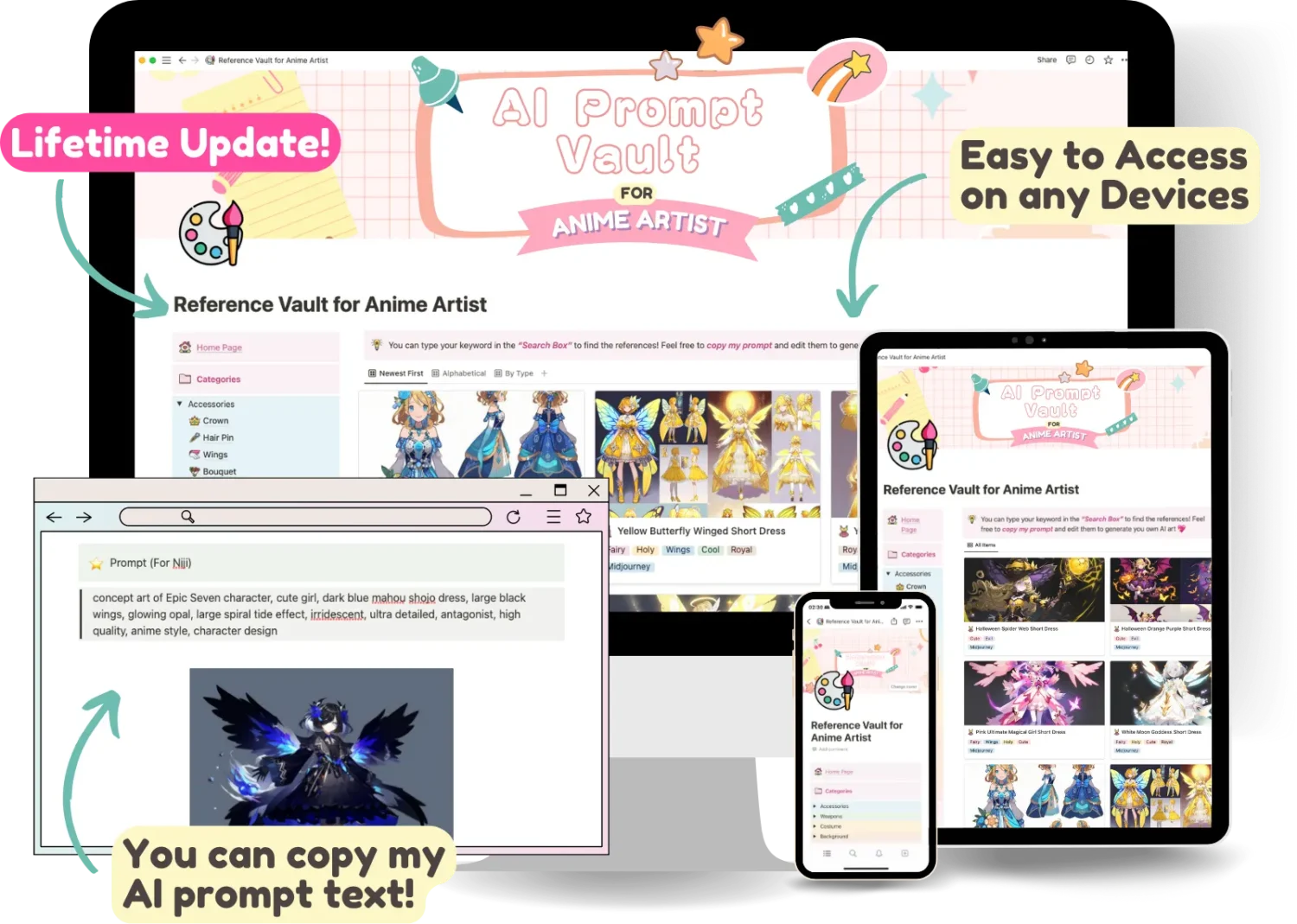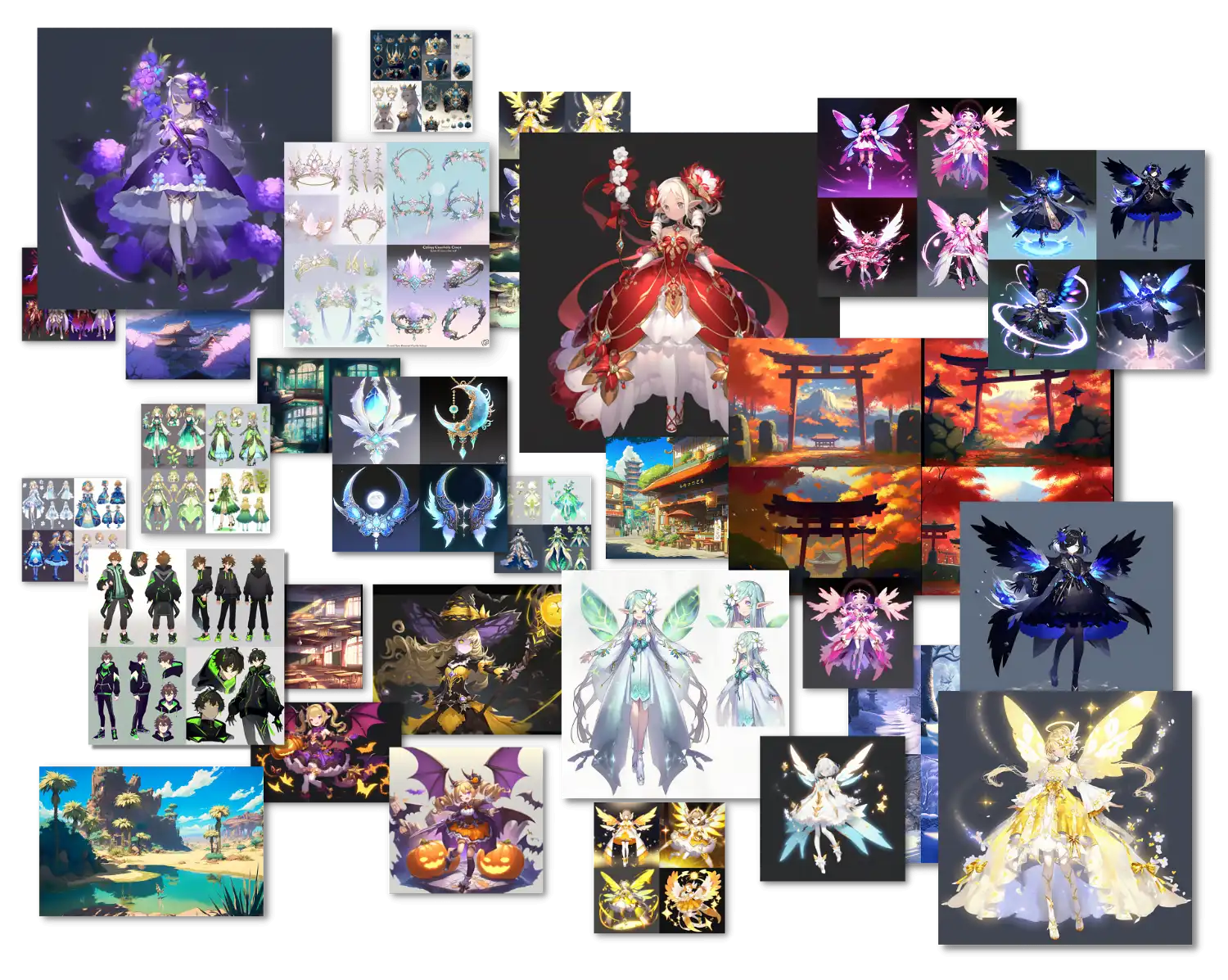 Unleash your inspiration with these Midjourney AI prompts! With over 100+ curated prompts, you'll have all the inspiration you need to fire up your creative process. Plus, with our constantly updating prompts and recommended keywords, you'll never run out of ideas. And for a limited time, get access to all of this for just $5 before the price goes up! Click here to access now.

What is an AI art generator: Methods of AI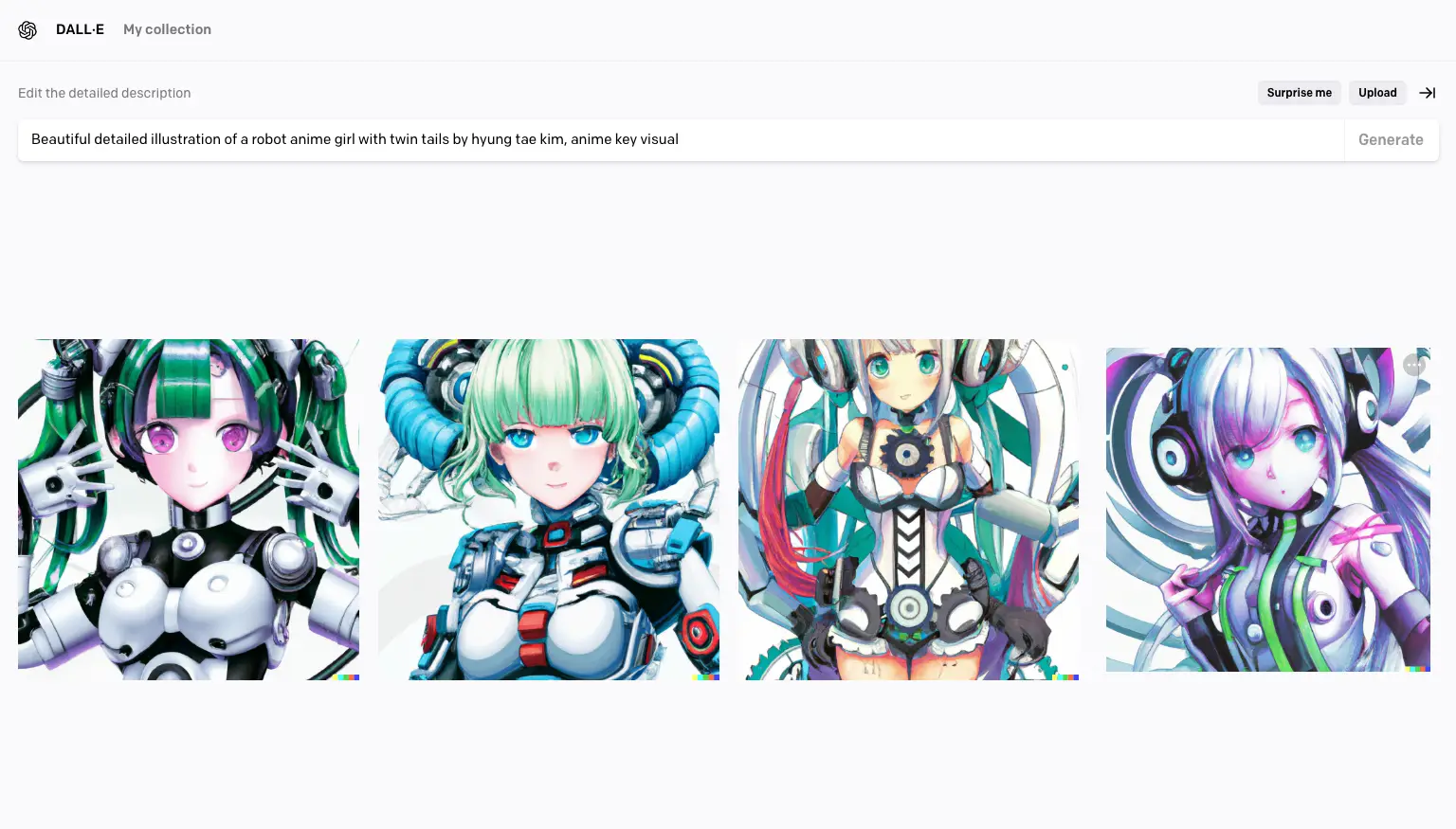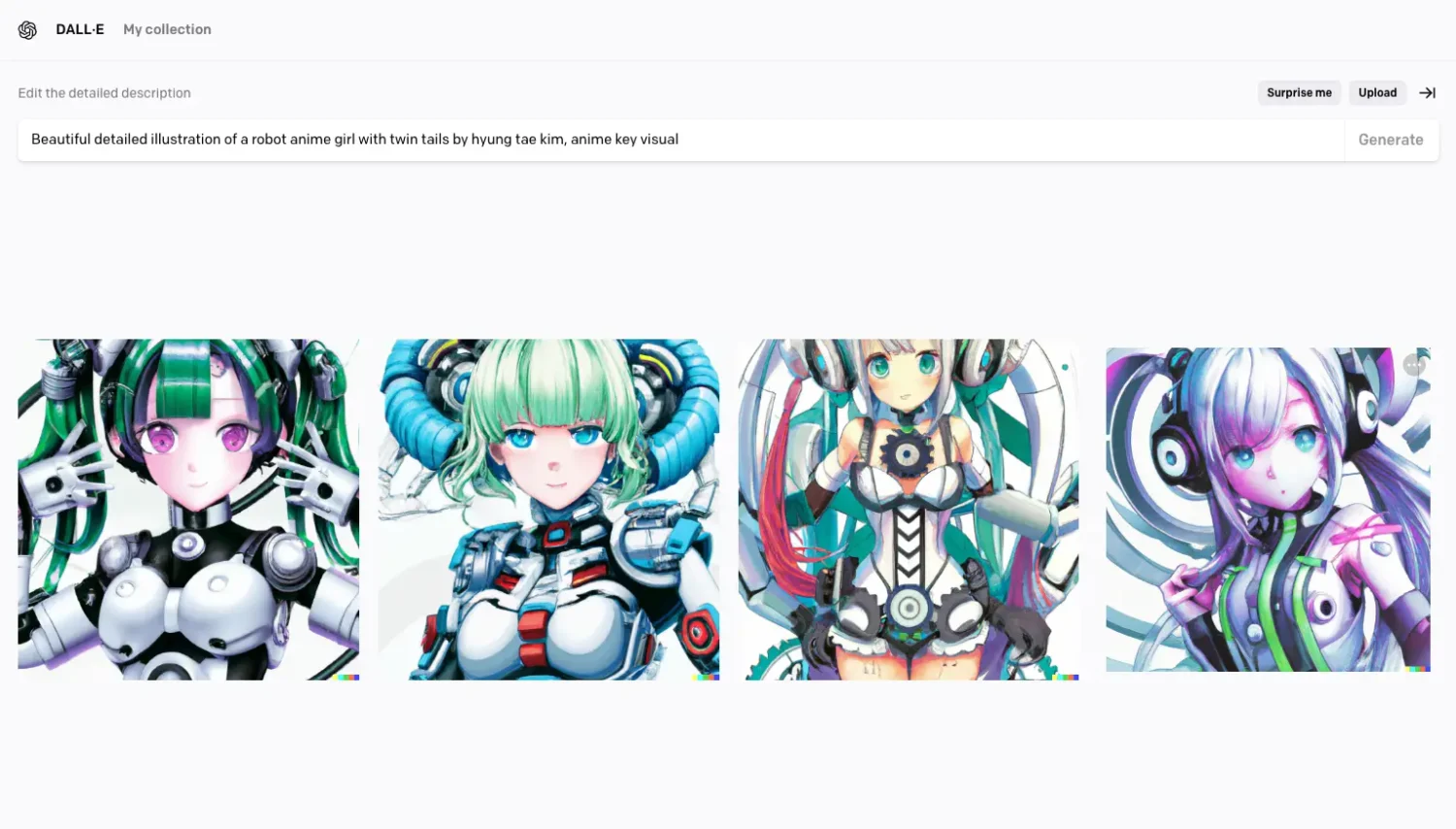 An AI art generator is a computer software that uses artificial intelligence to make art. It works by processing algorithms.
The algorithms will generate images or videos depending on human input or by employing machine learning to create art from data sets. Simply provide a text prompt describing the art style you like, or let the AI develop a variant from the generated images.

The process of using AI with your artwork
If you're interested in the world of AI art and want to try utilizing AI to make artwork, there are a few things to think about .
#1 The first step is to find an AI that matches your needs.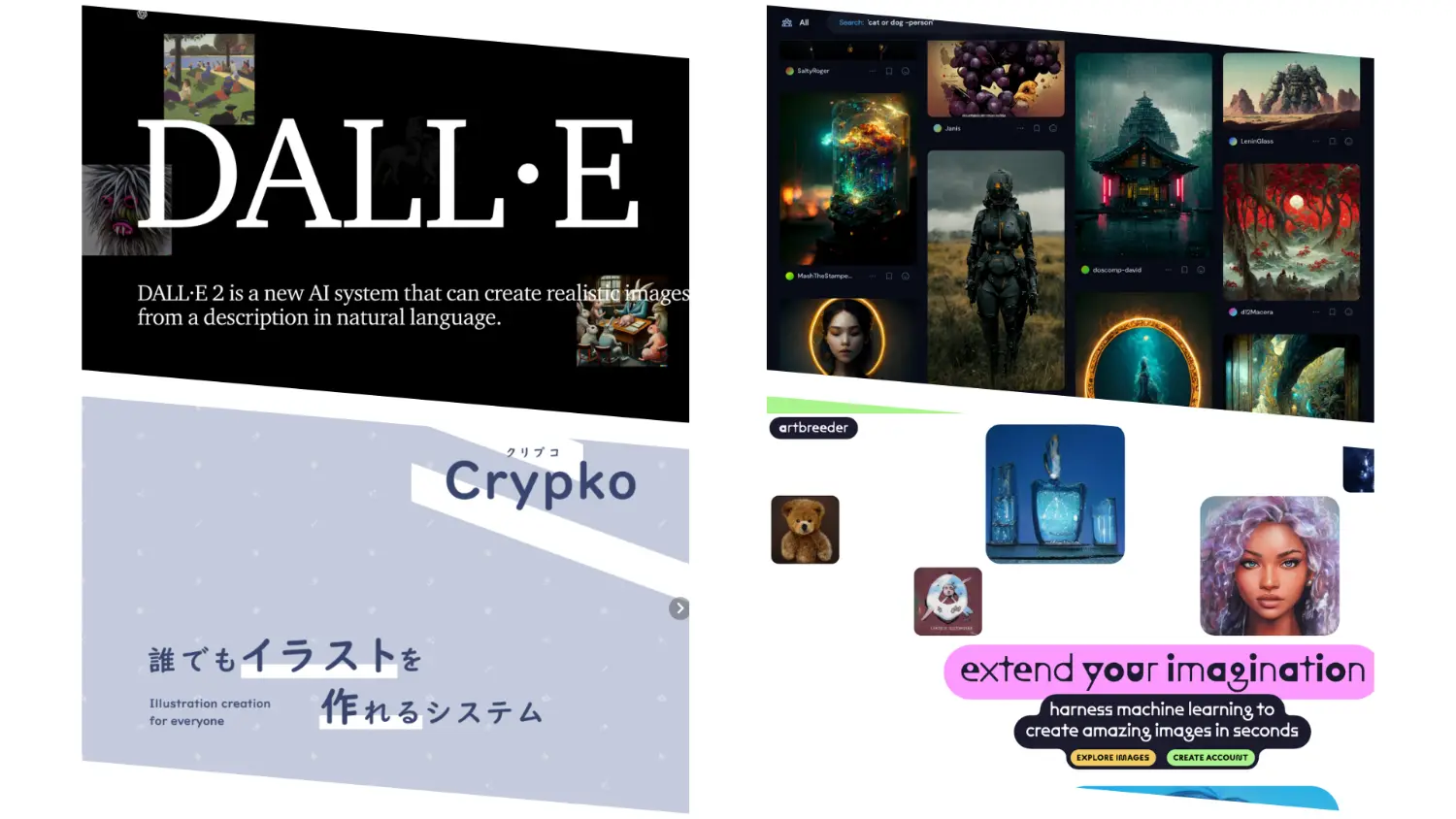 Consider the style of artwork you wish to produce. There are several art AIs available, therefore it is important to choose one that will best meet your needs.
Take some time to study your choices and choose the best one for you. If you're new to art AI, check out this blog to learn about the best AI for anime artists! However, I'll focus mostly on the use of OpenAI DALL-E 2 and Midjourney.
#2 Once you've chosen the right AI, you'll need to test it to see what it's capable of.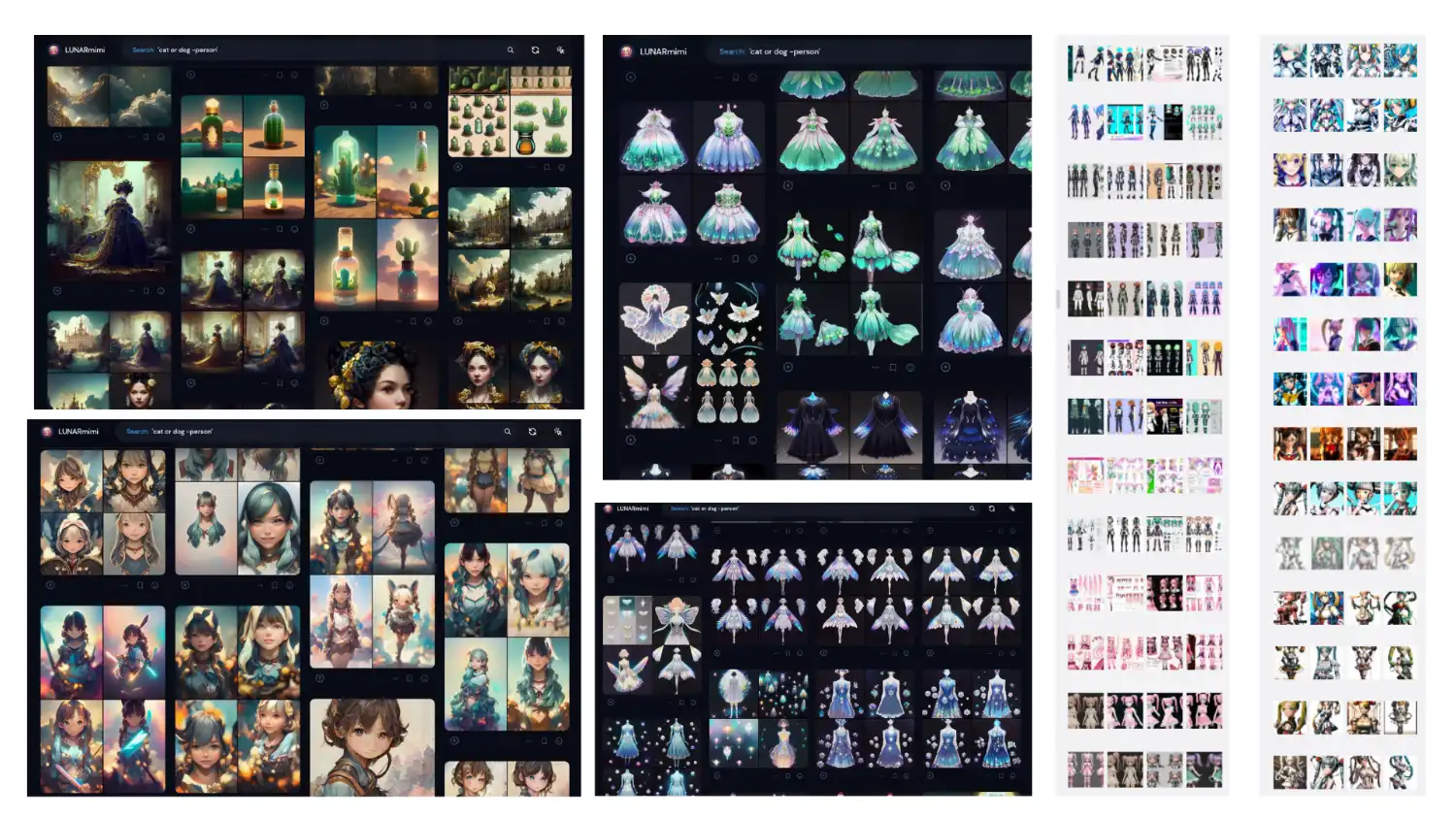 Don't be scared to play around with the functions; you never know what you'll come up with. You must learn and understand how to use "prompt" to tell the AI to create images that are as close to the picture you require as possible.
#3 Once you've created some AI-generated art, you can begin applying it to your own work.
It may be used to develop ideas or to build final products. The AI can assist you in every way you utilize it! The use of created AI art can range from using them as references to doing photo bashing or painting over, and even using the generated images as a final product!

Let's create AI art: Learn how to use a text-to-image generator
In order to generate AI images, you first need a prompt. This can be something as simple as a word or phrase.
Once you have your prompt, you'll need to use an AI-generated art tool like Dall-E 2 or Midjourney to create your image. Image below is a definition of a prompt as described in DALL-E 2 Prompt Book.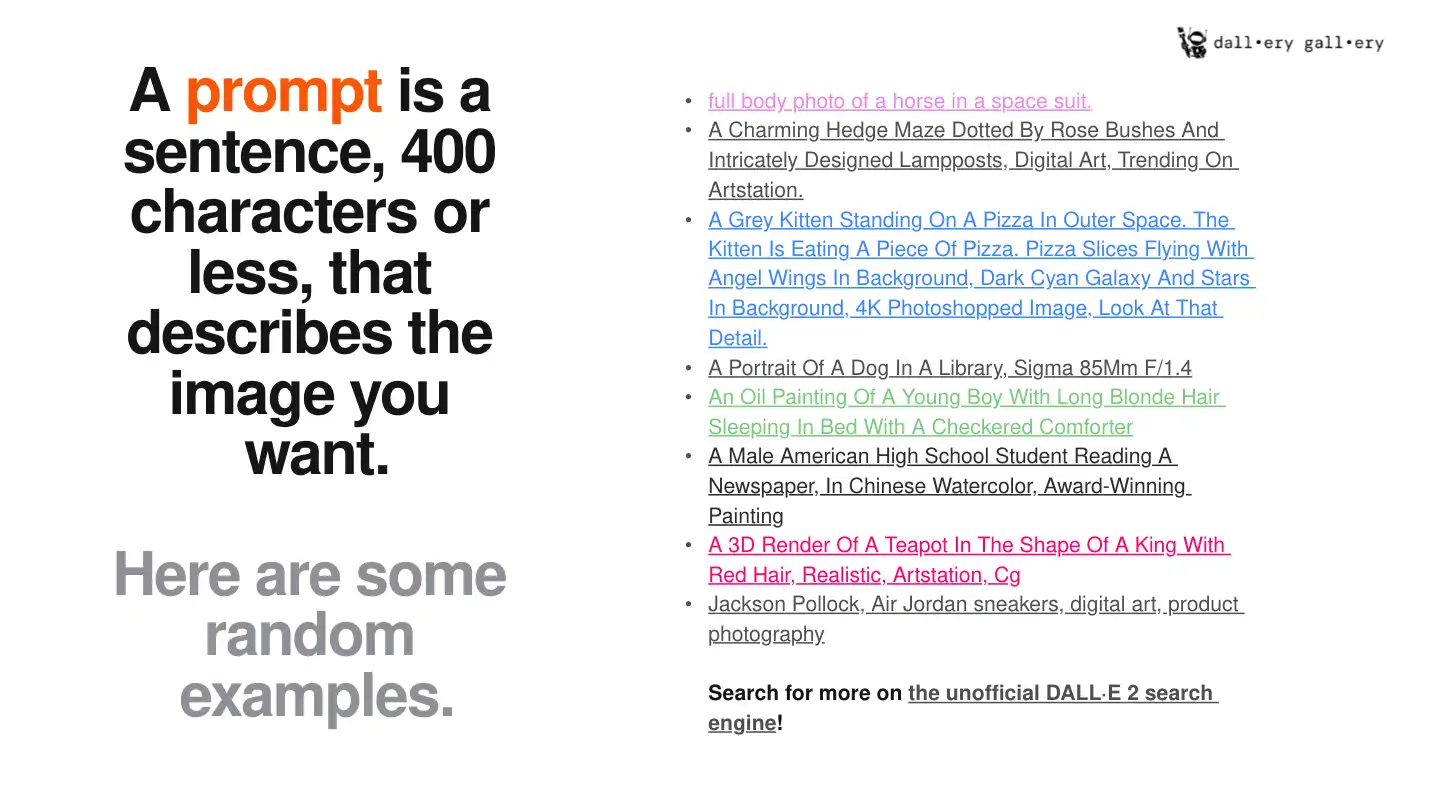 The prompt engineering: What should I input to the AI to get the exact image I want?
There is no one-size-fits-all answer to this question; it will vary depending on the specific AI you are using.
However, I'll share the tips from DALL-E 2 Prompt Book that you may find helpful to input the prompt data and get the most accurate result from art AI.
I tried these tricks with DALL-E 2 and Midjourney and they almost worked. However, Midjourney may require more specific keywords.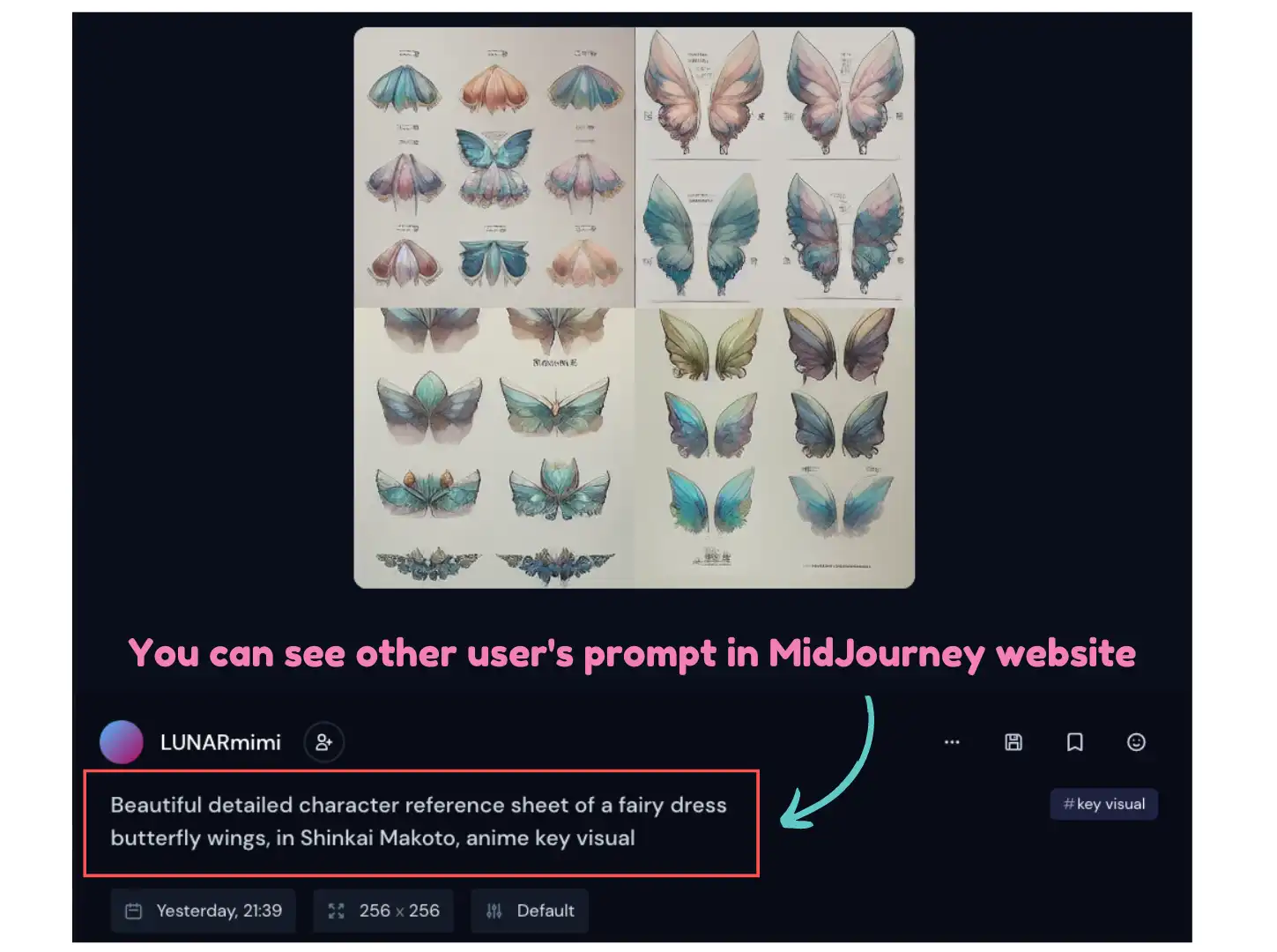 If you're a Midjourney user, you may view other people's prompt on their profile page. Your prompt in Midjourney also public. However, you can pay them +$20 per month to keep everything private.

Why would someone want to maintain this privacy?
Since "a prompt" is the essential part of an AI artwork creation, some creators may want to keep their prompt a secret in order to stop others from using it to create similar artwork.
This feature is essential when working at a production level as well. However, the outcome won't be the same even if you use the same prompt. It will resemble the other images created in response to the same prompt, but from what I have seen so far, it will NEVER be the same.
As far as I tested the art AI such as DALL-E 2 and Midjourney, they won't produce the same image twice. Even using the same prompt, the generated results won't be the same, so every piece of generated art is one of a kind.
Here is the similar images I mentioned. I use the same prompt in various time and here is the result.
Prompt: inside a magical item shop, fantasy potion vendor, wide angle, pastel color, texture 3D render magic, glowing light, iridescent, ultra detailed, perfect octane render highly detailed, god rays, style by studio ghibli 4K, detailed design, octane render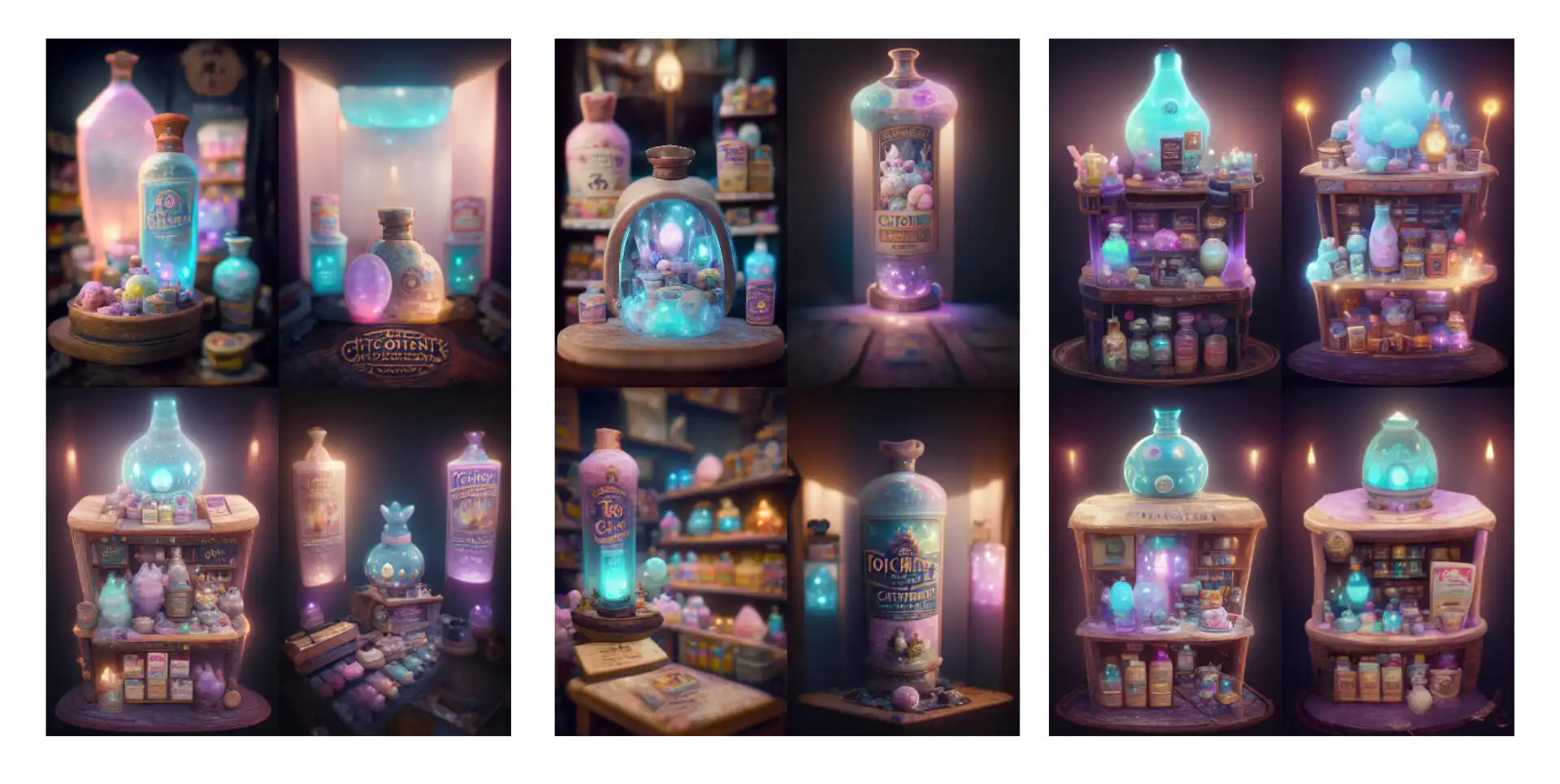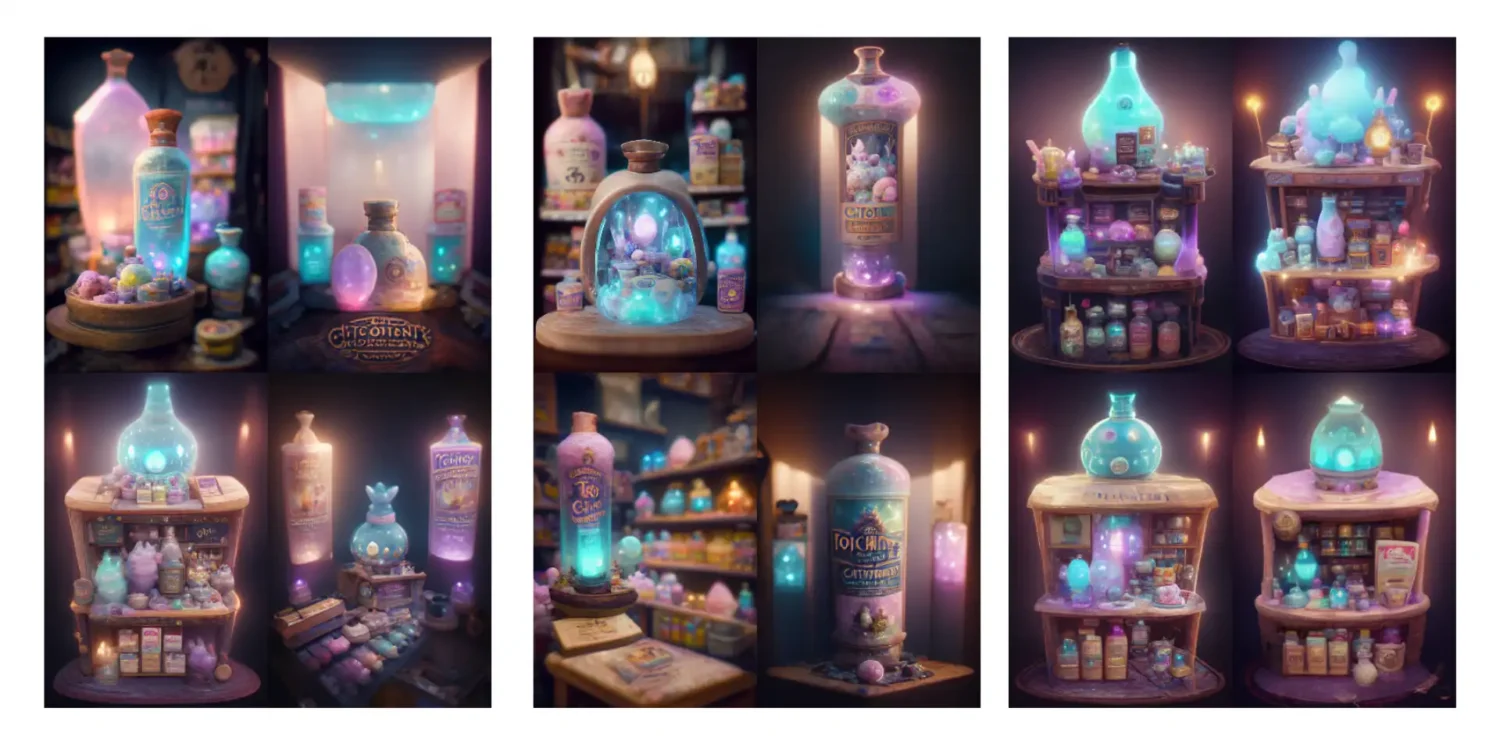 Now you got the idea of the prompt! Next, I'll share the tips you may use for designing your own prompt!
Less is more, but sometimes detailed prompts are also great
In DALLE-2, prompts can't be longer than 400 characters. You can try typing a simple sentence to describe your imagination, such as "Koala dunking basketball."
Then follow with specific phrases that might help increase the quality of the generated images, such as 4k, 8k, high-quality, trending, award-winning, acclaimed, on artstation, etc.
If you have a more detailed imagination, you can add them to your prompt too! This will be useful if you have knowledge of art-related terms such as art styles, famous artists, art periods, photography related words, etc.
Try using the word "digital art" when you want a 2D illustration or art piece. If you want 3D you can use the word "3D render"
Prompt: Isometric 3D render of video game art of a bedroom of a girly kawaii artist and have wacom cintiq and PC in this room, octane render highly detailed, pastel pink, white, iridescent, glowing light, unreal engine, 8k , center image
Don't use commas grammatically
When it comes to designing prompts for AI, use commas to separate parts of an image or add additional words to describe the details of your desired outcome.
Prompt: A beautiful drawing of a map of kitty land that is ruled by cute kitty, style by studio ghibli, 4K, detailed design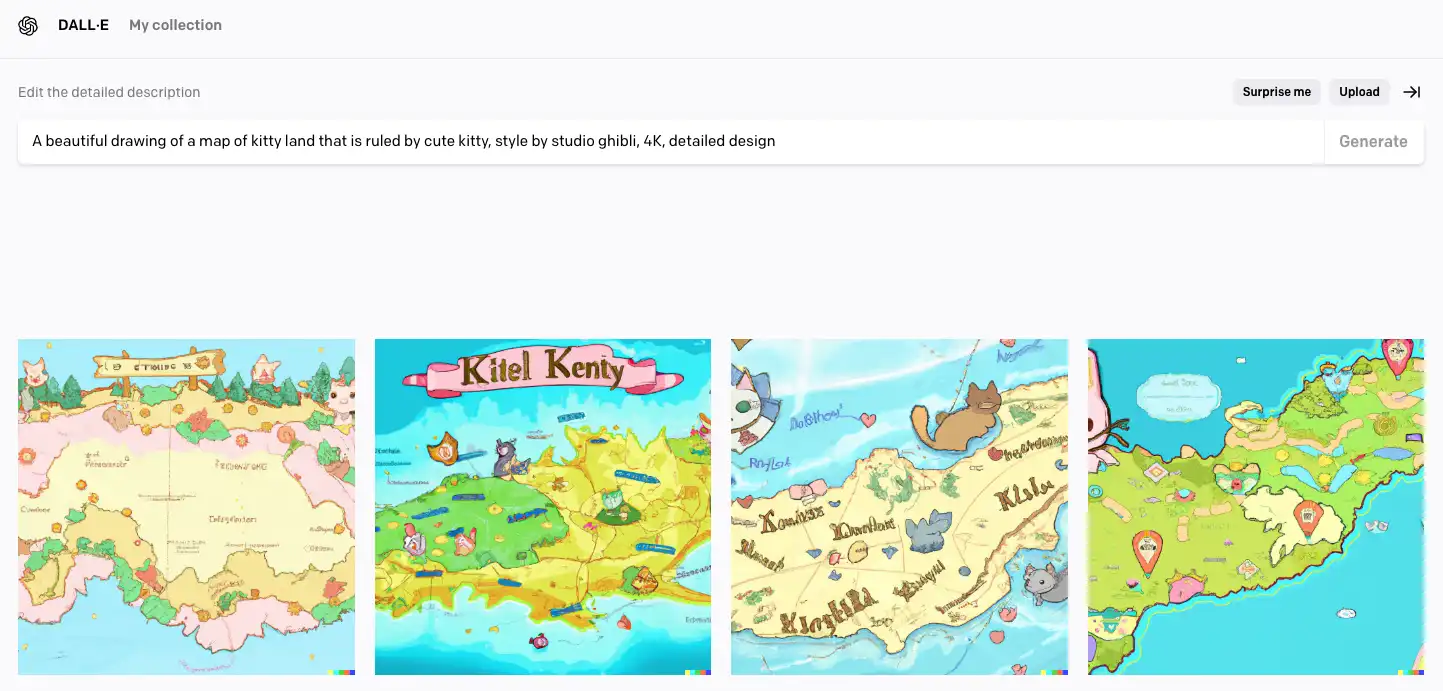 You can use Emojis
If you didn't know about this, yes, you can create art just by using emojis alone as well!
However, I've seen some people say that there are some banned emojis in Midjourney. They said that they tried using 🍆 💦and 🍑 but the AI won't let them. (I haven't tried it yet so I'm not sure about this limit)
Add some moods with emotional words
Use emotional words to inform the AI about the mood in the images you want. You can use any positive or negative emotional words in the list below. I got this from DALL-E 2 Prompt Book. It's quite useful!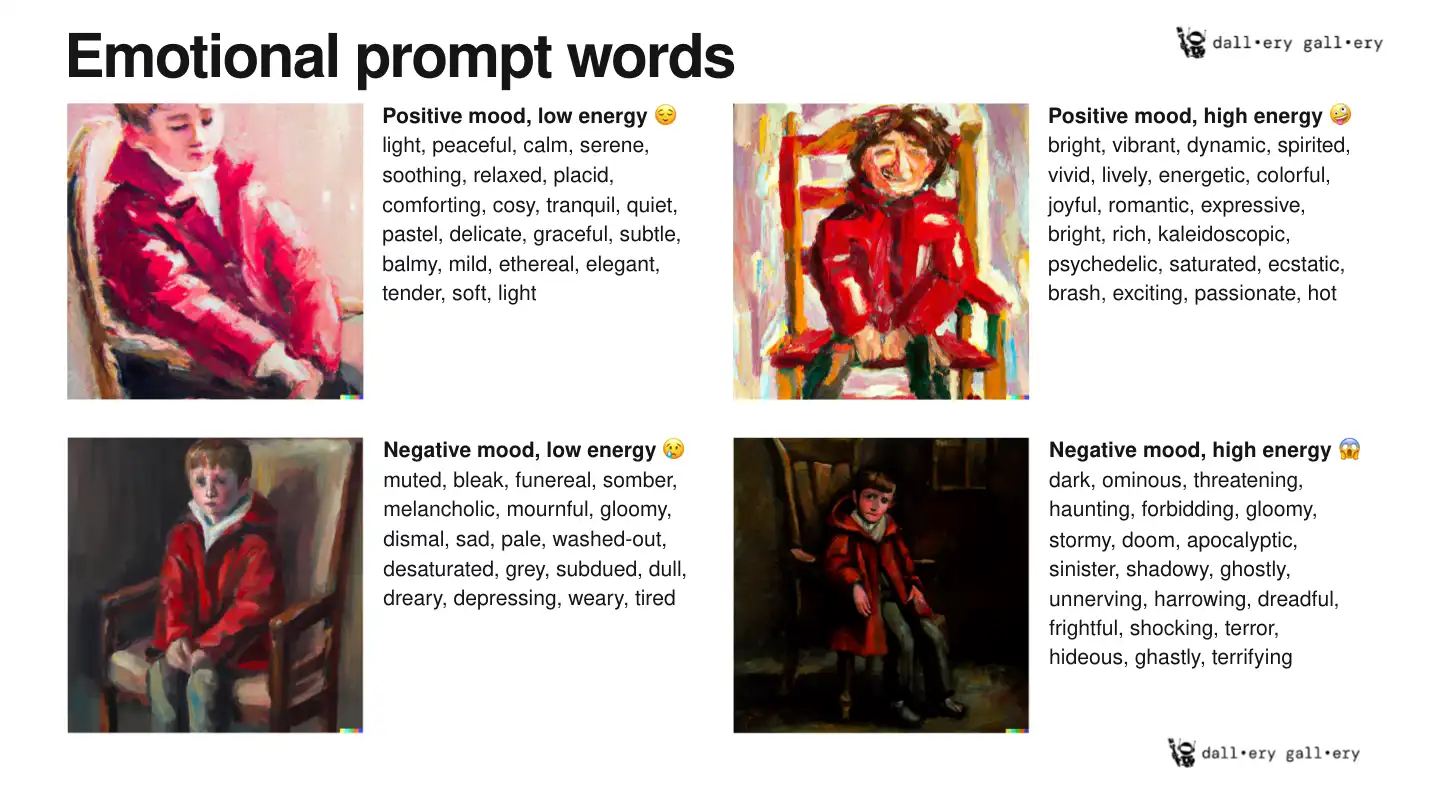 Input the size you want
In Midjourney, you can direct the size of the generated images you want by adding "––ar" followed by the ratio of image size you want, such as "2:3" or "9:16"
Prompt: detailed anime girl illustration in Granblue Fantasy art style, by Hyung tae kim, mahou shoujo, looking at the camera, octane render ––ar 2:3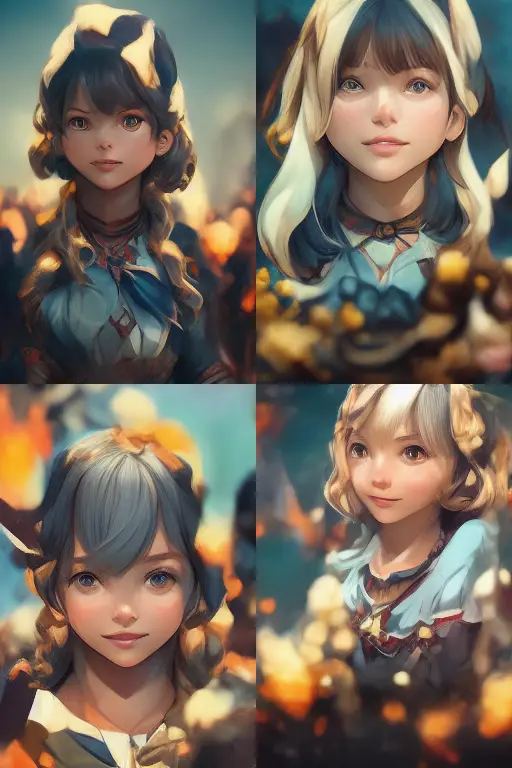 Identifying your aesthetic
Try adding the words that describe the look of the image, such as Vaporwave, Post-apocalyptic, Gothic fantasy, Cybernetic, Sci-fi, Steampunk, Memphis, Dieselpunk, Afrofuturism, Cyberpunk, Biopunk, Organic. You can check out more aesthetic words on this page.
Try using photography keywords
If you want to generate a photograph in DALL-E 2, you can try adding words such as camera angles, position, shutter speed, lens, lighting, etc. Here is the instruction from DALL-E 2 Prompt Book.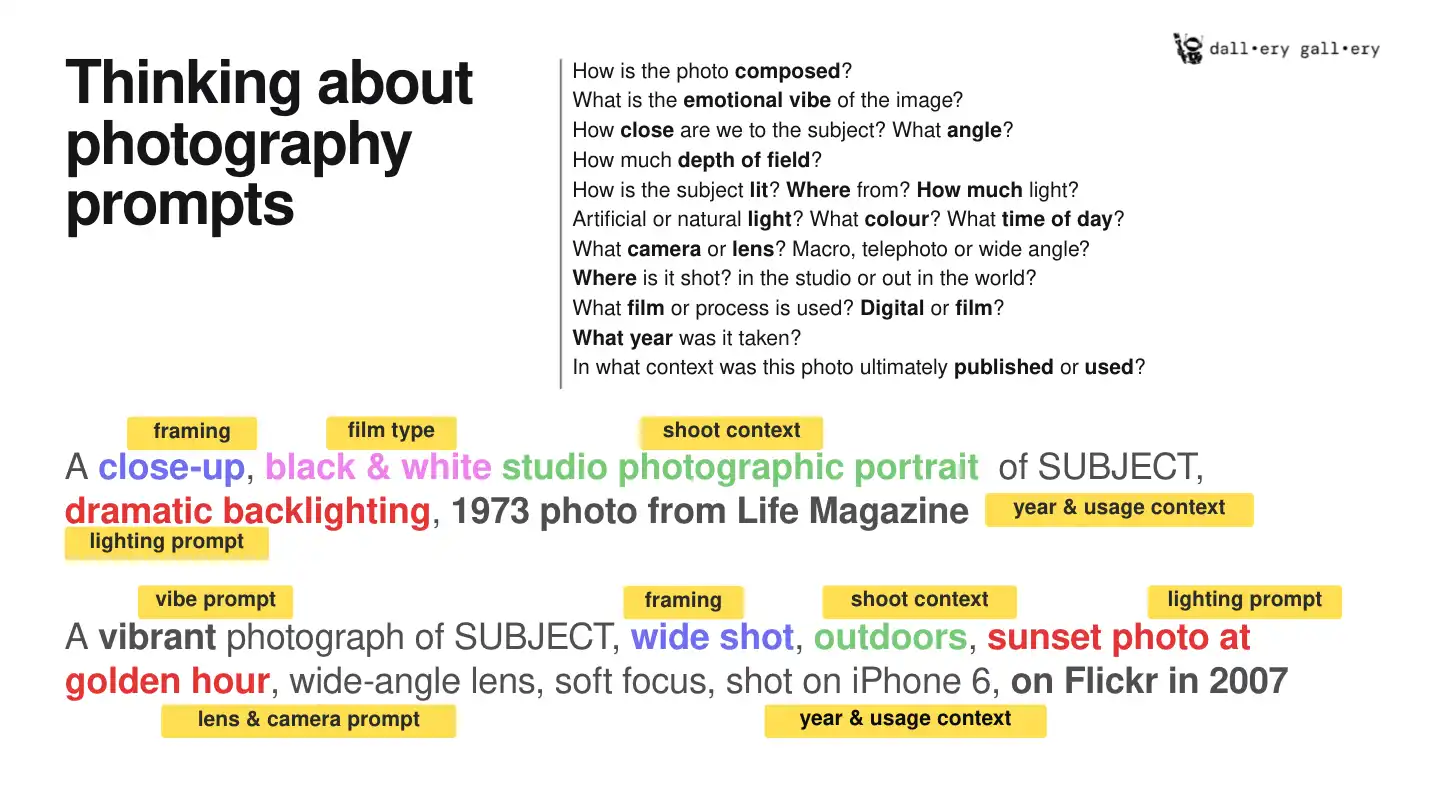 I tried generating the photograph of a cute Japanese cosplayer in DALL-E 2 and you can see the result below.
Prompt: A photo of cute Japanese cosplayer girl, shallow depth of field, fashion photography, 4k, street photography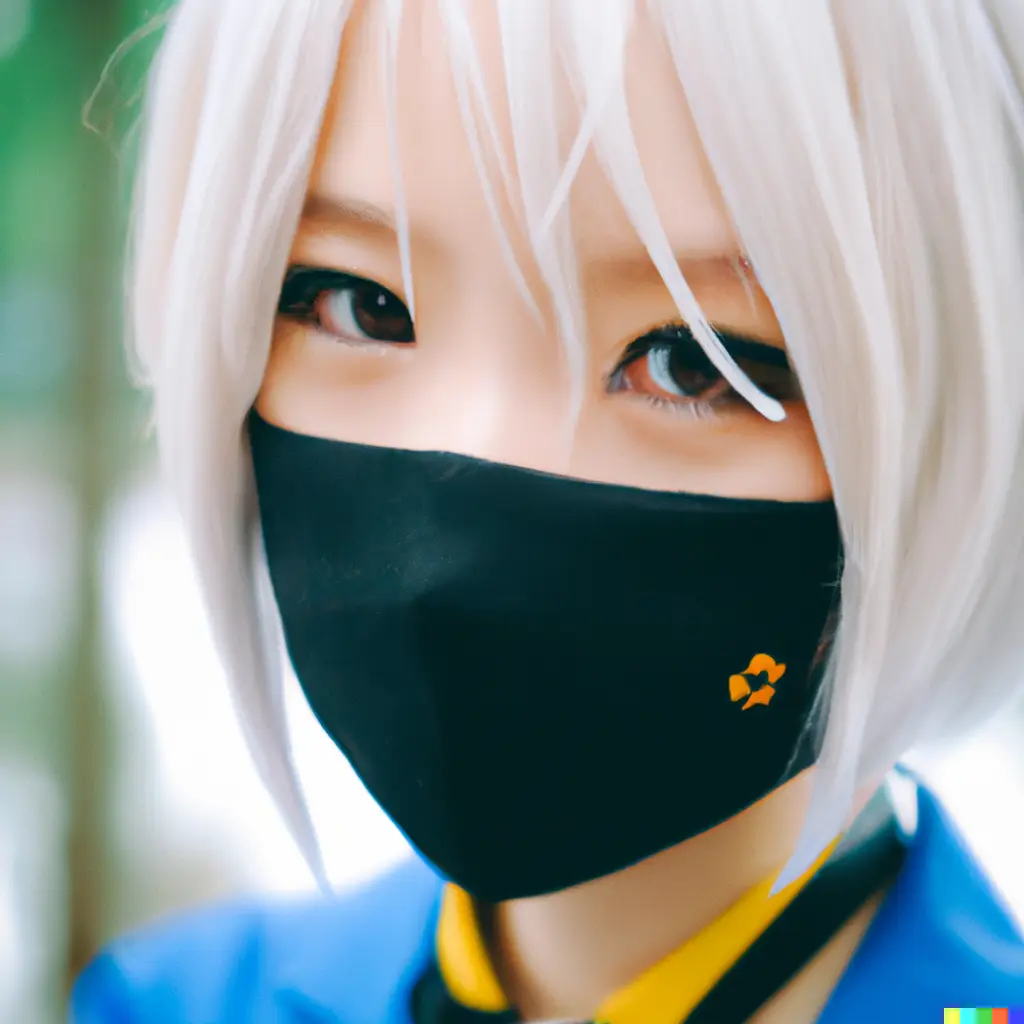 You can mentioned the artist's style
You can mention the artist's style in your prompt. Just add "in the style of" followed by the famous artist's name. However, DALL-E 2 is currently quite hit and miss at mimicking the living artists unless their art reaches a level of renown. You can mention photographers, illustrators, painters, or artists in any genre!
Add the art style keywords
You can mention the art style you want. For example, character reference sheets, comic book art, anime, Pixar, Studio Ghibli, Vintage Disney, Pixel Art, etc.!
You can pick the style from any art era
If you want to be more specific about the art style in any era, you can use words such as Renaissance, Baroque, Rococo, Art Nouveau, etc.
Prompt: A beautiful drawing of hello kitty in style of Renaissance art era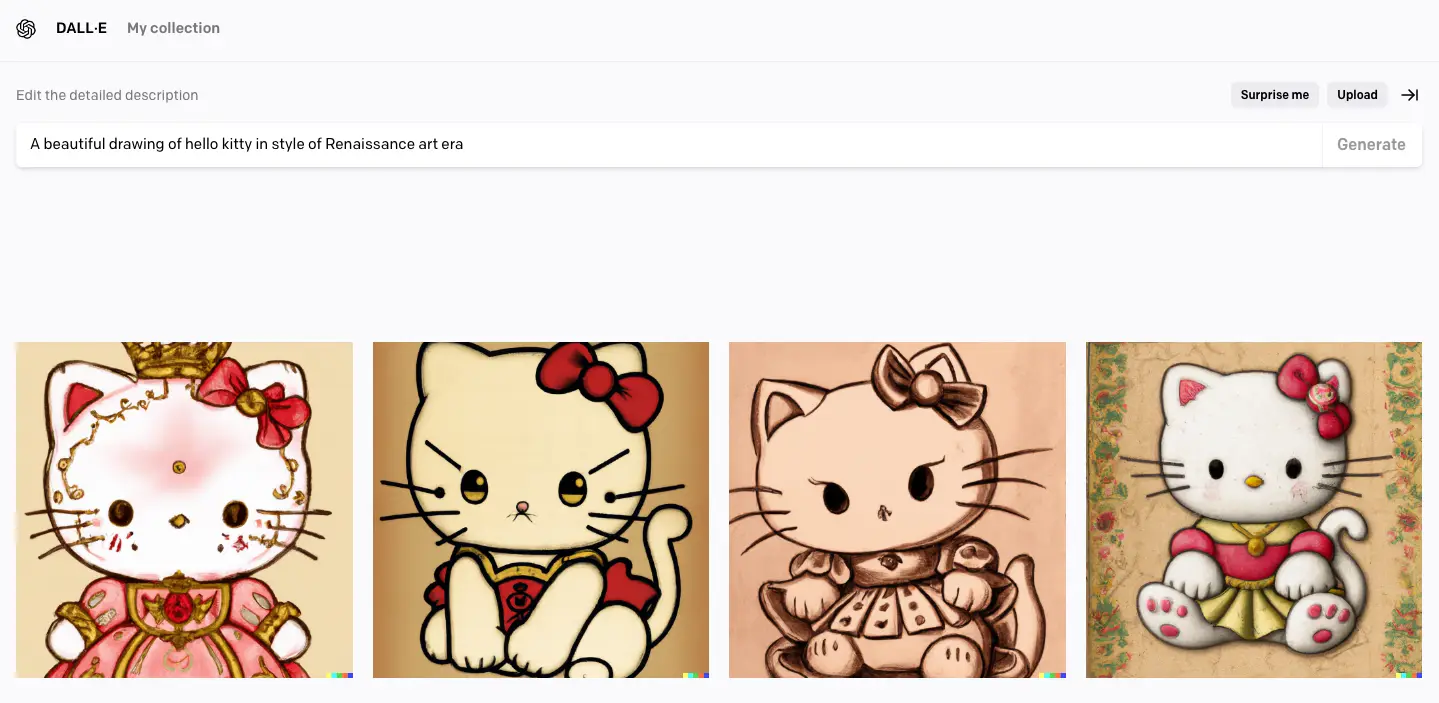 OK! Now you've got a brief idea about how to generate art using AI. By learning these prompt designing techniques, you'll be able to generate art that is much more accurate to your imagination.
Next, we'll learn how you can use AI with your anime art!

This is how an AI image generator can help you with your artwork
Generative AI art can help you with your artwork in a number of ways. If you're struggling to come up with new ideas for your artwork, or you're just looking for a fresh perspective, consider using AI.
By feeding prompts into an AI, you can create completely unique pieces of art that can help inspire your own work.
Let's explore the areas where AI can assist you!
Character design
With DALL-E 2 and Midjourney, I attempted several suggestions related to character design ideas. I was shocked that they could come up with so many fresh and distinctive character design ideas!
Costume design
These are just some parts that I use AI to generate.
MiMi TIPS: Using the word "mahou shoujo" and "beautiful detailed character reference sheet" in Midjourney will give you the similar results as follow.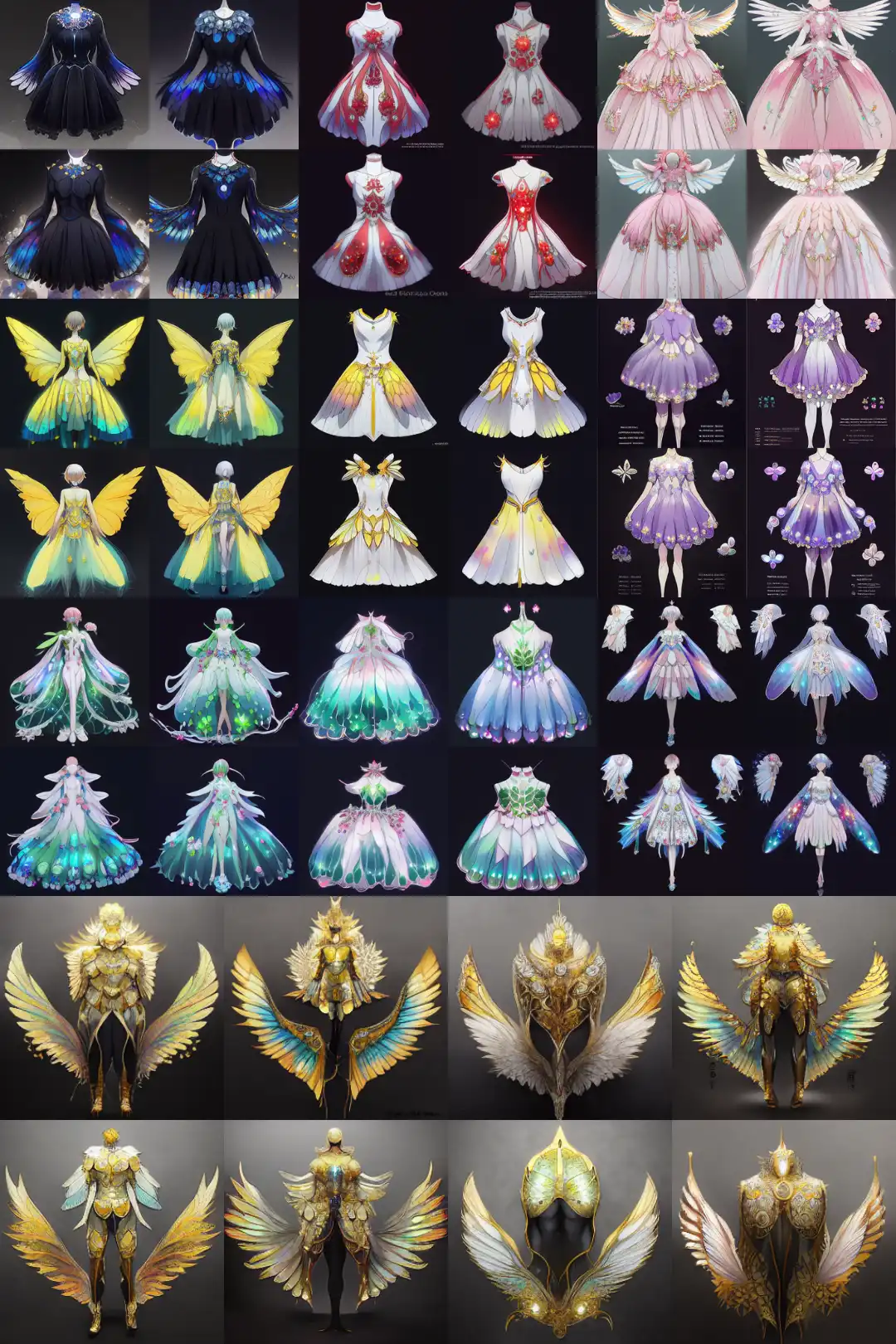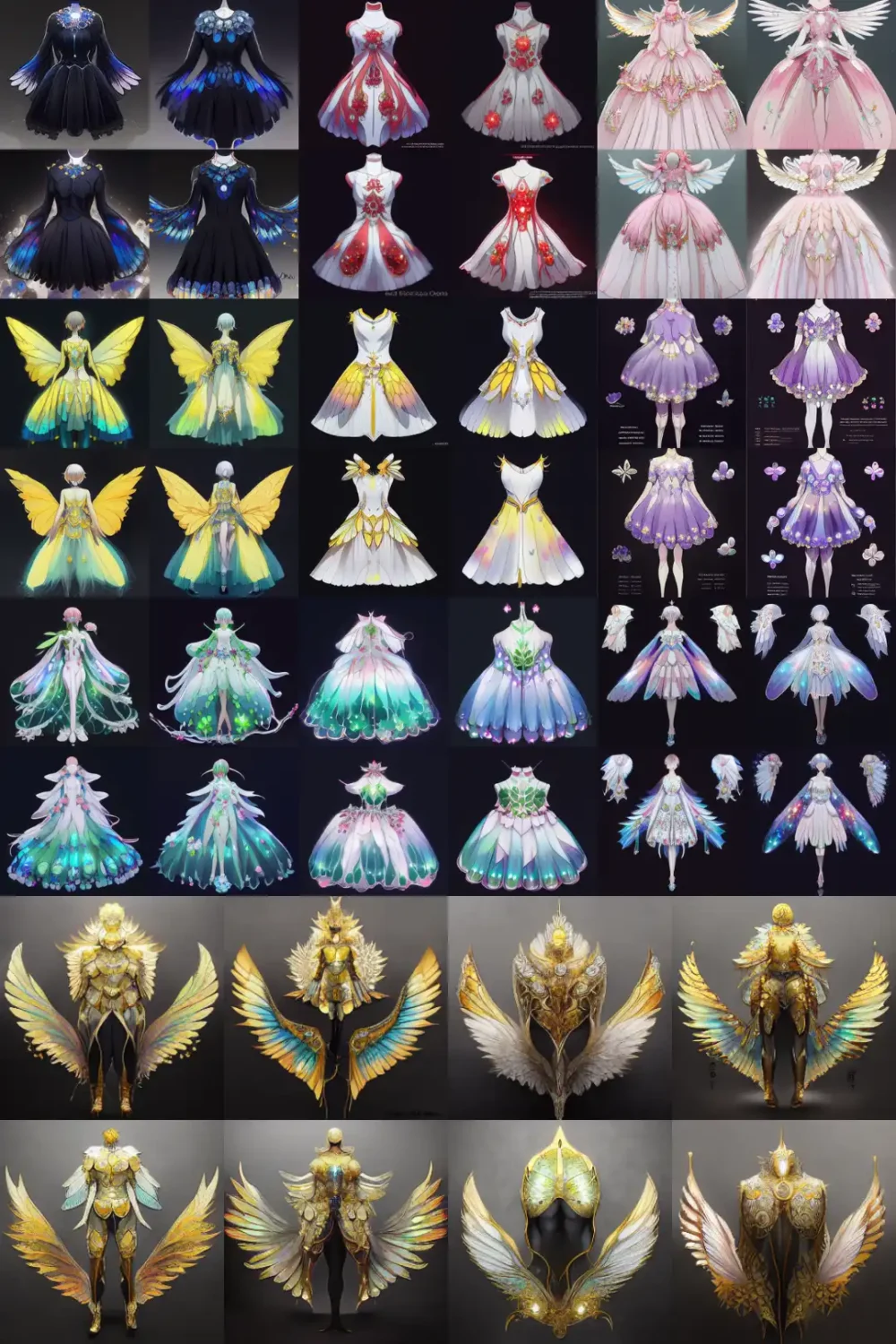 MiMi TIPS: In MidJourney, you can try using the word "large wings" or any fantasy word such as "glowing opal" and "iridescent".
MiMi TIPS: In Midjourney, I tried the word "fairy crown" and "glowing diamond" with the "character reference sheet". For the bouquet, I tried "a pastel flower bouquet", "large wings" and  "ultra detailed".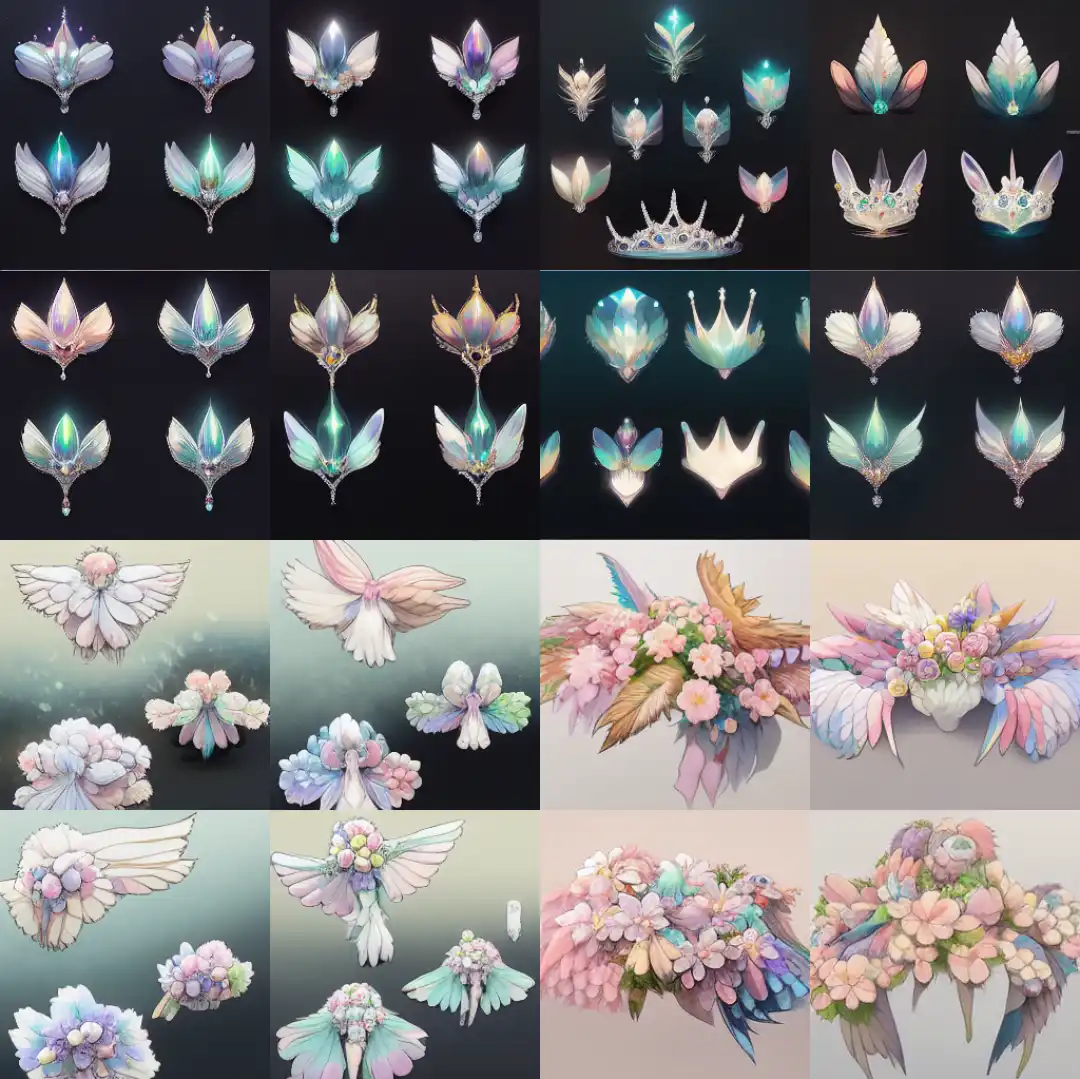 Character sheet design
When I tried to generate the character sheet using DALL-E 2 and Midjourney, I discovered that the result from DALL-E 2 is far more accurate. However, here is the updated information: NovelAI gives me the best result for anime style character sheet! Let's see the sample image I generated using Novel AI below.
MiMi TIPS: In DALL-E 2, I tried the prompt "Beautiful detailed character reference sheet of [insert the wording of character you want]" followed by "in the style of Shinkai Makoto, anime key visual". You can use the similar prompt in Novel AI to produce a character sheet.
Background
Adding backgrounds to your anime art might be time consuming, but you can automate the process. I attempted to produce an image for the background using DALL-E 2 and Midjourney and here is the result.
MiMi TIPS: In MidJourney, you can use words like "atmospheric, photorealistic, soft light, cel-shading, animation, in the style of CGSociety, DeviantArt, ArtStation, ZBrush, Cinema4D, Studio Ghibli" to generate the background in this style.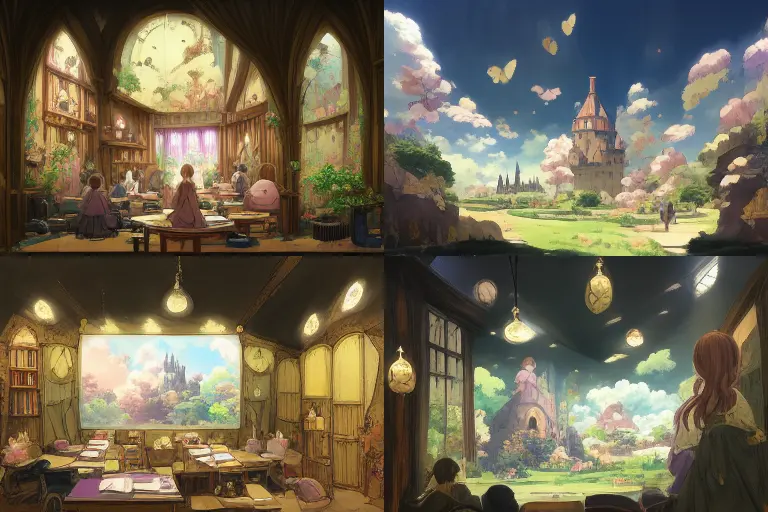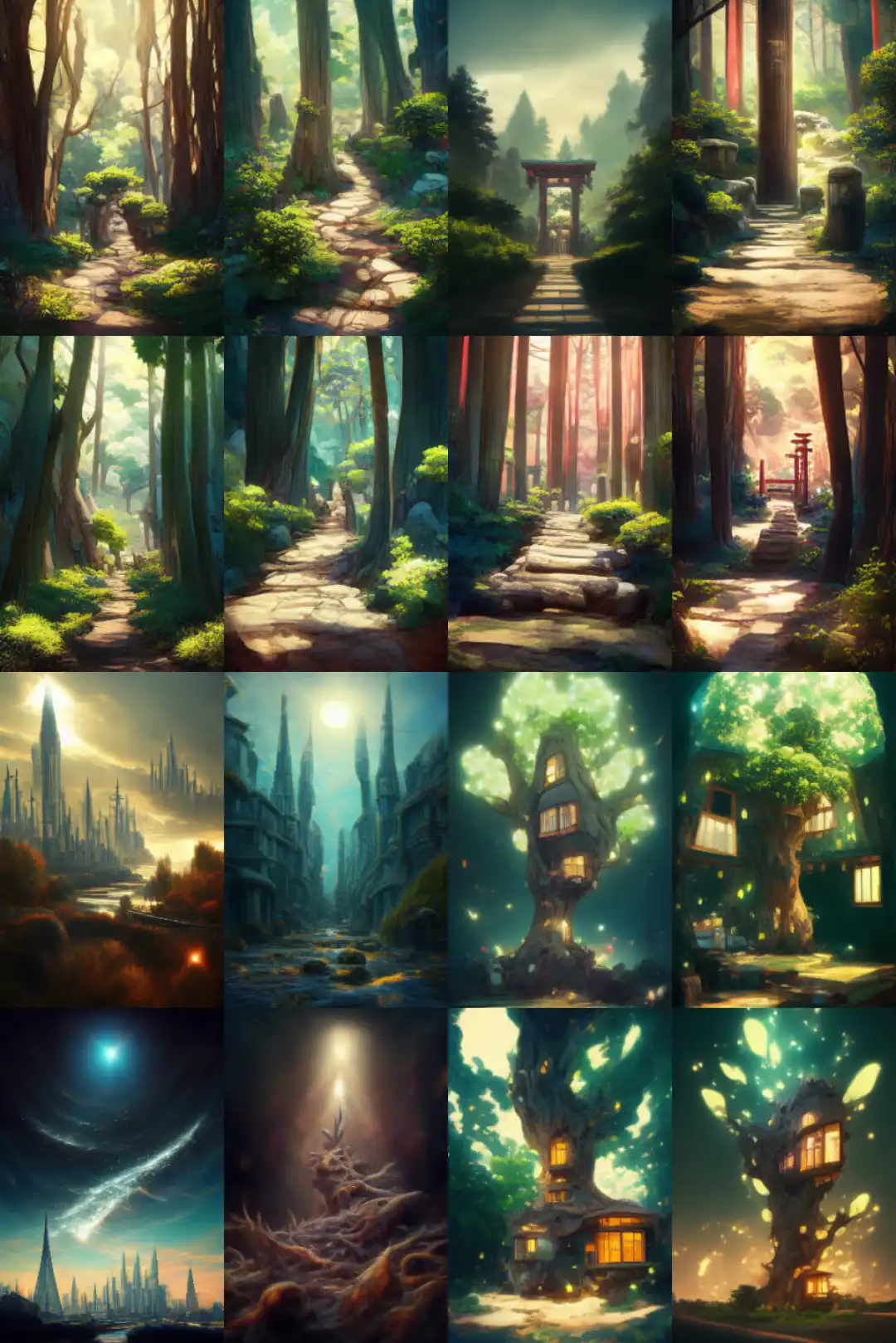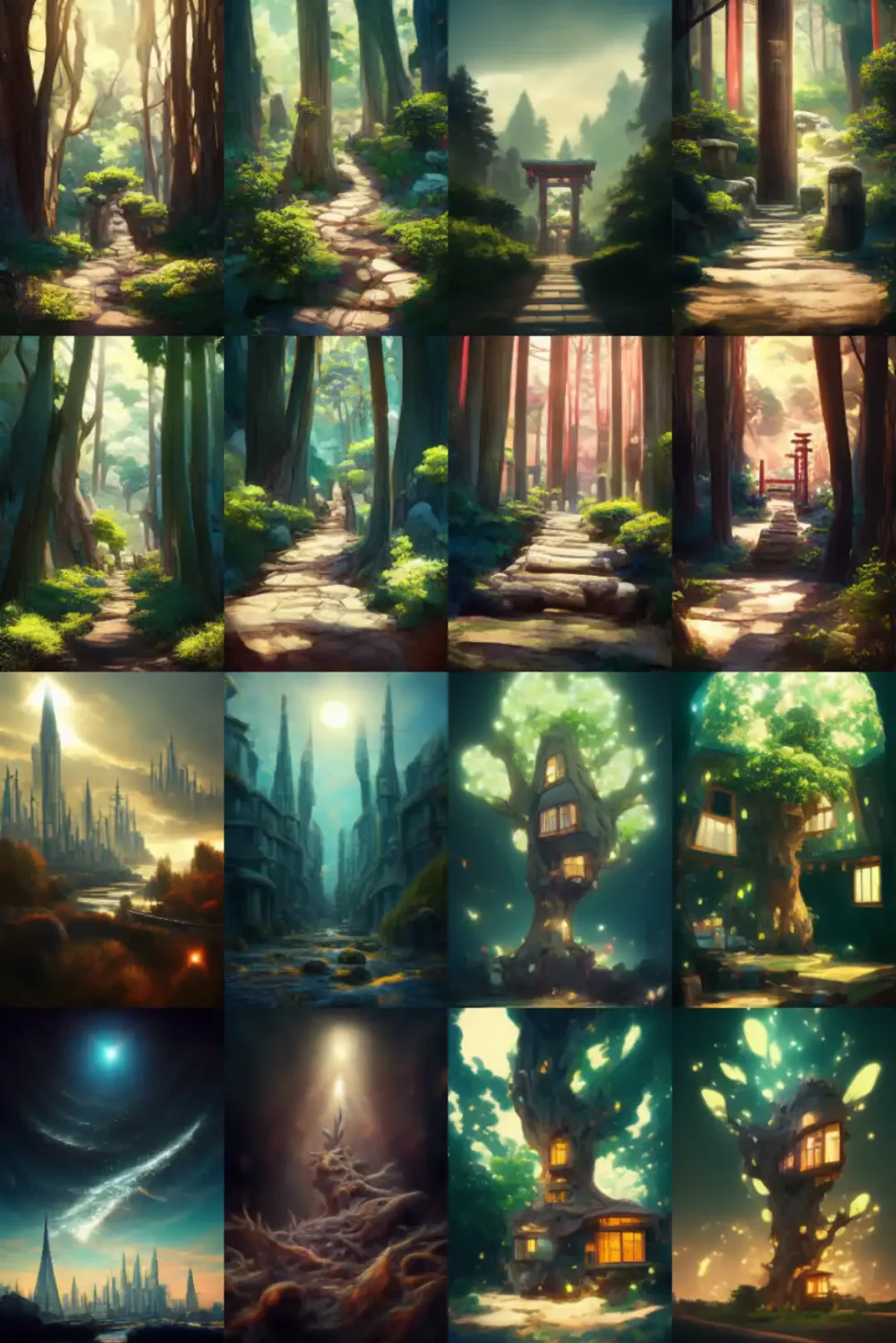 Here is the result I got from DALL-E 2. The quality is quite impressive!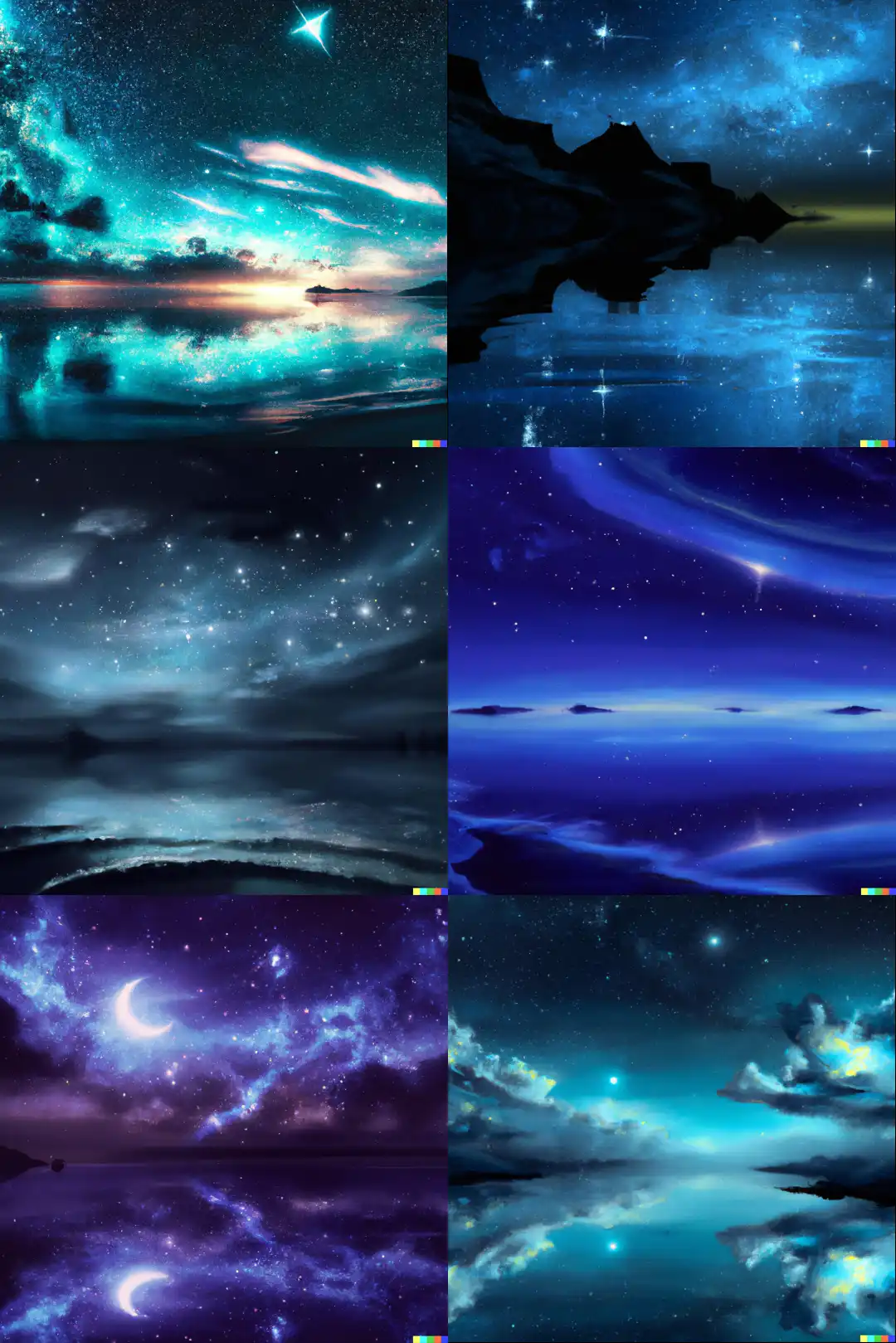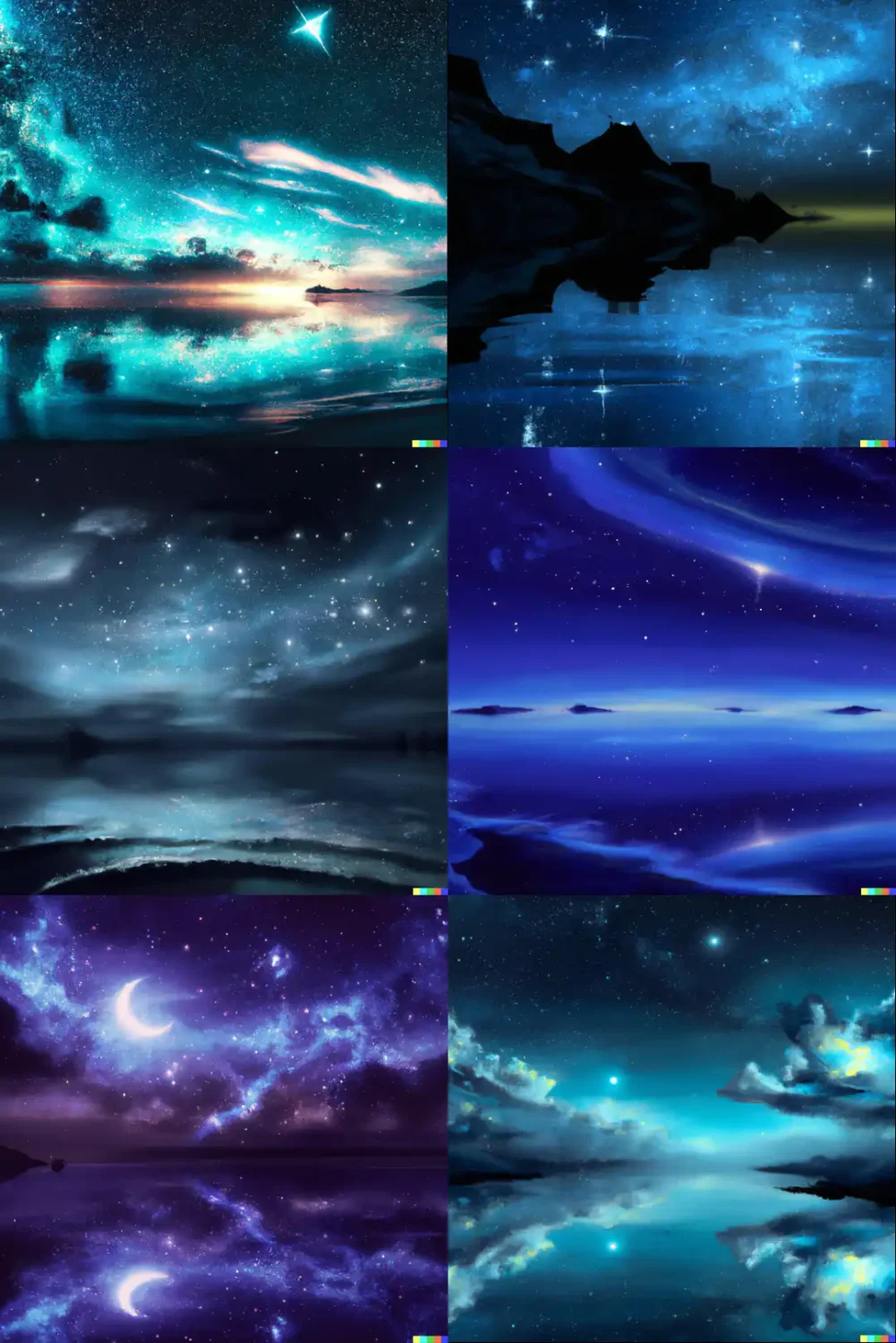 And here is mind-blowing background images from Novel AI.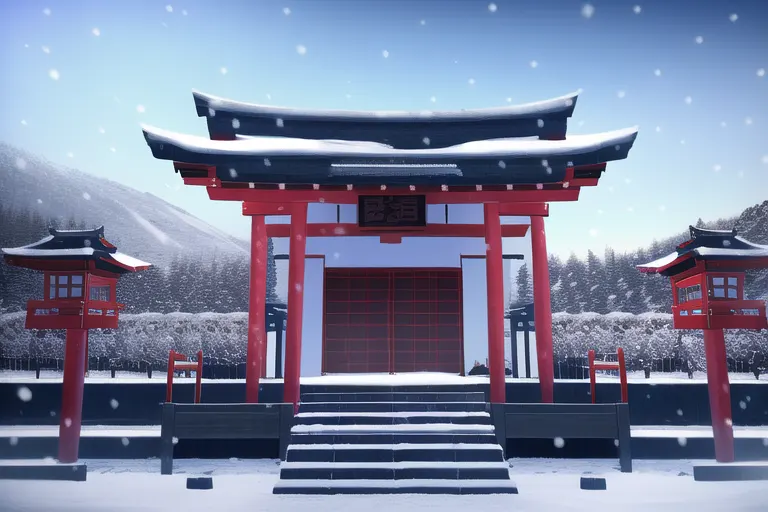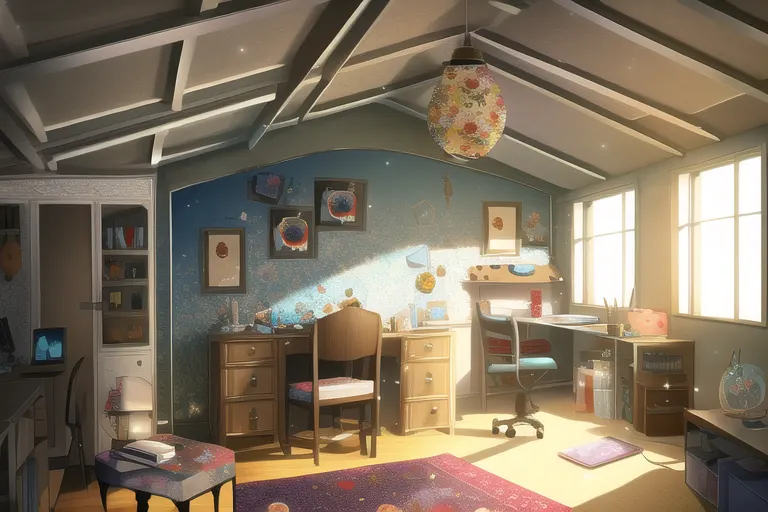 Stock images
You may use AI to produce stock images like patterns and textures and then retouch them into your artwork. In this example, I attempted to generate a pattern from Midjourney and utilize it for the carpet in the illustration.
MiMi TIPS: Use the word "pattern for wallpapers, seamless" to generate a seamless pattern in Midjourney.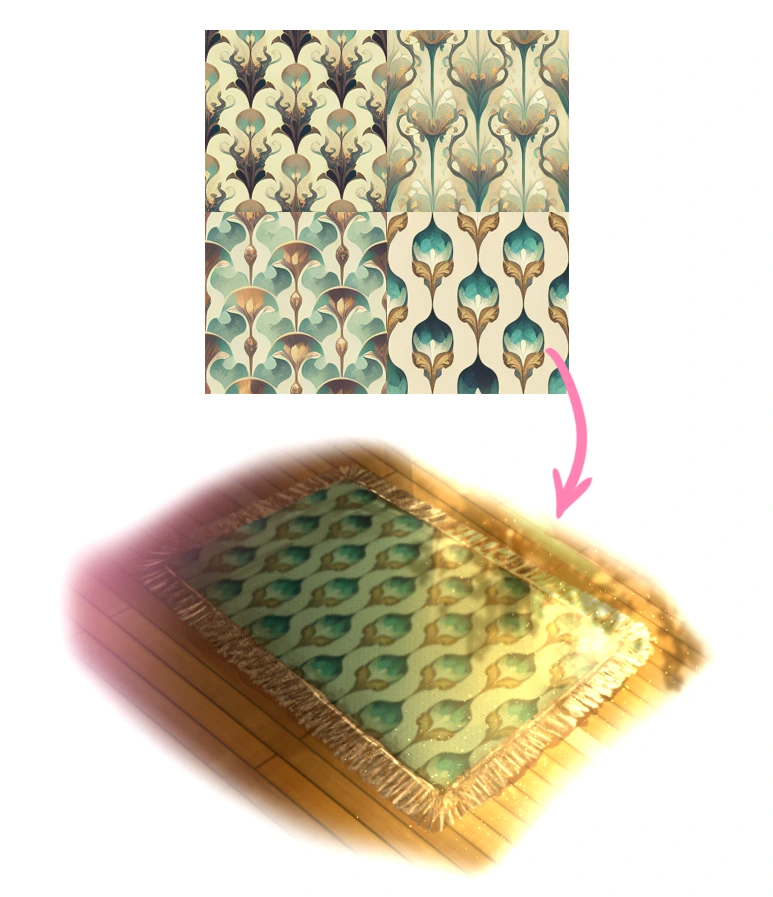 I experimented with creating various accessories or objects and then putting them into my illustration. To match your illustration, you may change the generated images' perspective, value, and color. The objects then need to be retouched and painted over.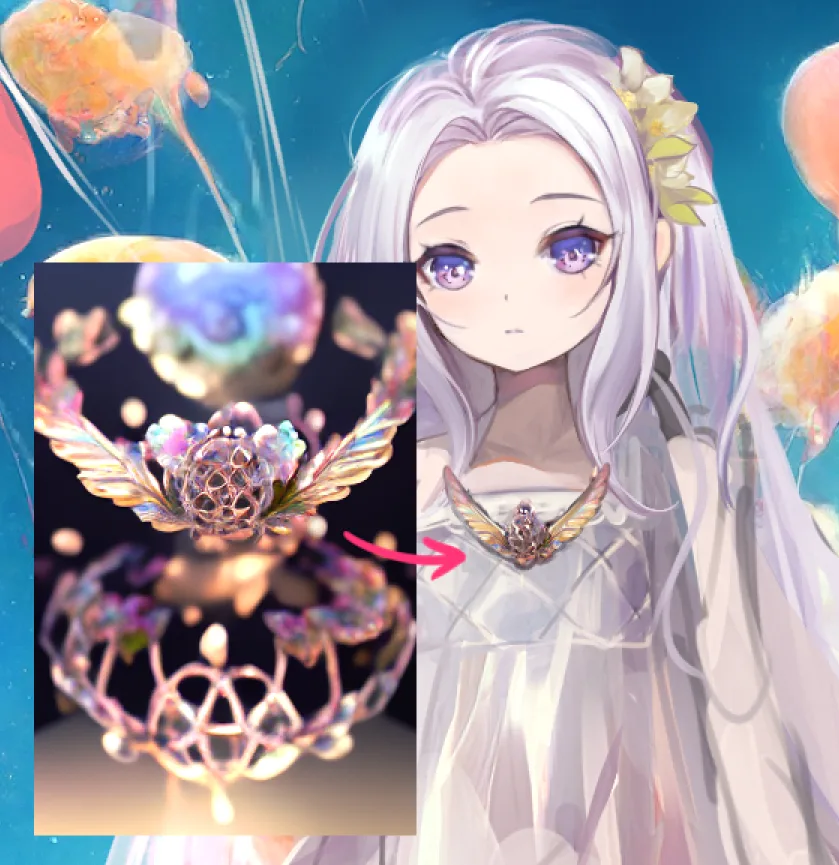 Paint over
You may use the AI generated art as a starting point for painting over.
I also experimented with creating artwork from DALL-E 2 with the prompt "Beautiful detailed illustration of a robot anime girl with twin tails by Gil Elvgren, J.C Leyendecker, mahoushoujo, anime key visual, octane render, unreal engine." I got this prompt from this YouTube video and wanted to put it to the test.
Here are some of the results I got by using DALL-E 2.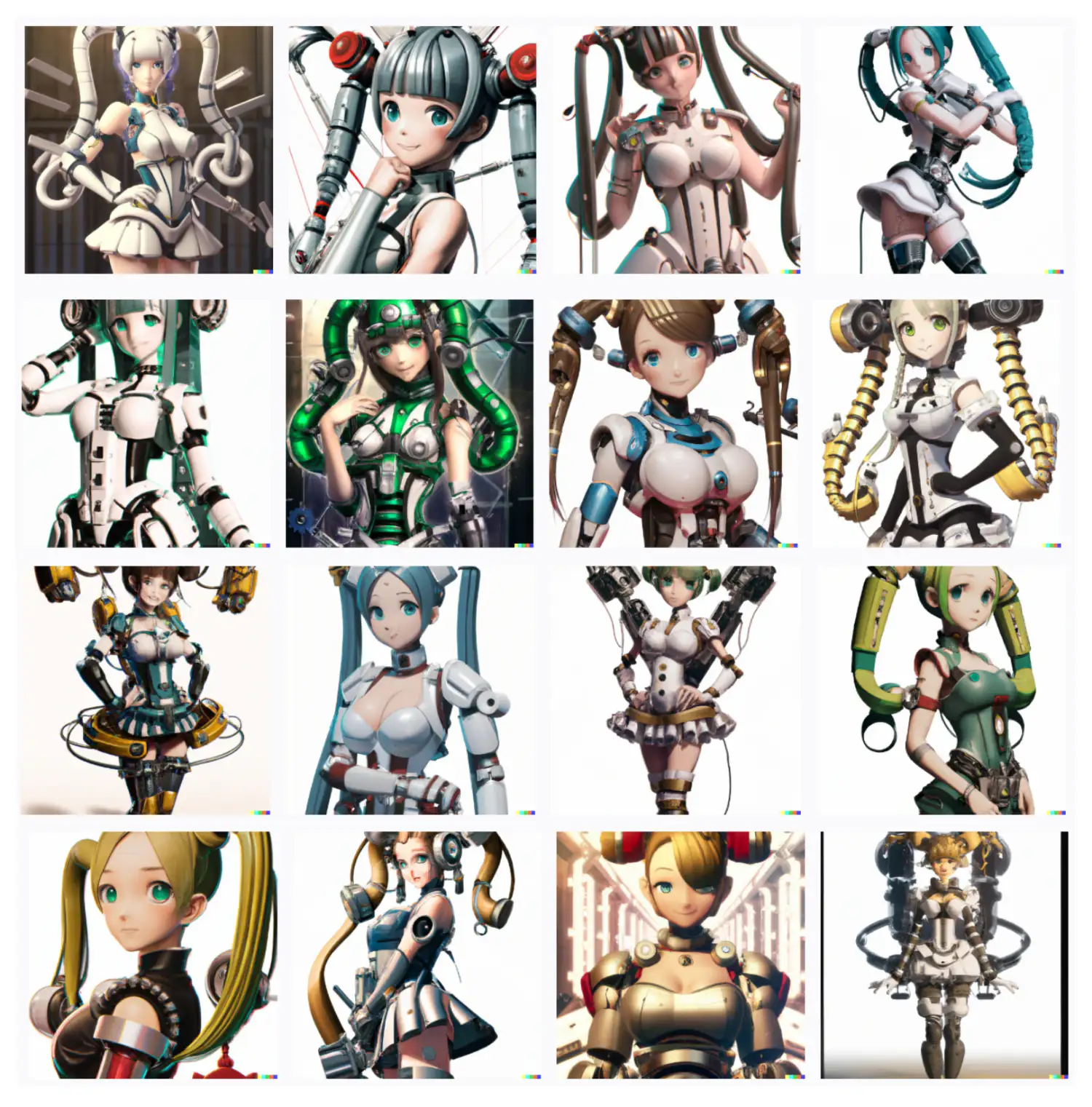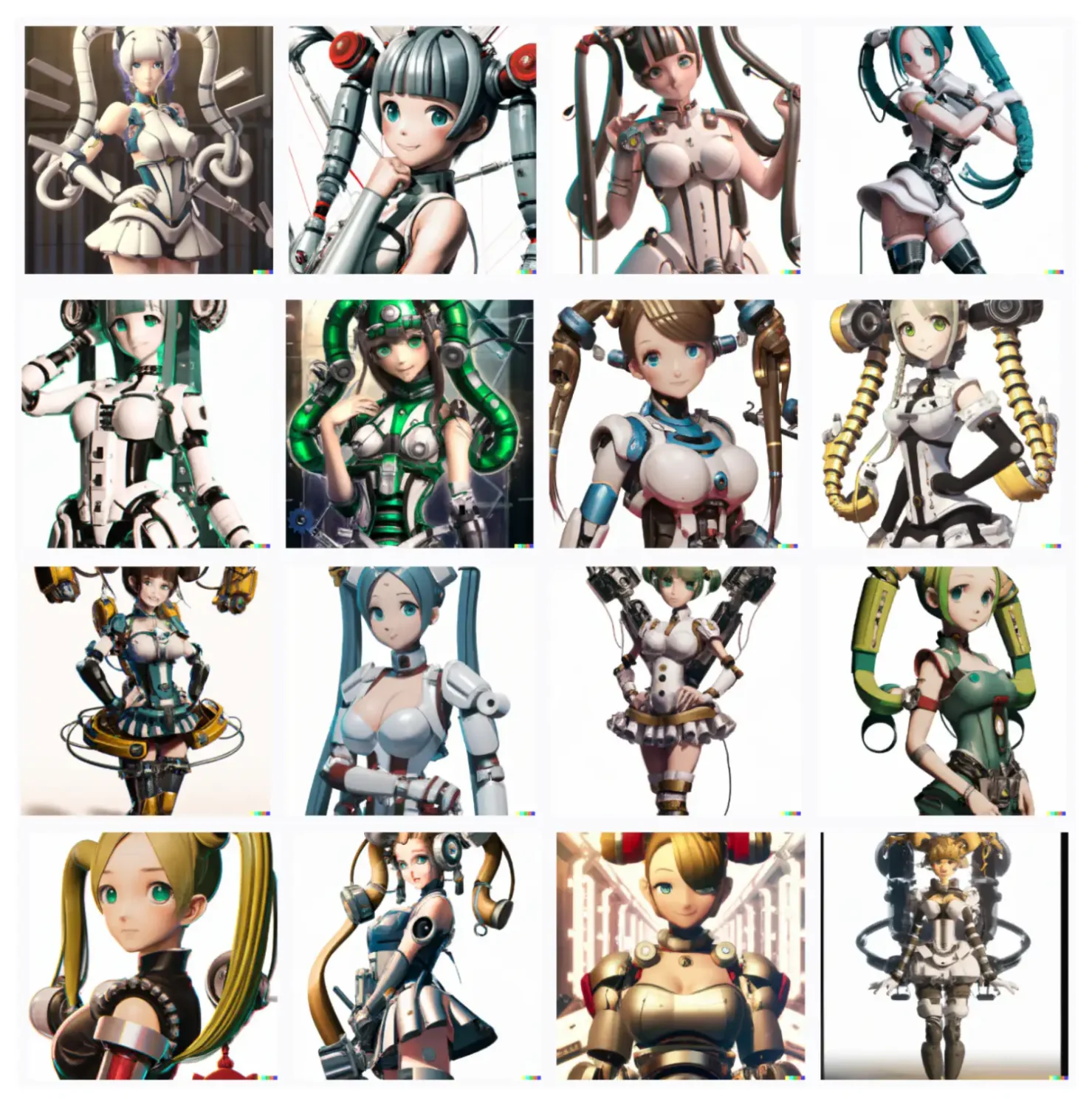 I have to say that, DALL-E 2 has a great sense of design and it knows a lot about anime girl. Even some of the image are cursed but I satisfied with the results!
I also tried this prompt in Midjourney, but the outcome was not what I want. (Where are the twin tails? It appears that MJ is unfamiliar with anime girl, or perhaps I need to develop a new prompt? LOL)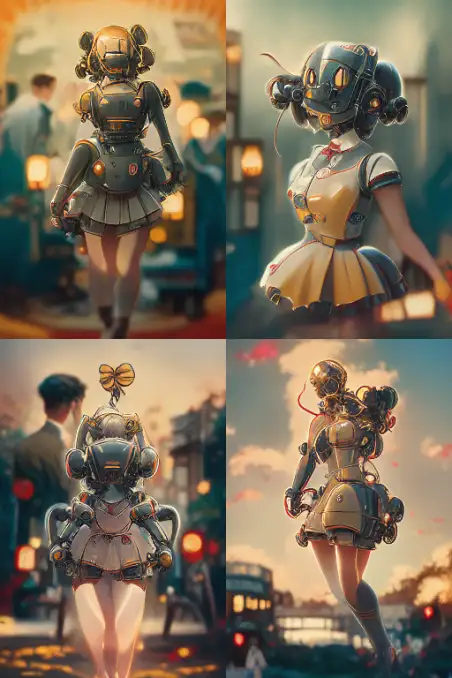 Then I chose an image that I believe will be simple to paint over. I like this one because of the color and design. This image has complimentary colors that make it standout.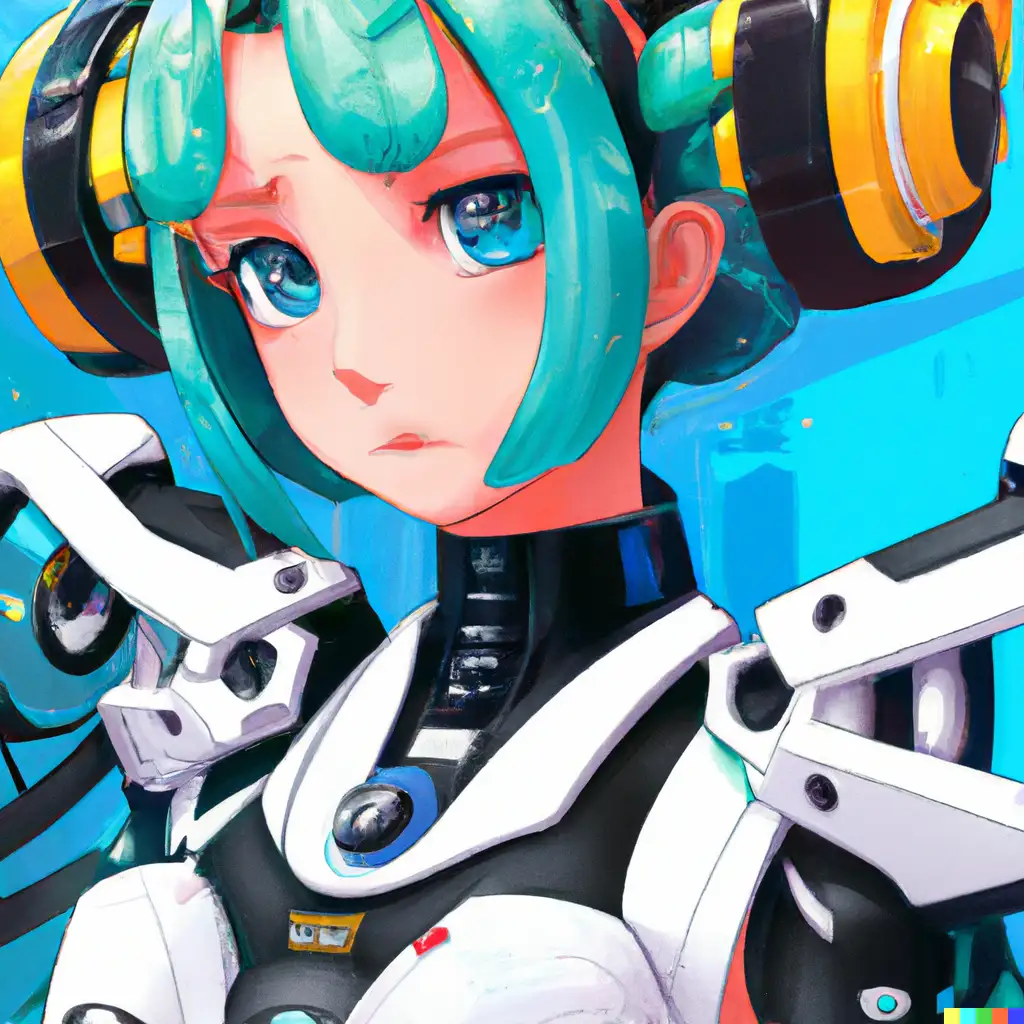 I started with editing the face shape and brushing up the glitch in Clip Studio Paint. If you want to try Clip Studio Paint just click here and use their trial version. I use my custom brushes for painting! You can get my painting brush here.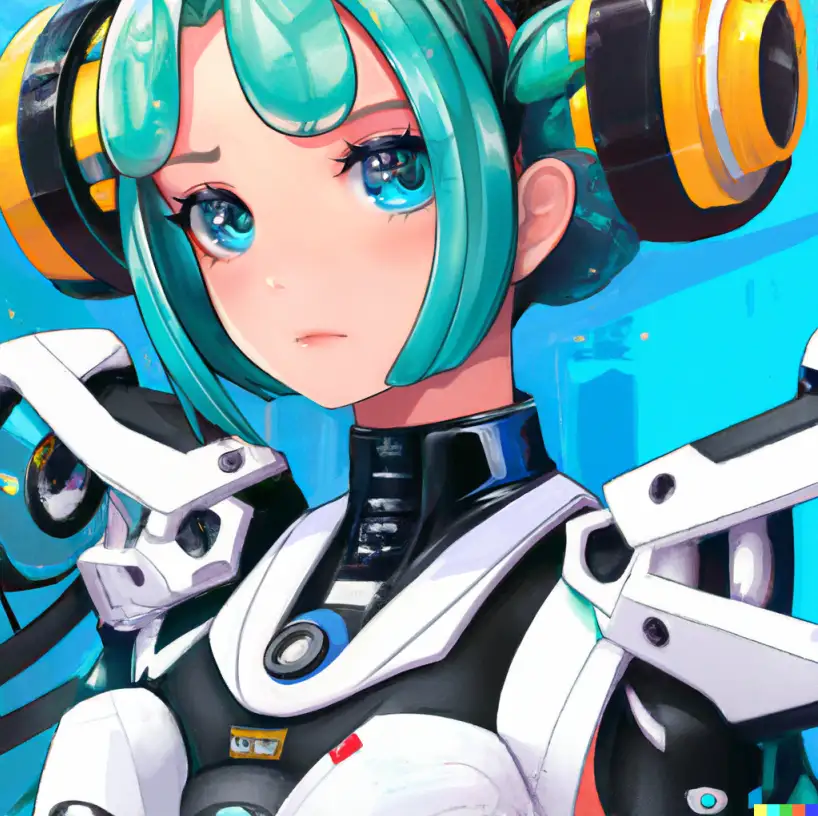 Then I fix the bang and send the image to add some iris blur in Photoshop
Then I add more light effect and It's done!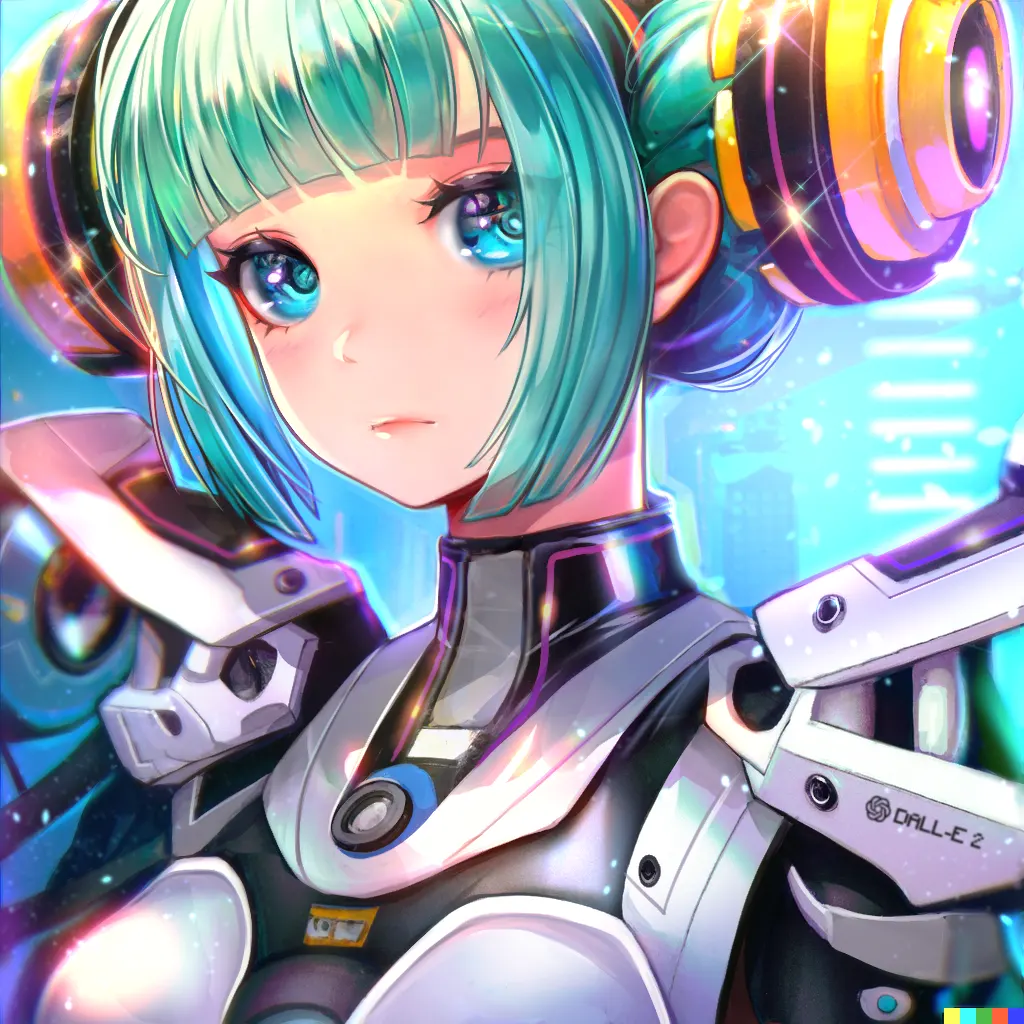 It took me some time to complete, but it was significantly less time than starting with a blank canvas.
If you're open to new ideas, I think employing AI to make artwork for you is a big benefit.
I'm not interested in a robot girl. I don't think I could draw this type of character without the help of AI. AI has greatly expanded my imagination!
And this is also one of my experiment with DALL-E 2. I tried paint over the raw image from DALL-E 2 and it took me only one and a half hour to make the finish artwork.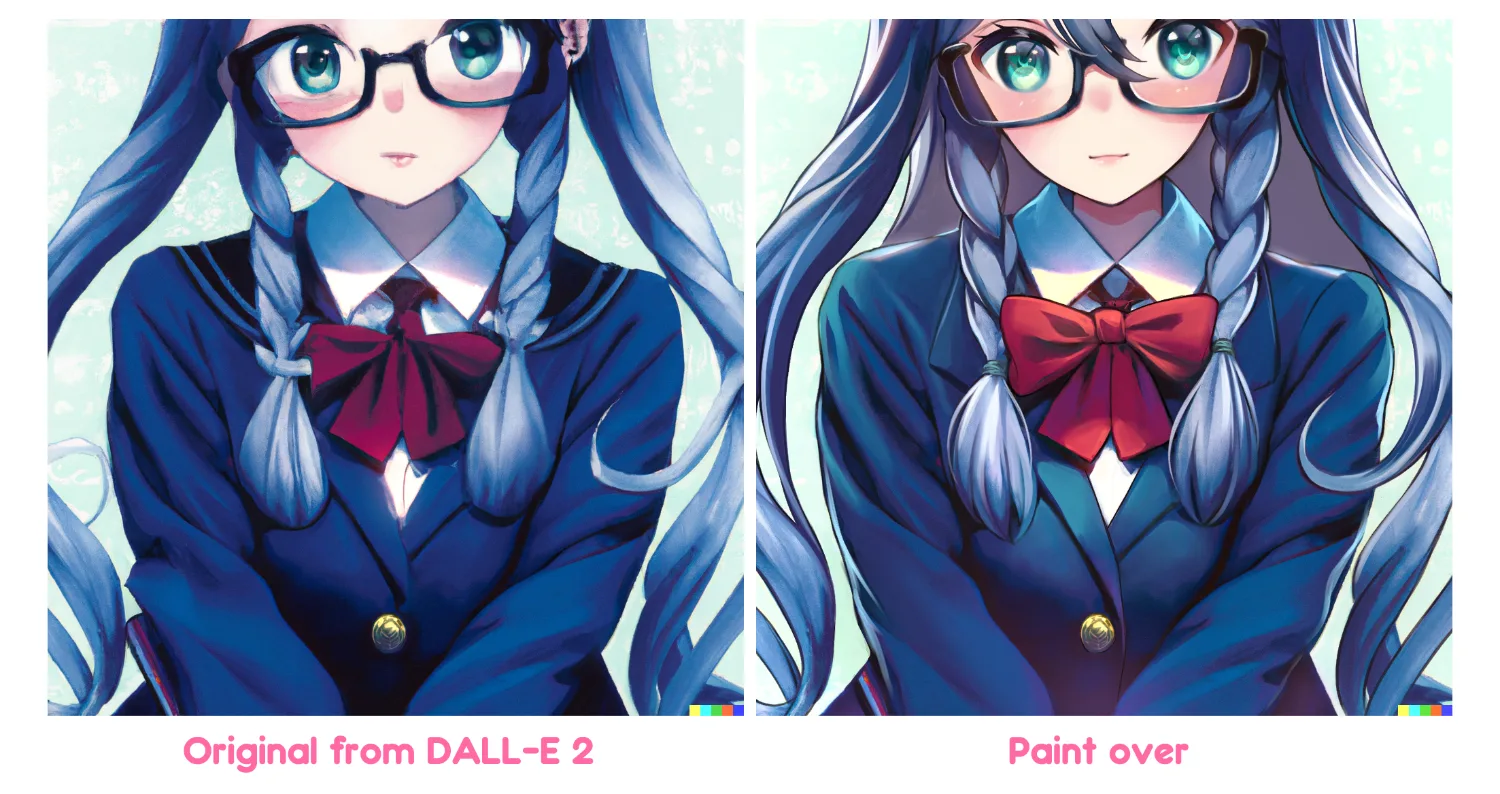 MiMi TIPS:

Can you sell AI artwork or use it in your commercial work?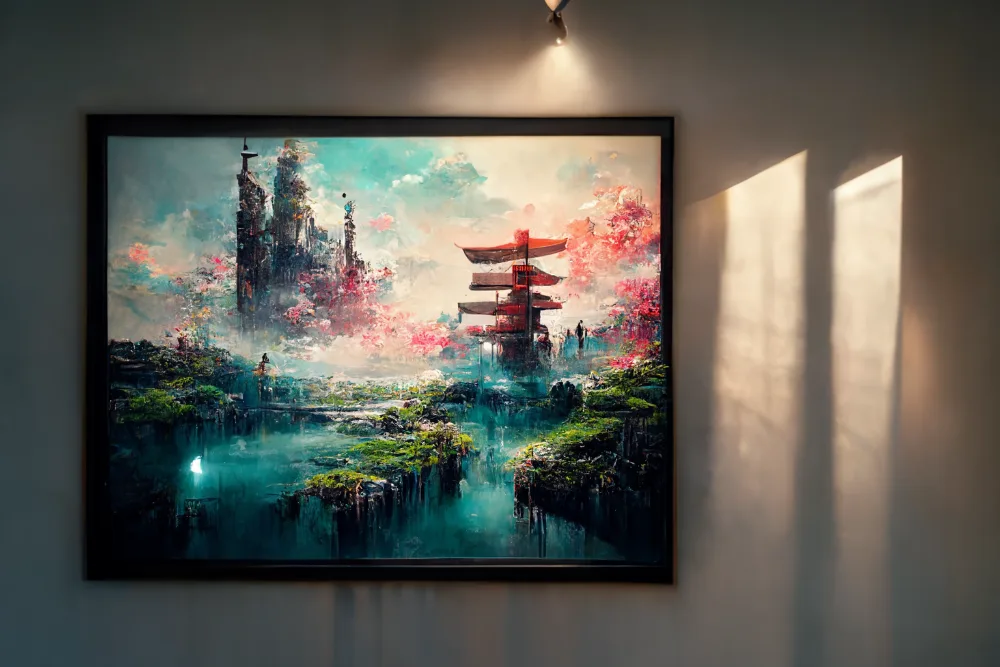 The term on each AI platform controls the right in the created images.
You can monetize the photographs created by DALL-E even if you use the free credit. Reprinting, selling, and merchandising are all examples of commercialization.
The created images can also be commercialized on MidJourney. However, if the created images earn more than $20k, you must pay 20% of your earnings to MidJourney.

However the AI still have a limitation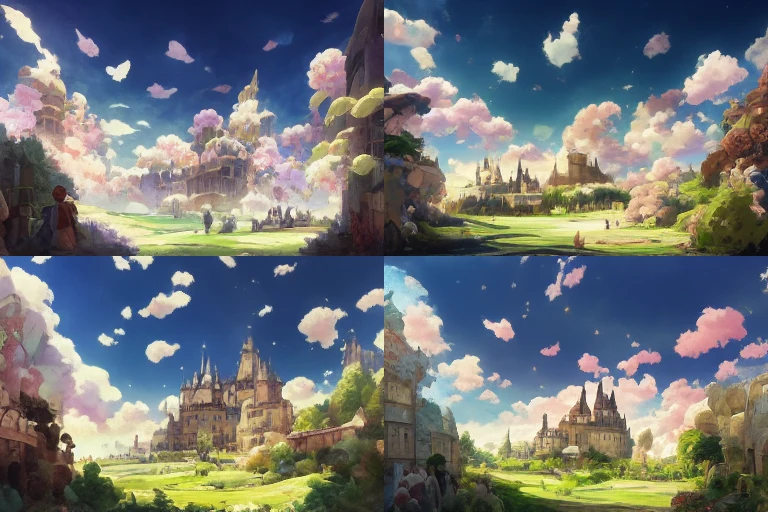 Even if using AI makes us more convenient, AI has certain drawbacks. They have more space to grow, and I'm excited to watch how they progress. Here are the flaws I've discovered so far.
You can't generate NSFW or offensive images based on the content policy
Actually there are AI platforms which you can use to generate NSFW images such as NovelAI and Pornpen.ai However, such images would be in violation of the content policy in some AI platform and might result in your access to AI being restricted.
Midjourney and DALL-E 2 each have their own policy on offensive words, so make sure to read their terms of service before utilizing them.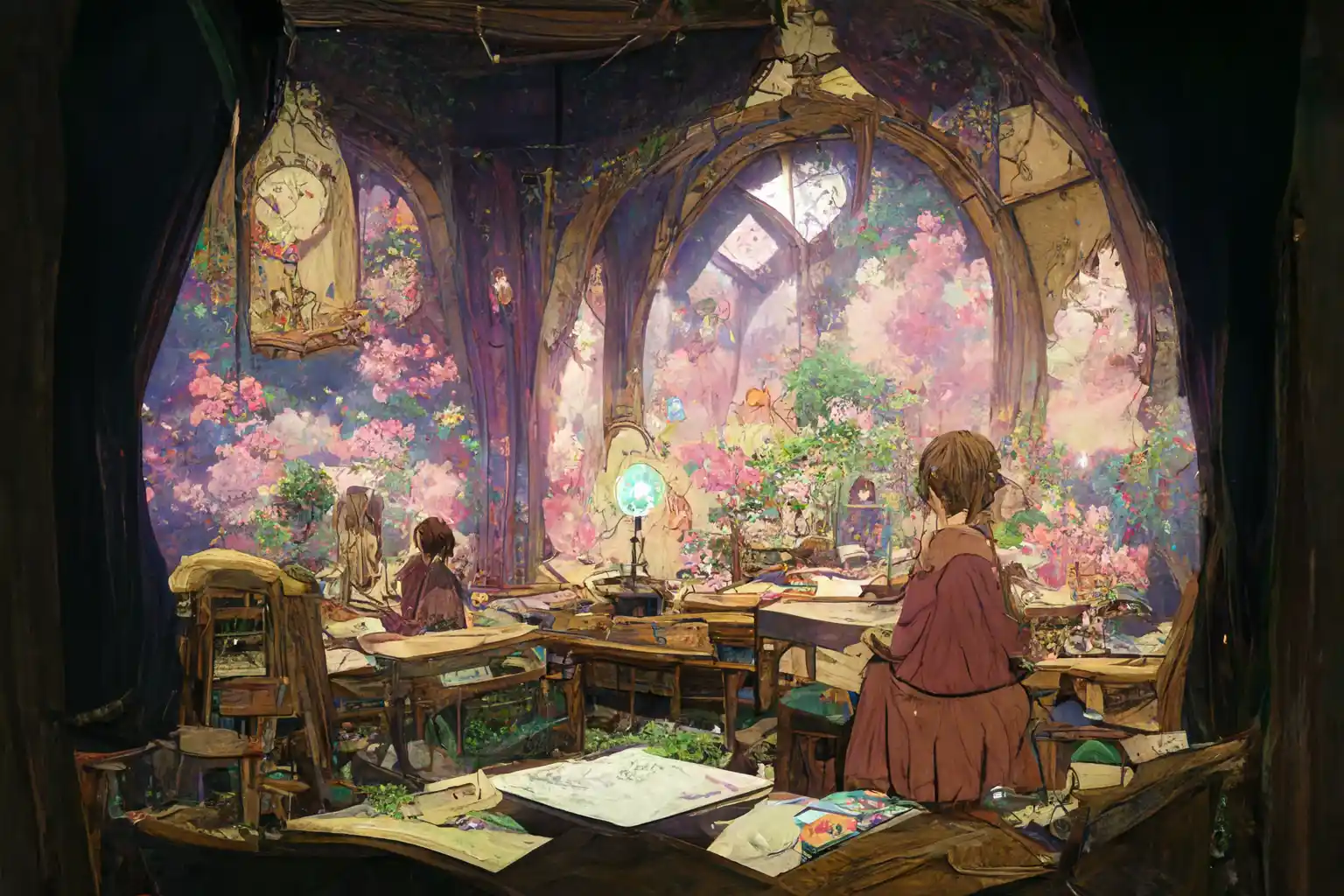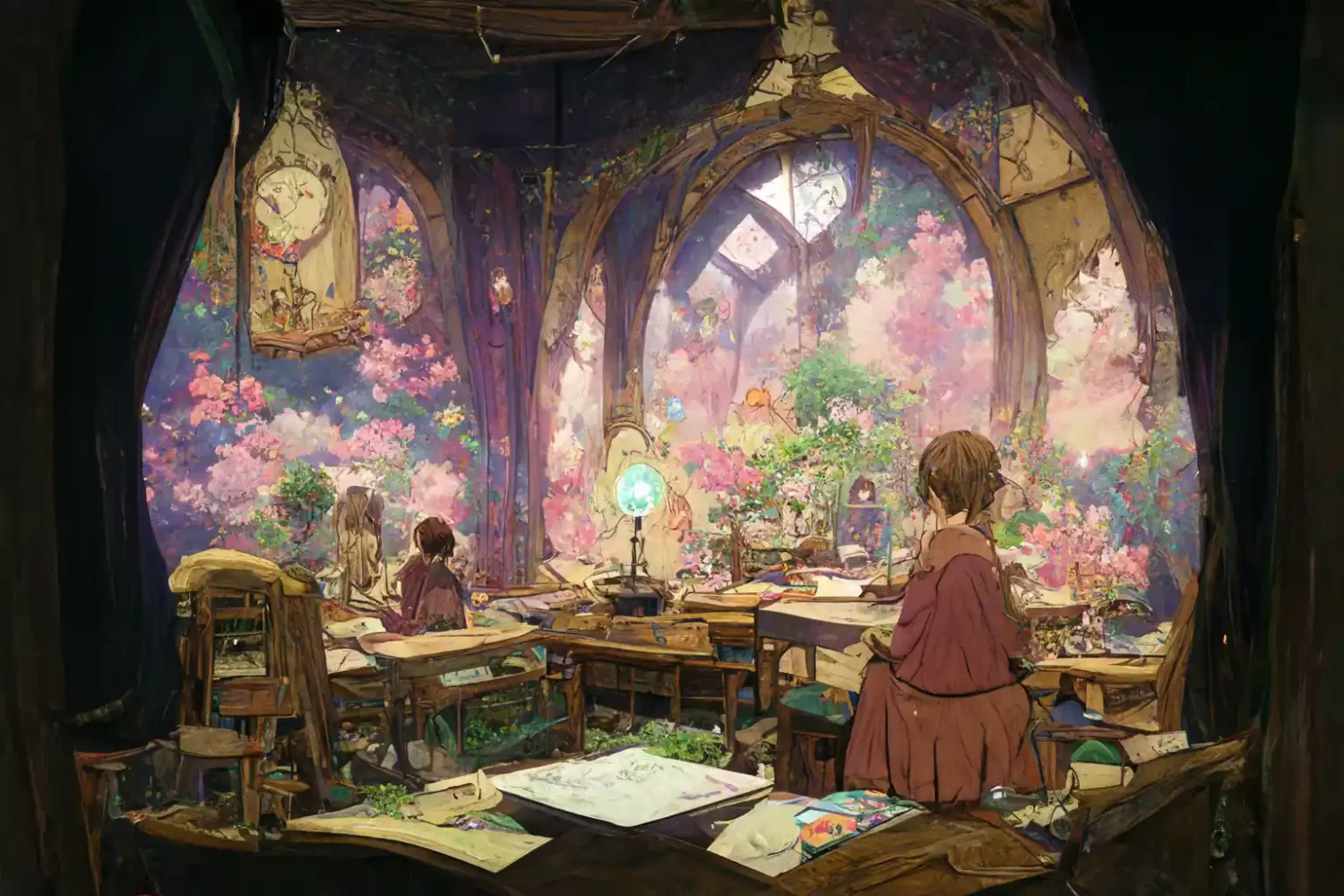 You can't make it prompts to exactly what you want
To make AI create the highest quality, most accurate images, we need to understand more about the prompt and keywords. However, it will either miss or hit. With the quick trial and error, I wasted my 100-200 credits.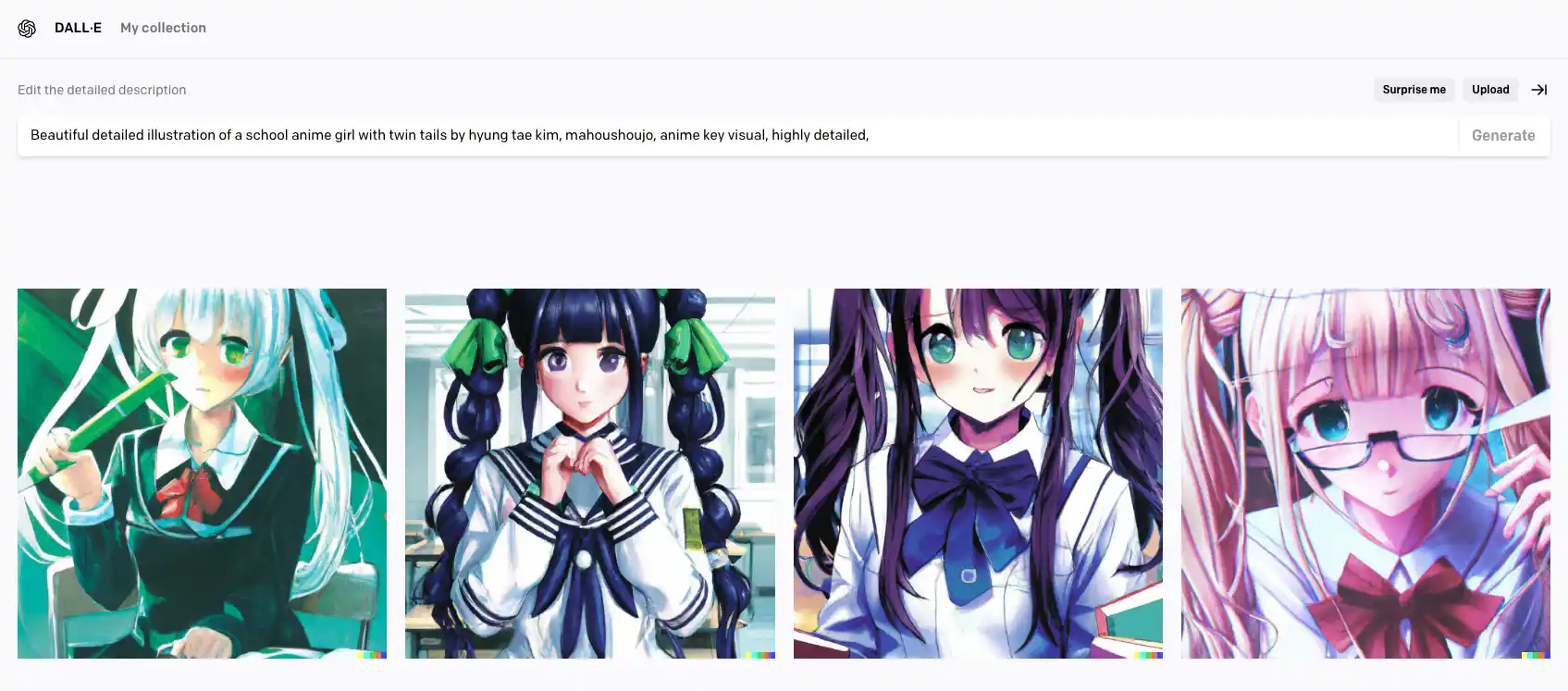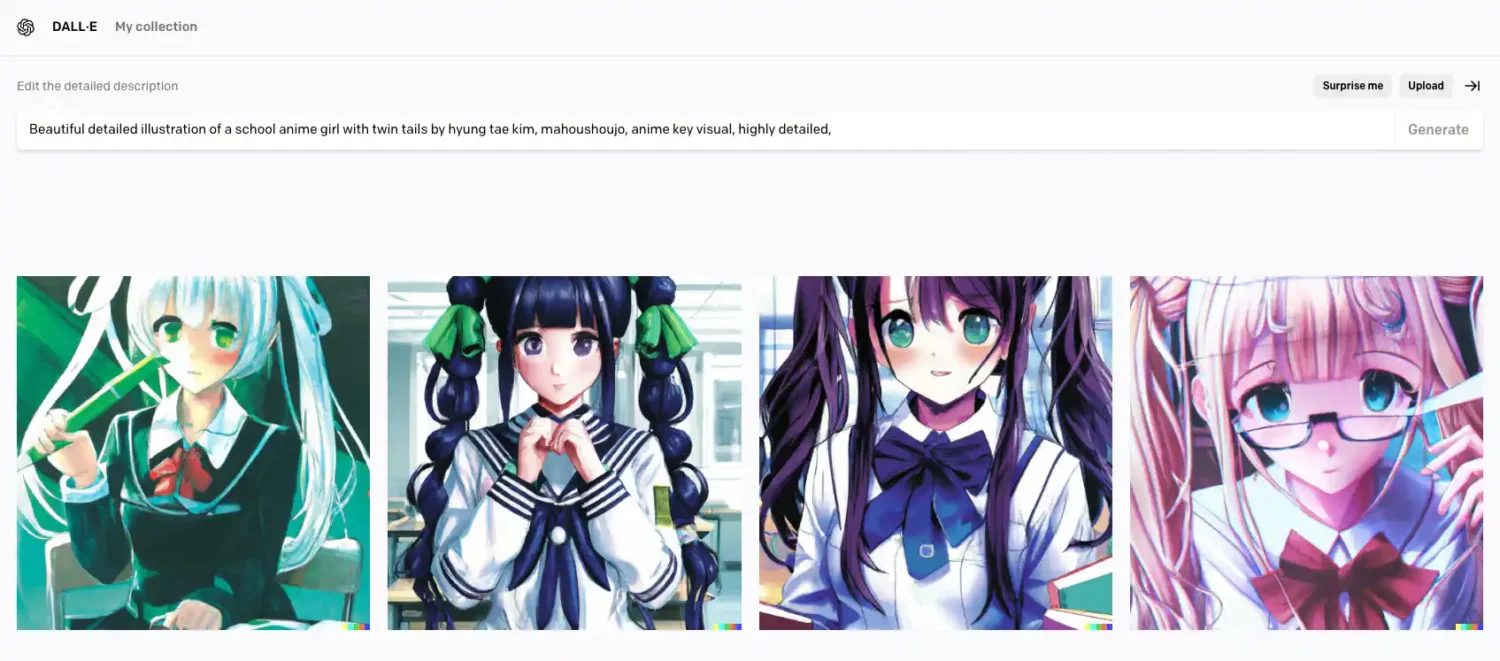 Each AI has a unique prompt pattern. Even if you may use the same prompt pattern, you must understand more about the precise phrase in each AI platform.
I'm also in the process of learning these things and will keep you posted as I learn more about it!
The image quality created for anime-style work on DALL-E 2 and Midjourney is a little low
So far, I've just tried DALL-E 2 and Midjourney. I think the quality of the anime-style images should be better. I'm always getting cursed anime pics that can't be used.

When compared to Novel AI, Pinegraph, and Crypko, an AI created exclusively for producing anime characters, or even Artbreeder, I discovered that Crypko and Artbreeder allow you to make far better quality anime character images than DALL-E 2 or Midjourney. (Below are the images from Novel AI and Crypko.)
I believe that both DALL-E 2 and Midjourney are better at creating photographs, realistic images, and concept art type images style as seen on the ArtStation. However, when it comes to anime-style characters, I believe these two AI have more space to grow.
FYI: There are many controversies surrounding Novel AI since many people have accused them of using illustrations to do machine learning without the artists' permission. AI-generated images and copyright are complicated issues and are continuously being debated on the internet. As a result, you may use it at your own risk.
If you are the DALL-E 2, MidJourney, or Novel AI user and want to share your tips for creating anime-style art with me, please tag me on Instagram @lunarmimi. I'd be happy to hear from you and learn from you!

Final thoughts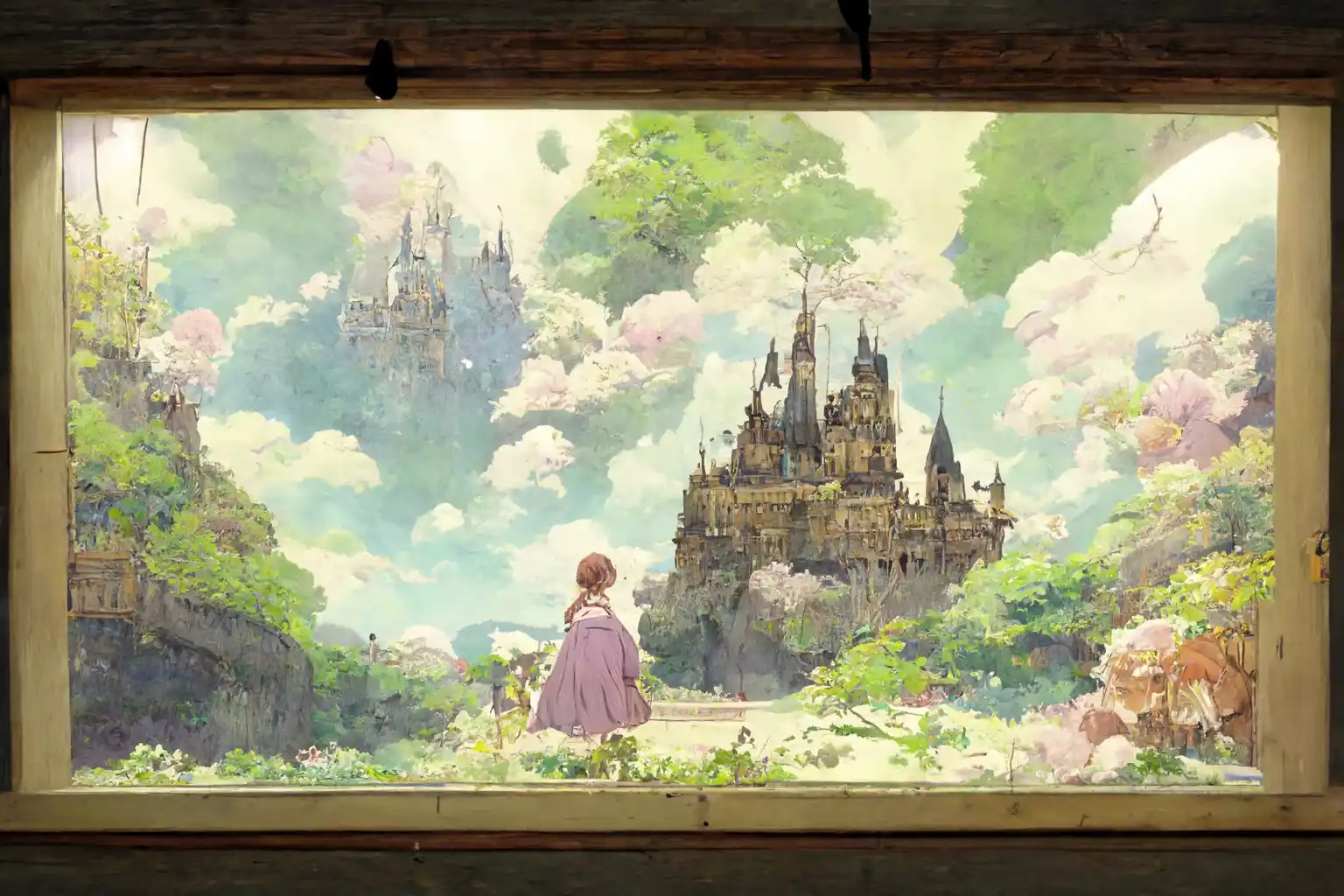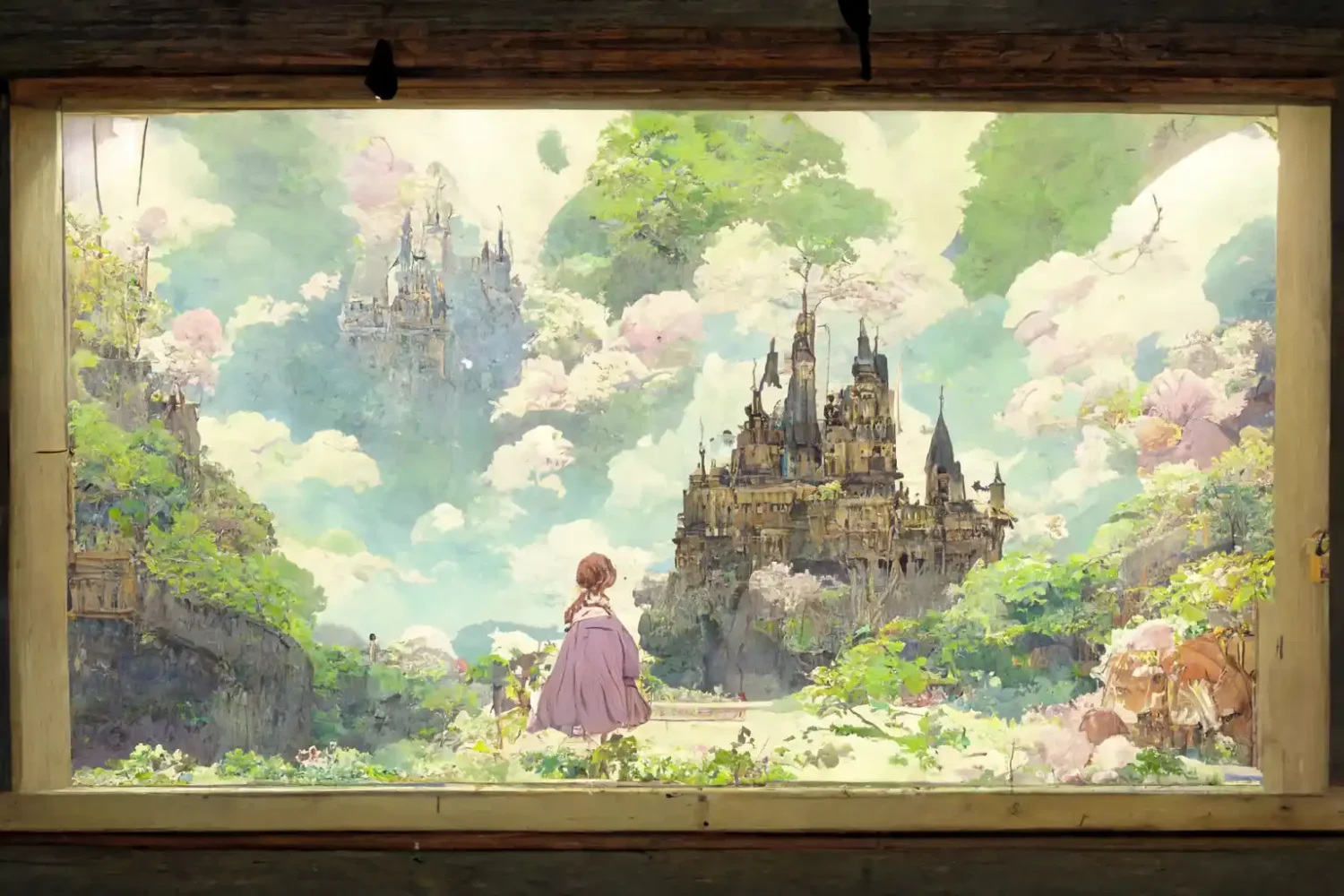 In conclusion, I am satisfied with the results of using AI with my art and eagerly await the development of AI.
It has saved me many hours of effort. Prior to AI, I used to spend a lot of time exploring the internet for images for references, but I frequently didn't find what I was looking for.
I'm a big fan of AI, and I'm looking forward to see what the developer team comes up with next.


Finally, if you like art tips and content like this, feel free to subscribe to my weekly newsletter: MiMi Art Tips!
I share my anime art tips and experiences in my digital art career in a weekly email. You'll get the insight and behind the scene of the art career! Really recommend if you're a beginner anime style artist.  Click here to subscribe!
Thank you so much for reading this post! I really appreciate your visiting and using your valuable time reading my content!
Much Love 💖