In the last year, there has been a significant rise in the use of AI art generators. These tools have revolutionized the art world, allowing you to create unique pieces without relying solely on their own.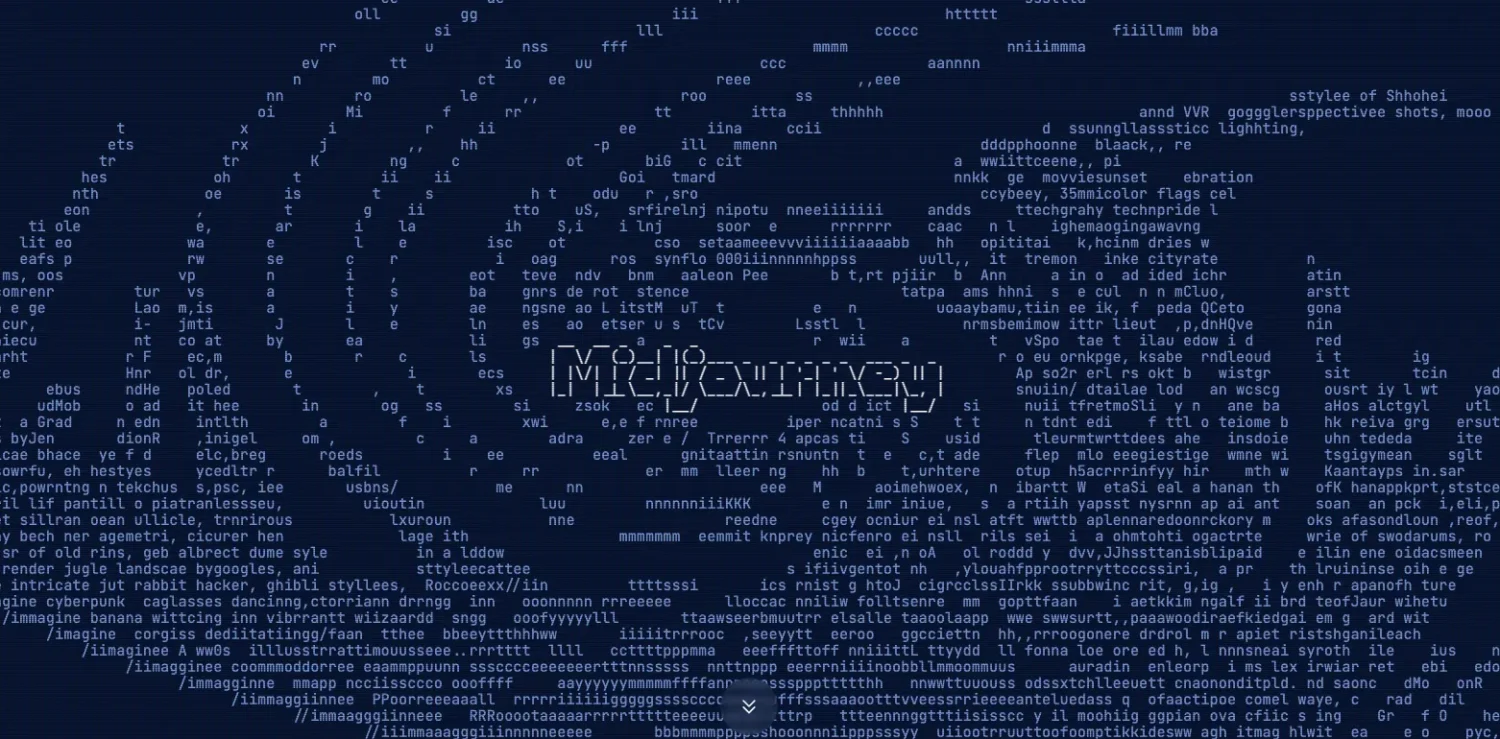 Among these AI art generators, Midjourney (and Niji Journey) is one of the most powerful tools available. Using advanced algorithms and machine learning, Midjourney can generate art that is inspiring.
However, to make the most out of Midjourney, it's important to note that you need to know the proper AI prompt to use within it.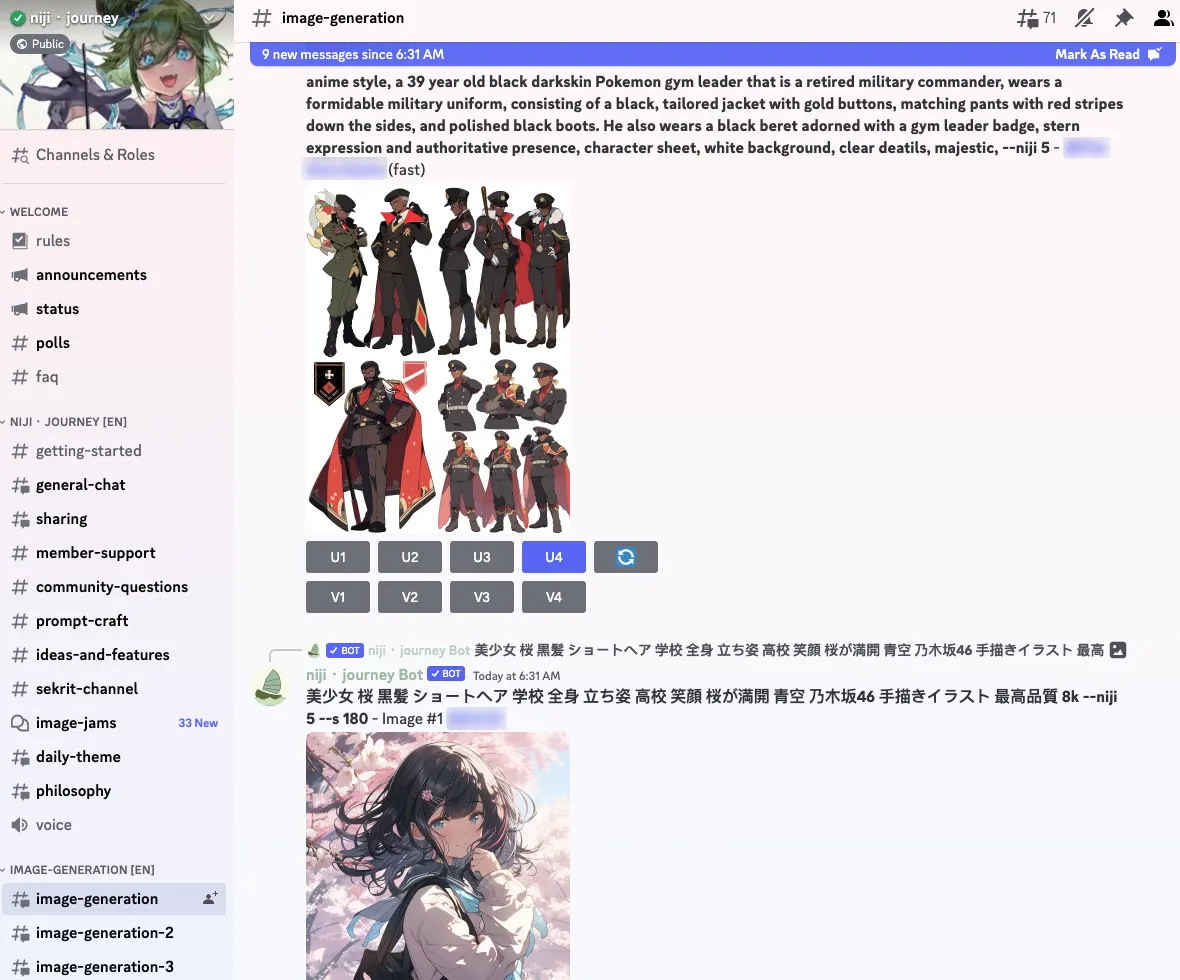 What's AI Prompt?
An AI prompt is a specific set of instructions given to an artificial intelligence program, designed to guide its decision-making and output. In the context of AI art generators, prompts are used to guide the algorithm towards a specific type of art. By providing the AI with a proper prompt, and you can generate fantastic and creative ideas.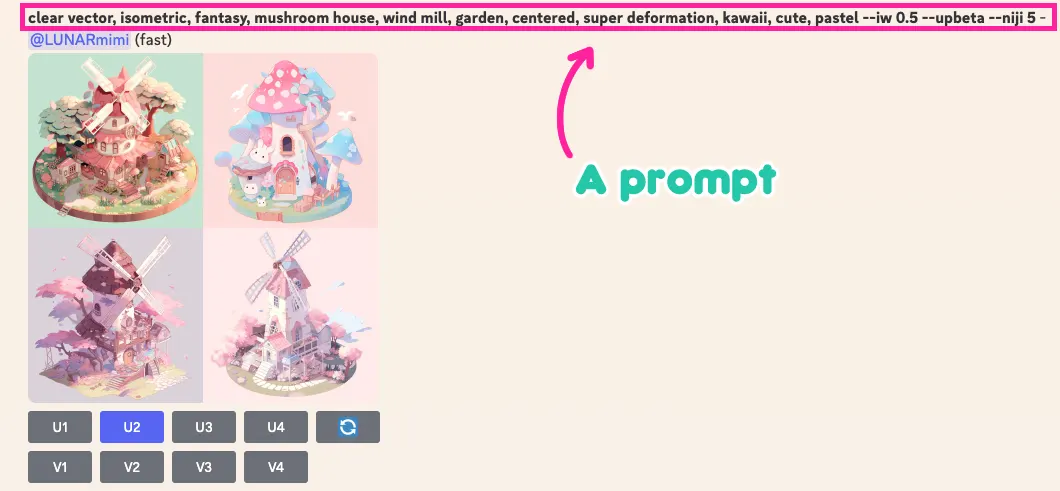 AI prompts can be as simple as a single word or as complex as a detailed description of the desired outcome. They are an essential component of AI art generation and play a significant role in the final output.
But one common issue that you face when using AI art generators like Midjourney is running out of ideas for the prompt or not knowing the specific keywords to use.
🎉 AI PROMPT VAULT for ANIME ARTIST !
Let's access a Notion document where I share all of my AI generated images with all the "prompts" I used to create them!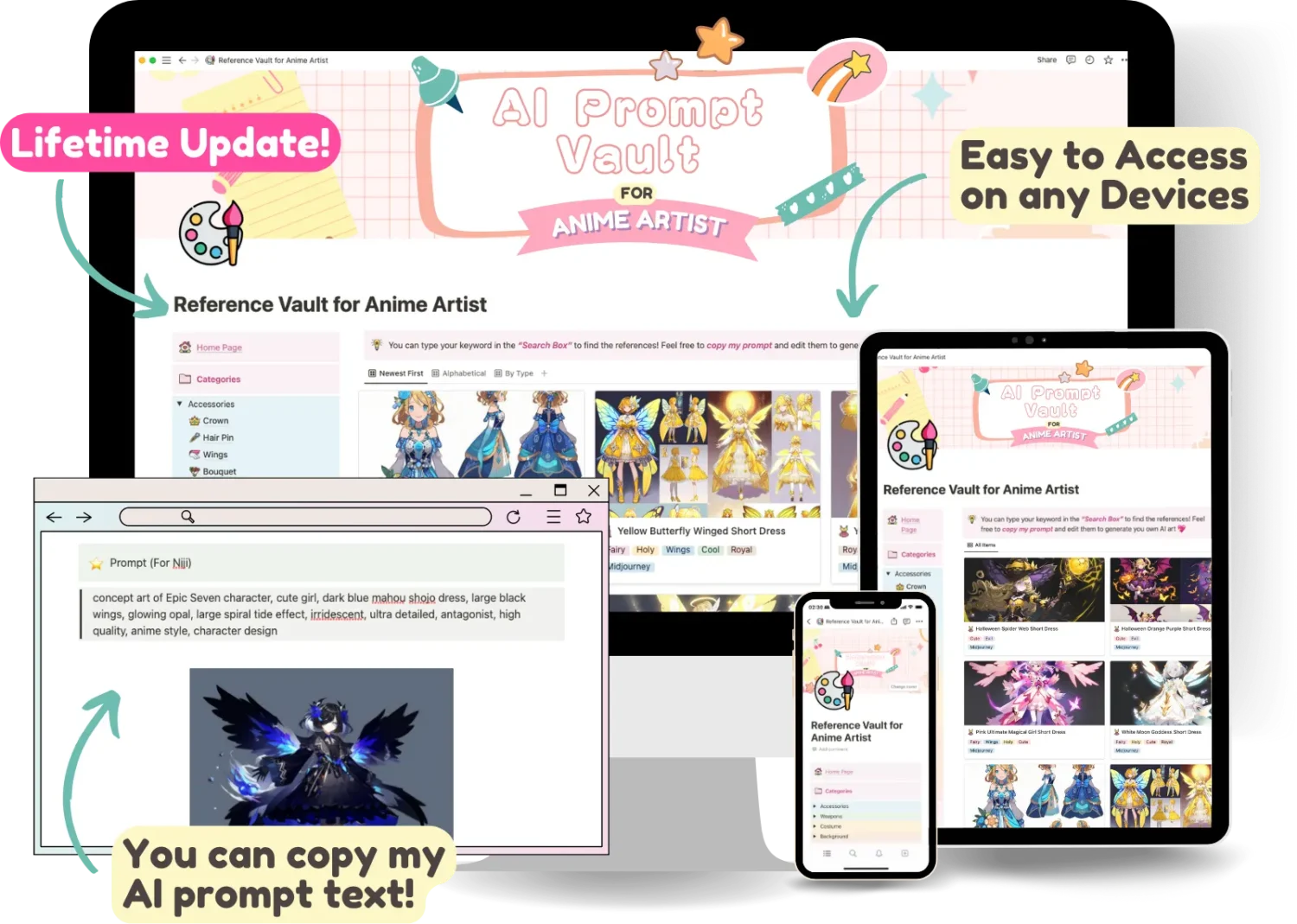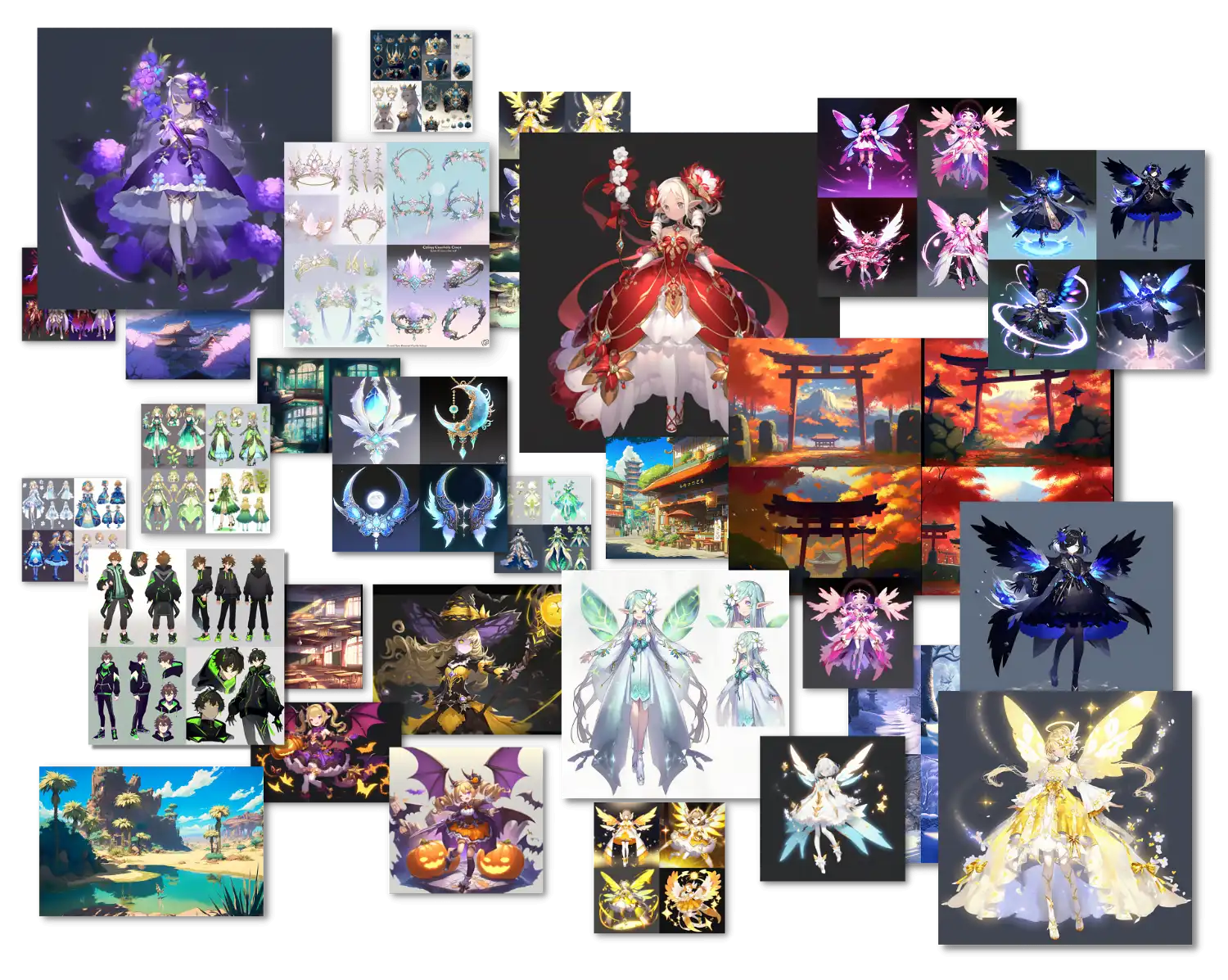 Unleash your inspiration with these Midjourney AI prompts! With over 100+ curated prompts, you'll have all the inspiration you need to fire up your creative process. Plus, with our constantly updating prompts and recommended keywords, you'll never run out of ideas. And for a limited time, get access to all of this for just $5 before the price goes up! Click here to access now.
However, there are several tools that you can use to overcome this challenge and one of them is the Midjourney prompt generator!
If you're struggling to come up with ideas for Midjourney prompts, don't worry! I've compiled a list of recommended Midjourney prompt generators that can help you with prompt creation.
These tools are designed to generate unique and creative prompts that are tailored to your preferences, making the process of using Midjourney much more effective. So, let's dive into it!

#1 Midjourney Prompt Database
The Midjourney Prompts Database is a thorough tool for everyone who uses Midjourney. It is broken down into various prompt groups such as lighting, aesthetics and style, art style, and TV and movie style.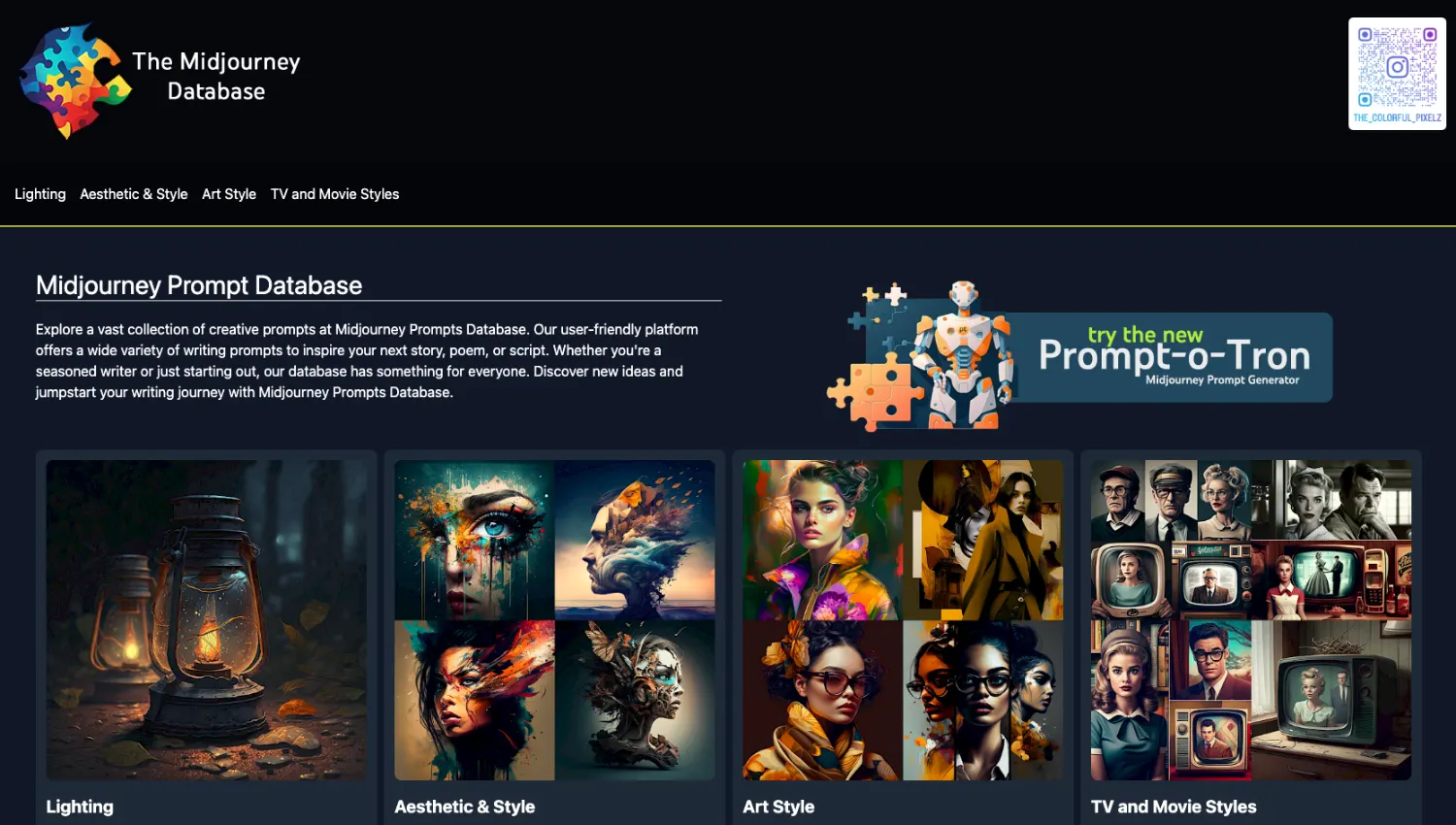 Inside each prompt category, theres a recommended keyword for you to use. For example, the lighting category offers keywords for the lighting style, such as torchlight, backlighting, fluorescent, and so on.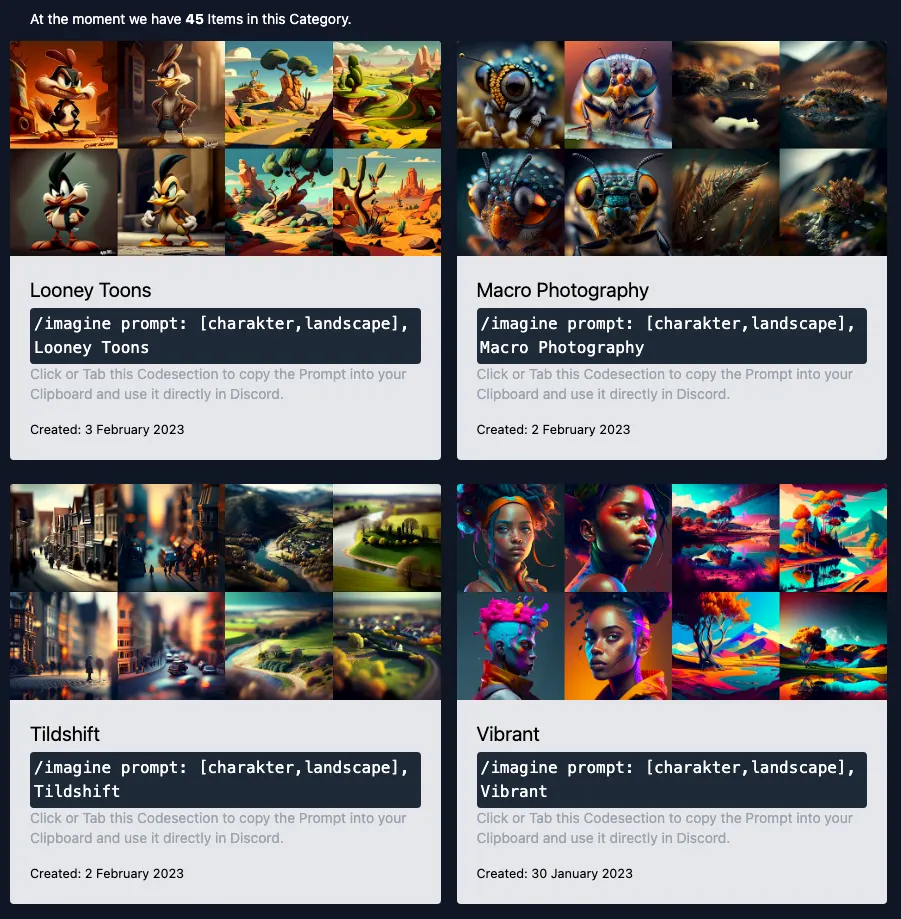 Additionally, you can also search for the desired keyword or style in the search box. You can click on the prompt you selected, and then it'll be auto-copied to your clipboard and ready to paste into Midjourney, which is super handy.

#2 Arthub.ai
A website called Arthub.ai [WARNING NSFW IMAGES] is a public AI art gallery for the user to upload and share their AI art including prompts.
Its display a wide variety of AI-generated artwork from various users and gives you the chance to investigate their prompts, making it one of its standout features.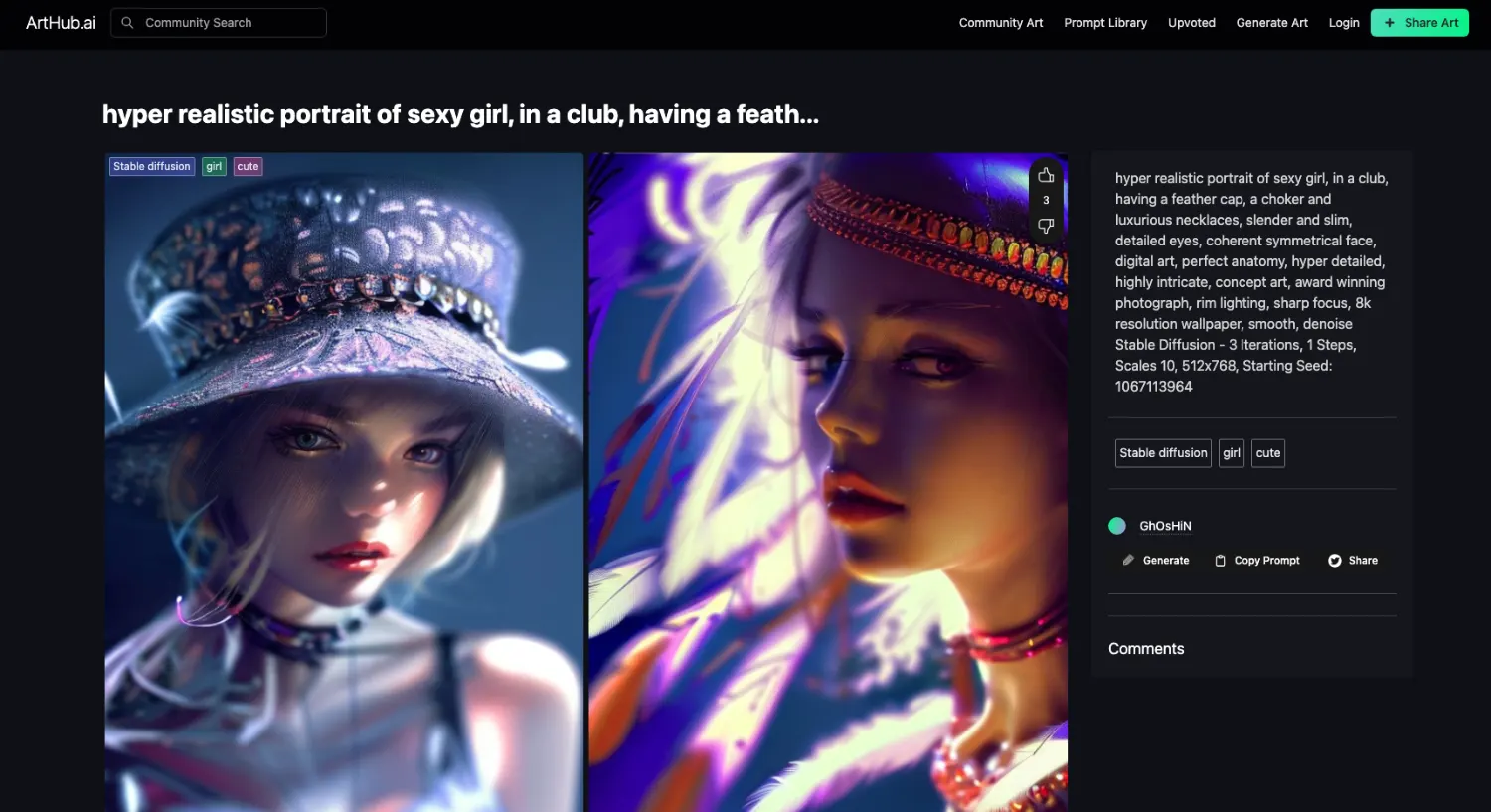 The abundance of information that Arthub.ai offers for each piece of AI generated image including the seed number, dimensions, steps, scale, and other criteria used by the AI artists. This enables you to take a peek behind the scenes and learn the exact parameters employed to generate each piece.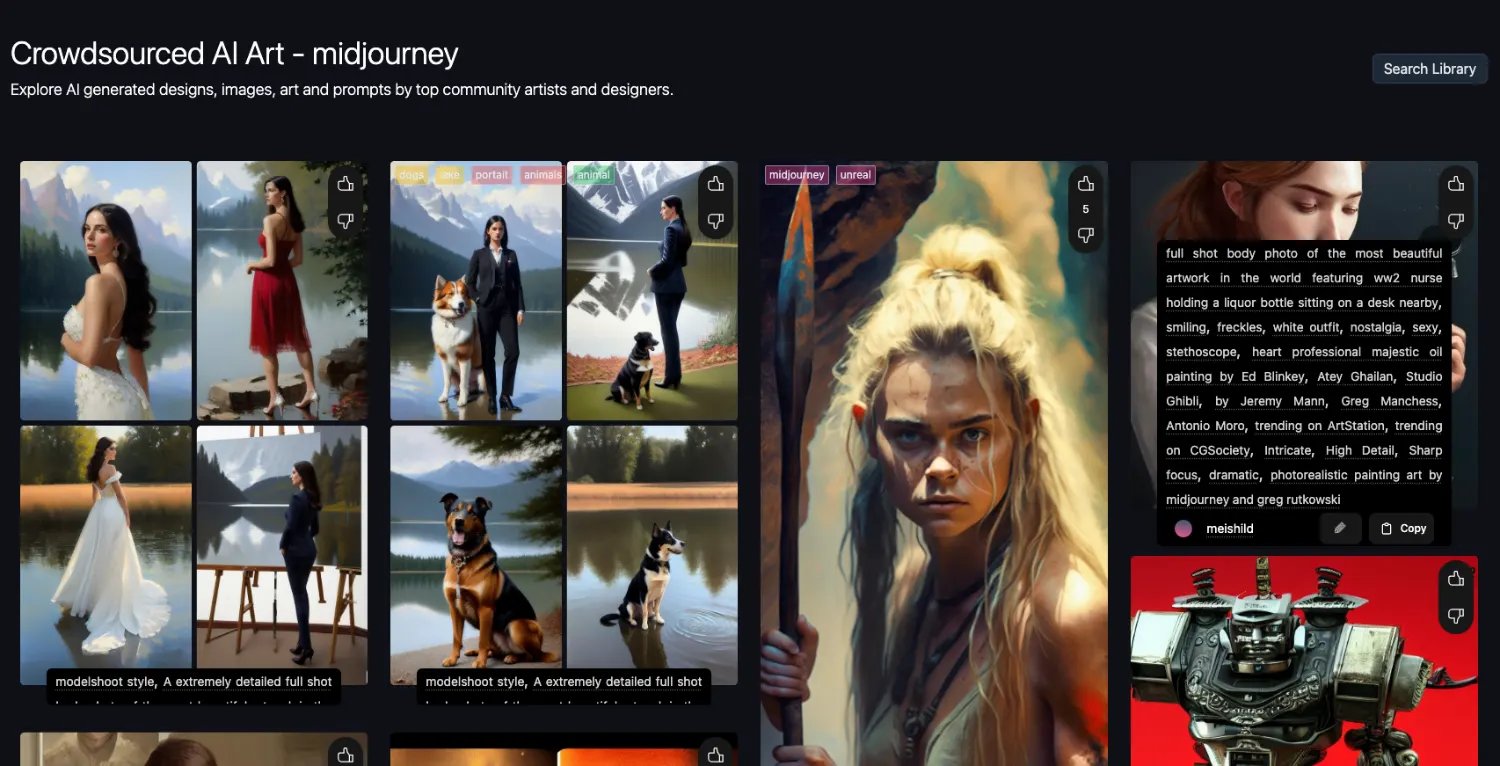 As you browse the different prompts and images, you can vote them up or down to share your opinions with the community. If you're looking to the fantastic resources to learn more about AI art generation and discover ideas for their next project, let' consider visiting Arthub.AI.

#3 Jrnylist Midjourney Prompt Helper
Without any technical knowledge, you can easily create prompts for Midjourney using Jrnylist. It only takes a few minutes thanks to the user-friendly interface to enter your primary idea and select other keywords from the available options.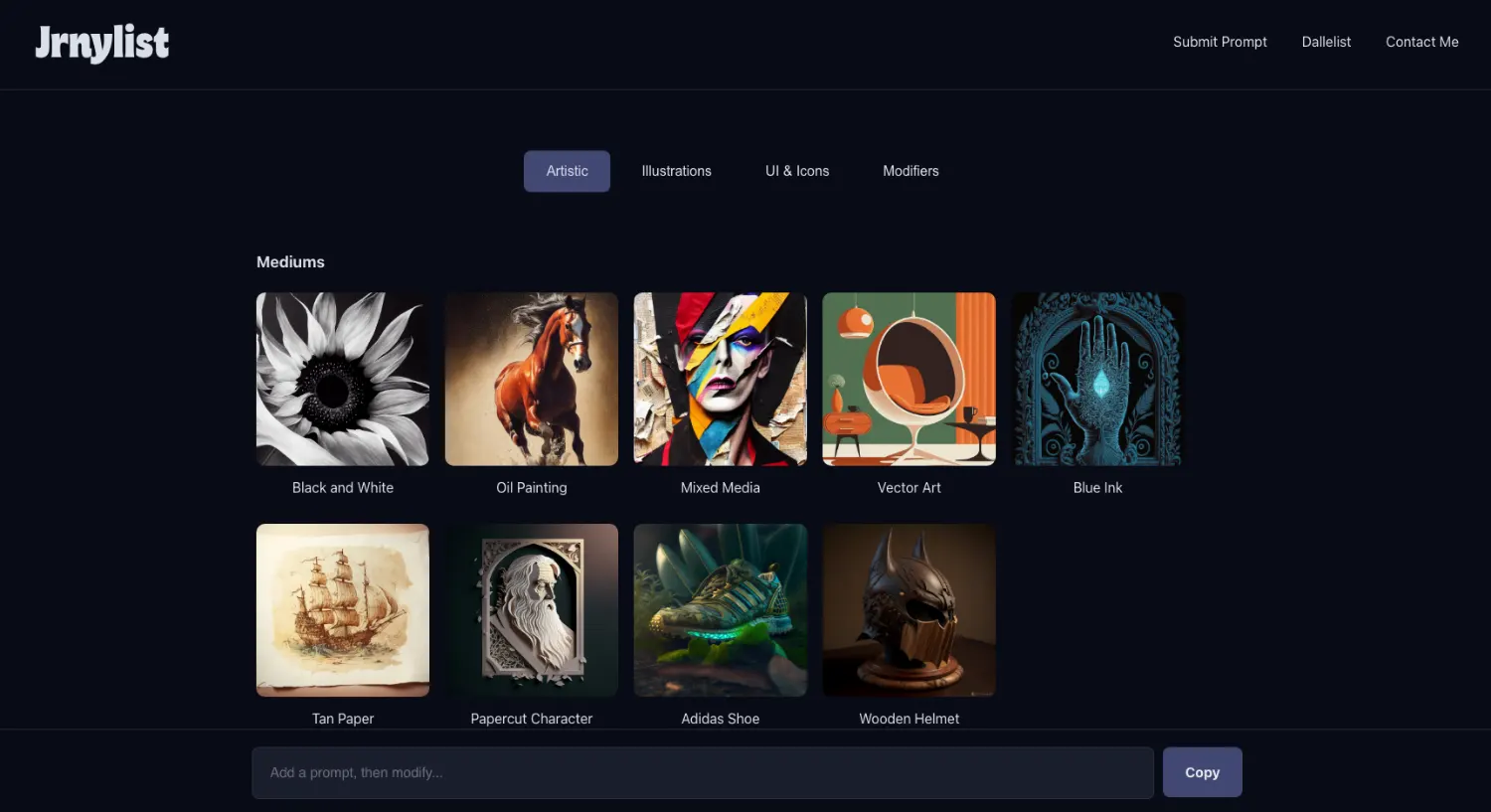 You can choose keywords from a variety of choices for your preferred art medium, themes, art style, and any additionally wanted modifiers like the aspect ratios. This makes it possible for you to easily accomplish your artistic goals by producing a prompt that is exactly in line with your preferences and vision.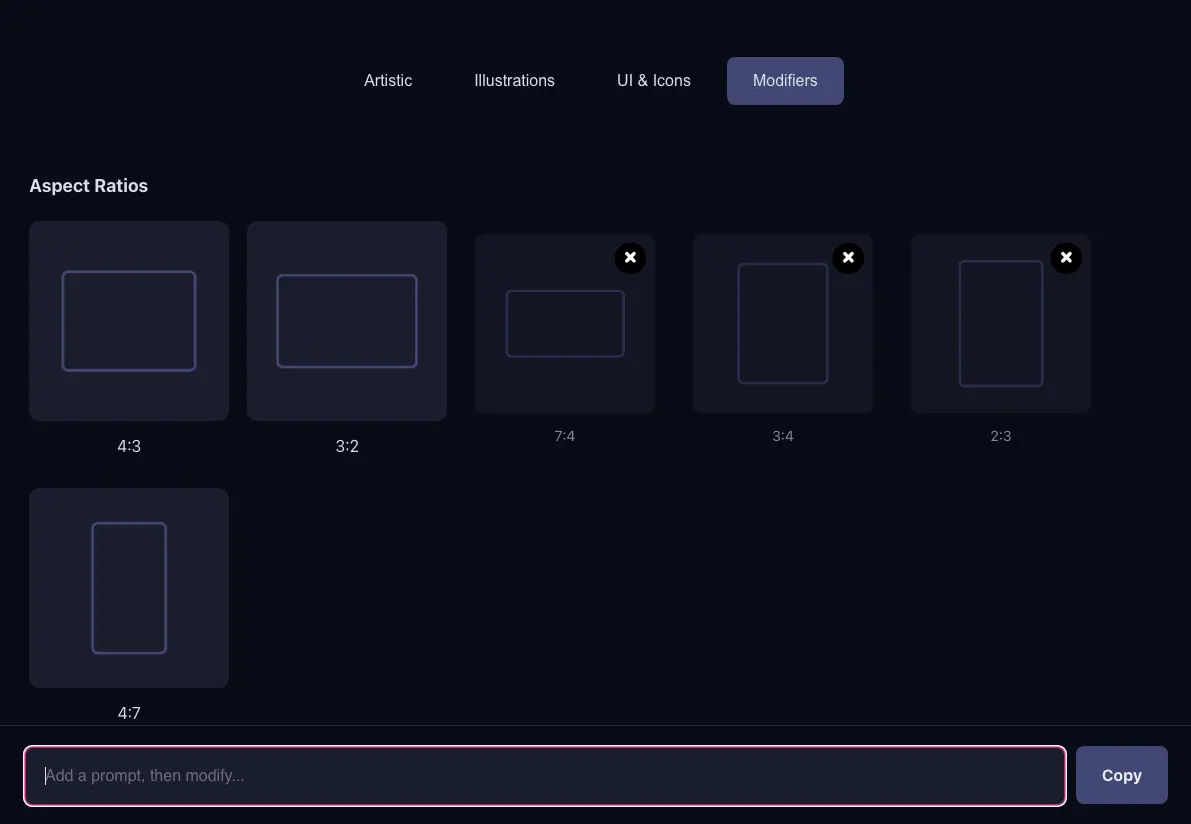 With the variety of choices Jrnylist provides, you can play with various themes and styles to produce a prompt with ease. Don't forget to explore Jrnylist if you want some help with your Midjourney prompts.

#4 PromptoMANIA
PromptoMANIA is one of the excellent resources for creating prompts for AI image generators like Midjourney and Stable Diffusion. It's is an AI art community with a prompt generator. You can use their AI prompt generator to create initial ideas and prompt for your AI art.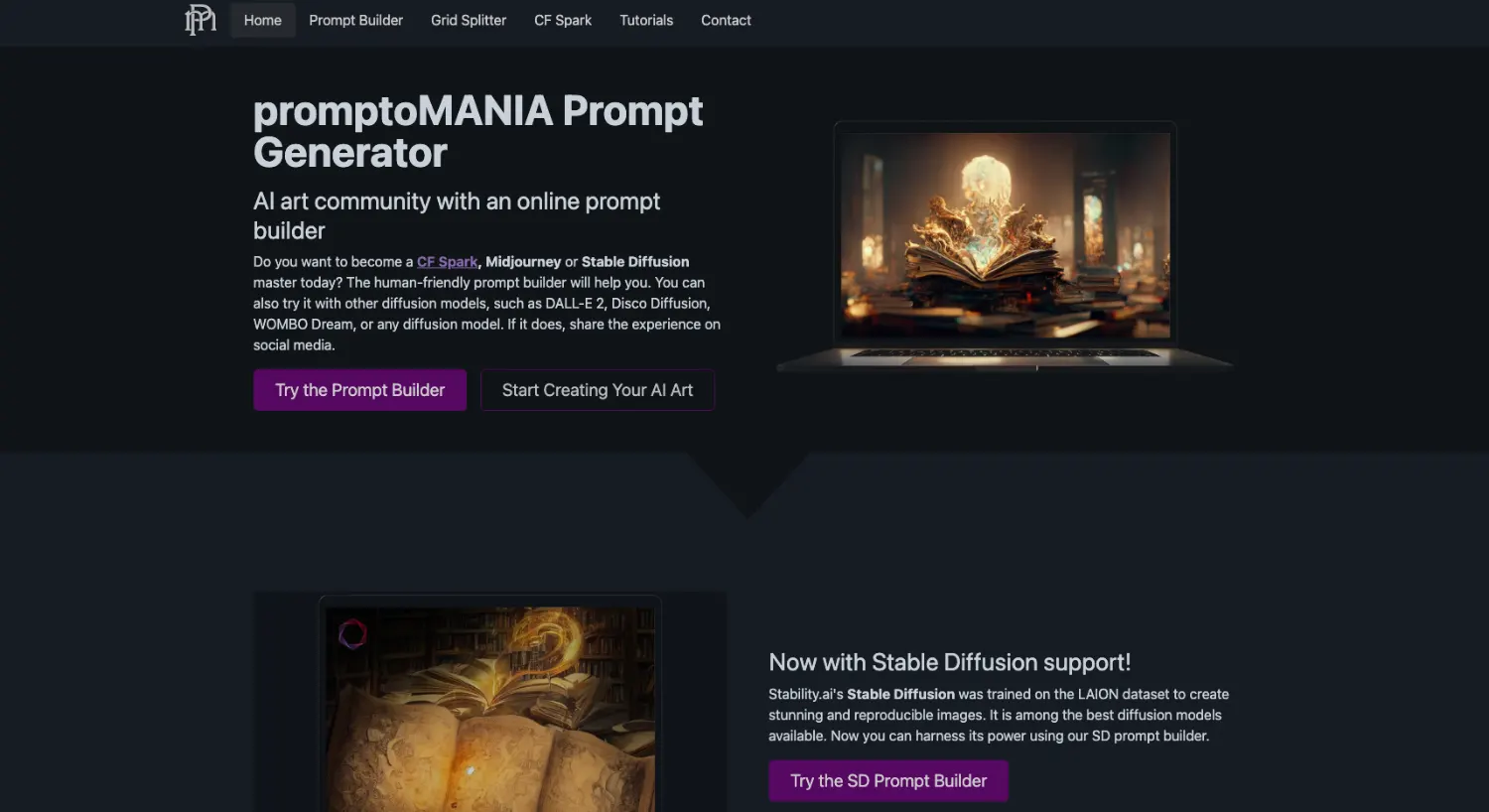 The variety of prompt categories on PromptoMania gives you countless options when writing your AI prompt. To quickly create a prompt, just select the prompt category, scroll through the images, then click on the ones that match your vision.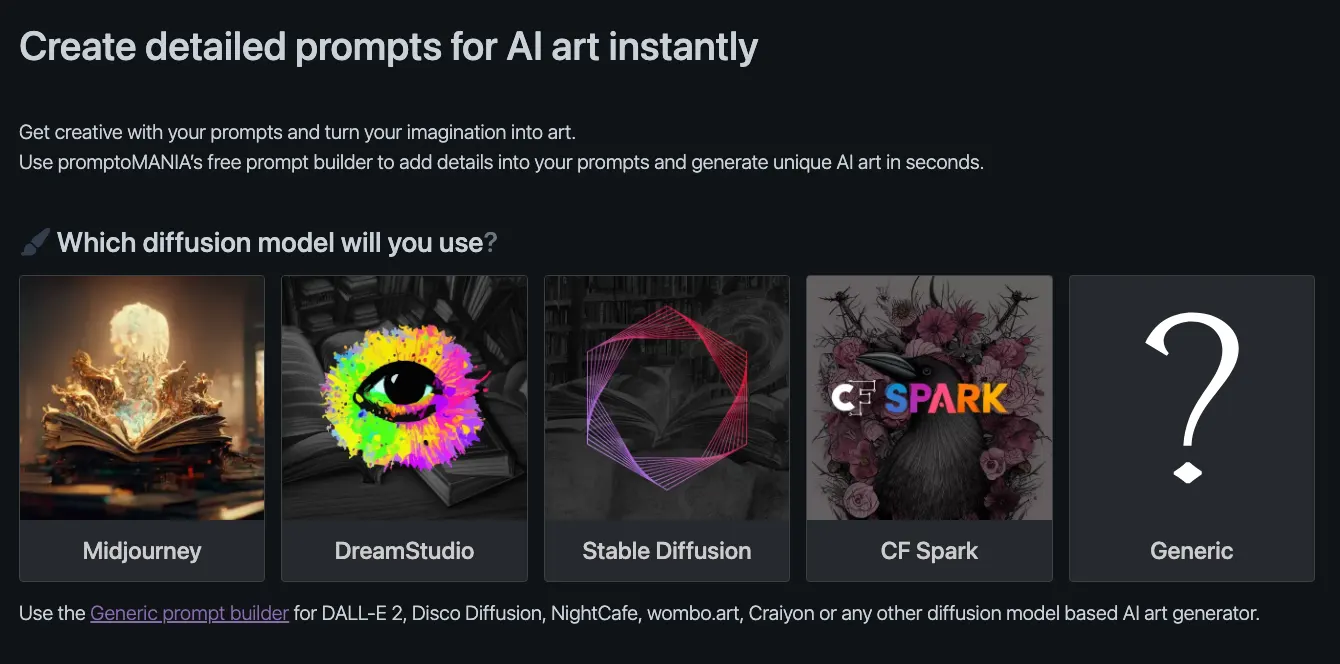 After you finish selecting your keywords, the prompt will appear in the text label at the top of the page. The final step is to copy the prompt and use it within Midjourney.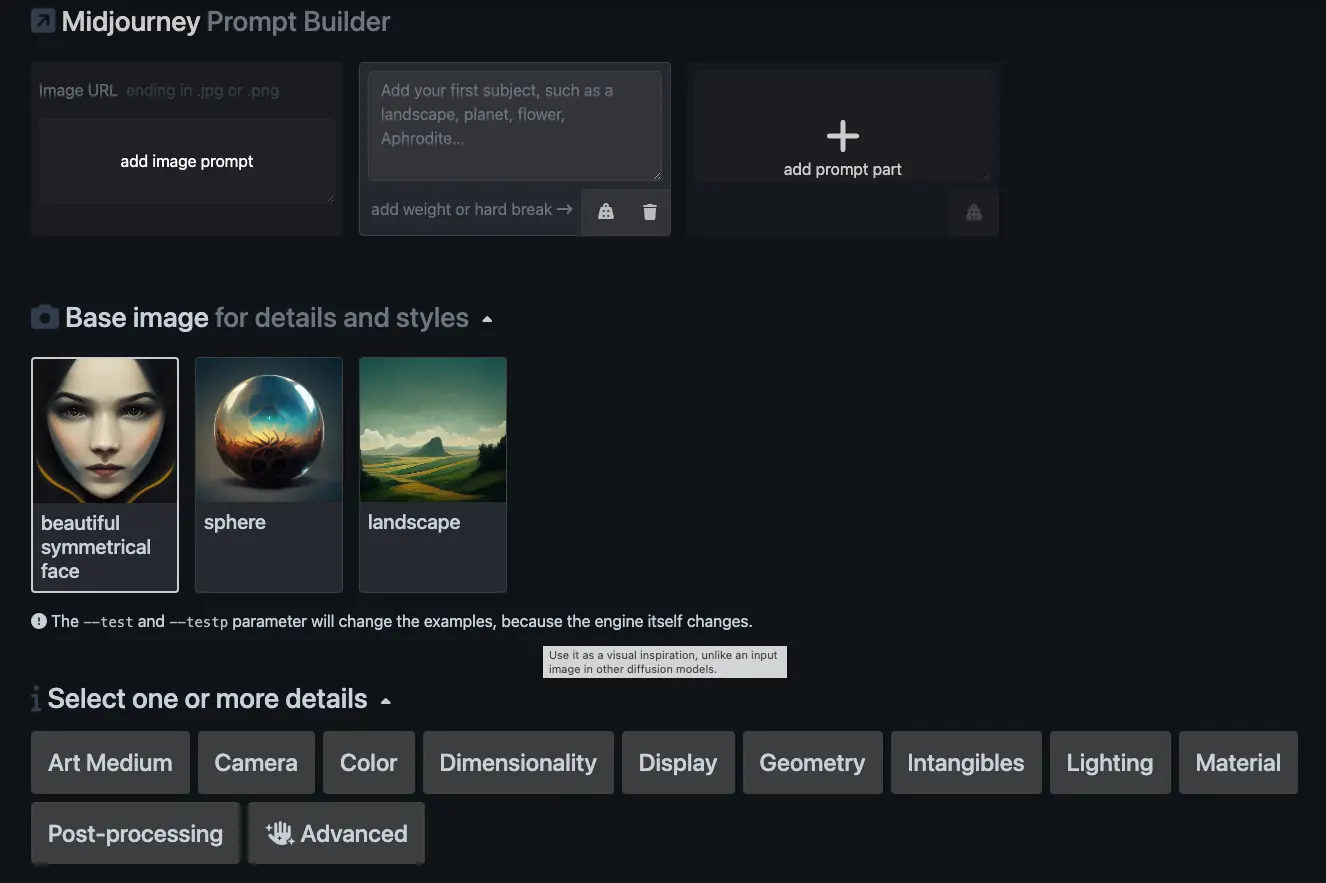 #5 MJ Prompt Tool
The MJ Prompt Tool makes Midjourney prompt creation a breeze with the help of its functions. You can easily craft your prompt and add the keywords and modifiers in just a few clicks.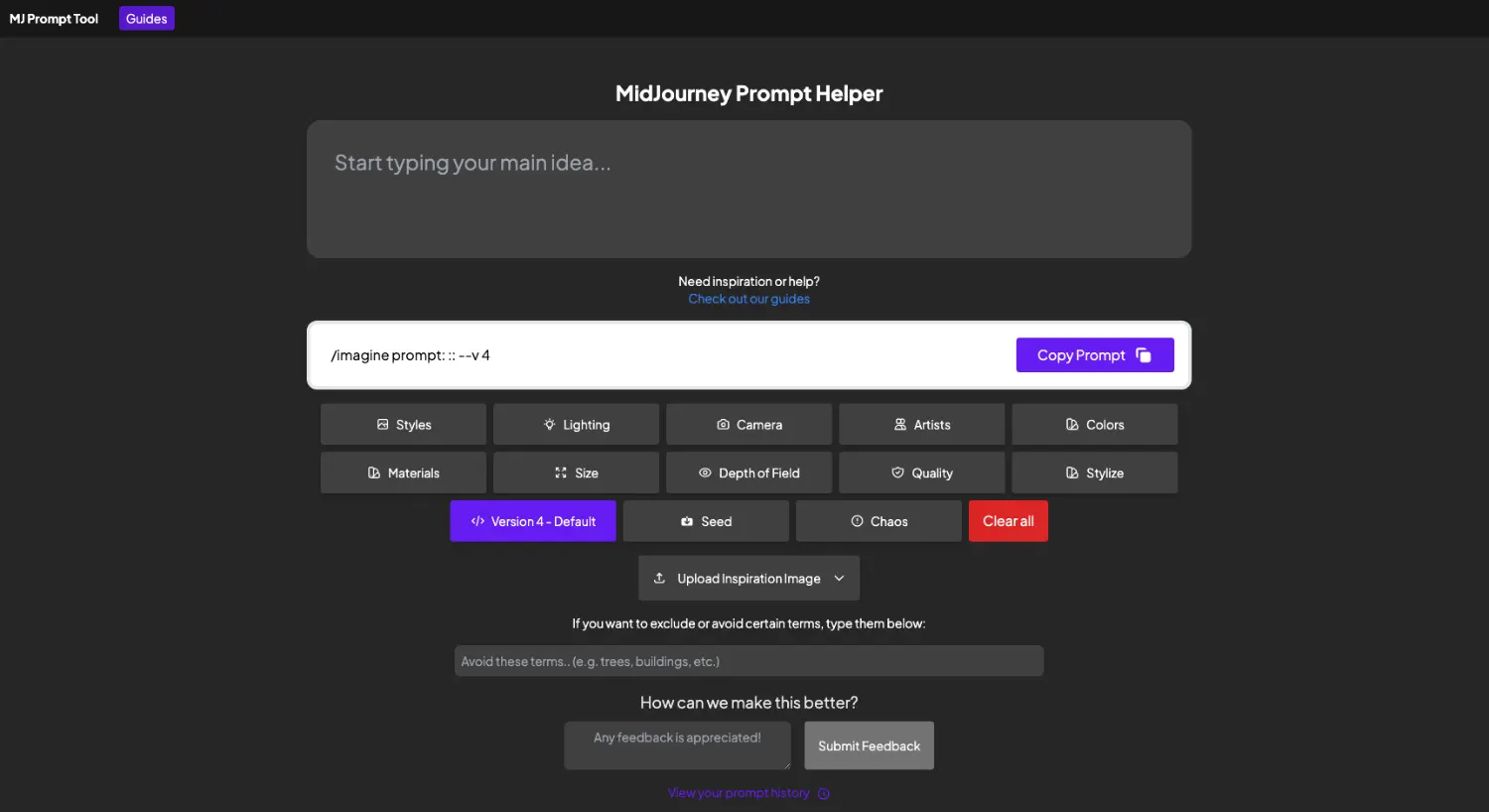 The tool provides a wide range of AI prompt options, including style, lighting, camera type, artists, colors, materials, size, focus, and quality. With so many choices to choose from, it makes generating the prompt easier.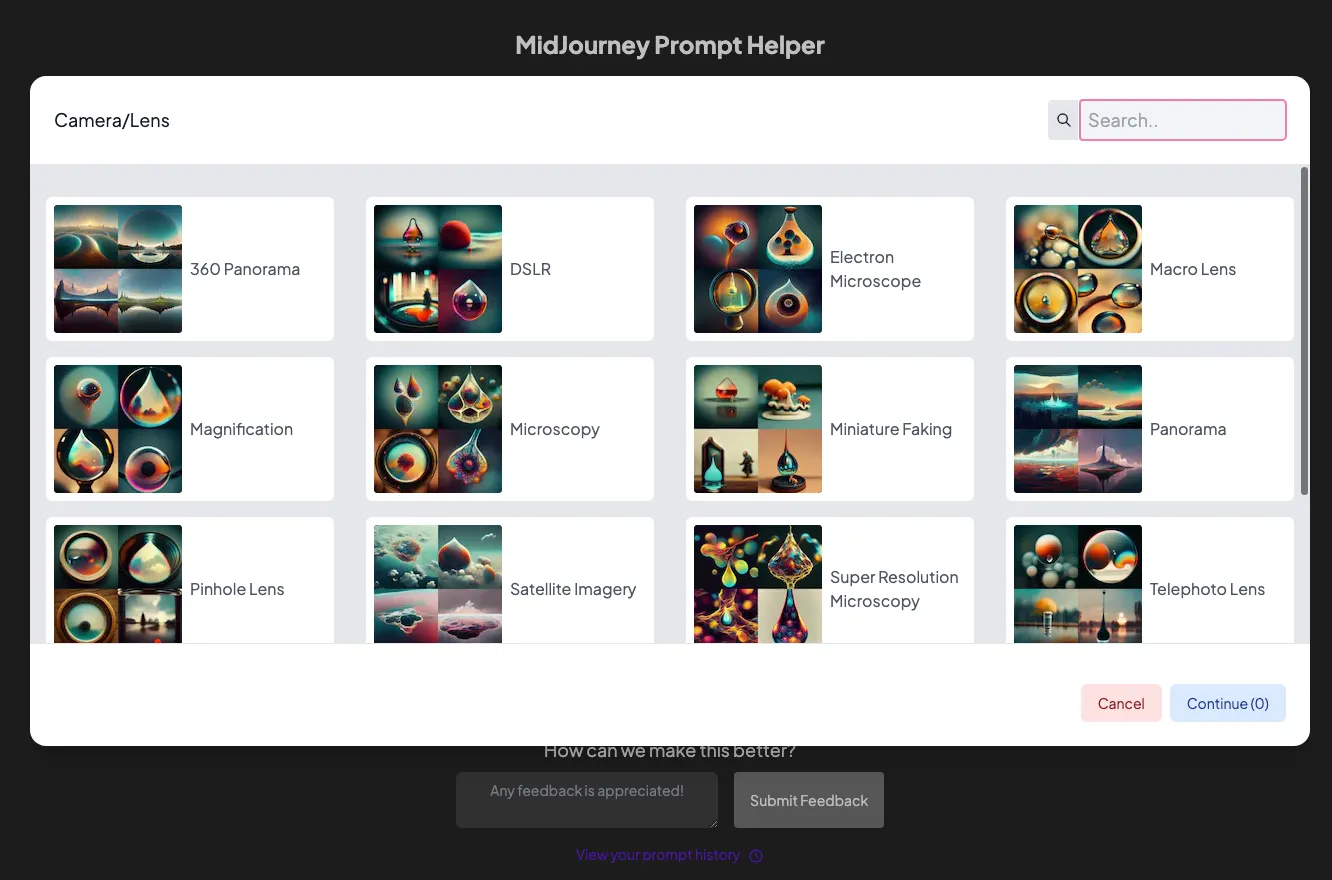 It also provides sample images for each keyword. This feature can be incredibly helpful, especially when you're unsure about the outcomes of using certain keywords. By previewing the sample images, you can get a better idea of what kind of results you can expect from the AI.
In conclusion, if you're someone who's been having a hard time generating new ideas for your AI art on Midjourney, the Midjourney prompt generators are a fantastic tool to help you. These tools are not only user-friendly, but they also offer a wide range of options that can help you create unique and thought-provoking prompts. With their intuitive interface and vast range of options, your can easily discover inspiring prompt ideas that you may not have thought of.

Finally, if you like art tips and content like this, feel free to subscribe to my weekly newsletter: MiMi Art Tips!
I share my anime art tips and experiences in my digital art career in a weekly email. You'll get the insight and behind the scene of the art career! Really recommend if you're a beginner anime style artist.  Click here to subscribe!
Thank you so much for reading this post! I really appreciate your visiting and using your valuable time reading my content!
Much Love 💖